Lakers on hook for Jonathan Holmes' salary while he's injured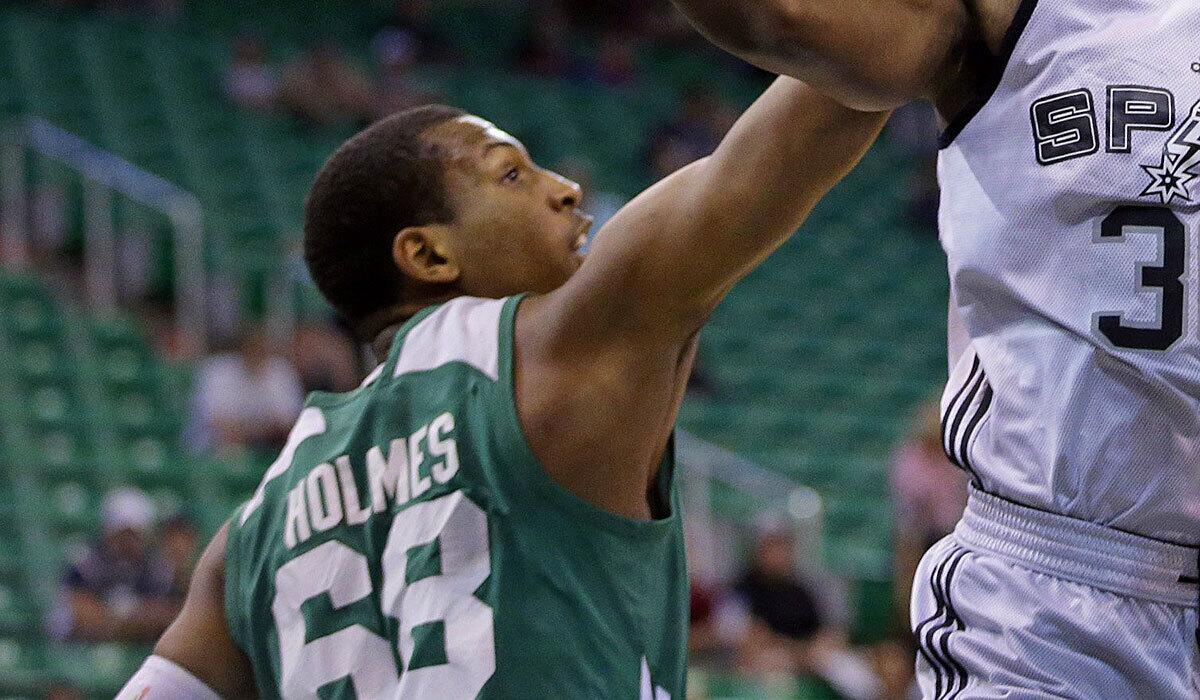 Rookie forward Jonathan Holmes dislocated his right shoulder Monday night in the Lakers' 104-102 victory over the Portland Trail Blazers, playing just over a minute before suffering the injury.
Long-time Lakers trainer Gary Vitti tended to Holmes on the court, reseating the joint.
The Texas forward's shoulder will be immobilized for the next couple of weeks, according to a team spokesman.
Holmes is signed to a two-year, $1.4-million minimum contract, but only $100,000 of his $525,093 rookie season is guaranteed.
Under NBA rules, the Lakers will be responsible for Holmes' salary until his injury is fully healed.
His partial guarantee should cover a month's worth of games (15 or 16). His $100,000 promise will go against the team's salary cap, along with any additional charges if Holmes' recovery time proves lengthy.
The Lakers need to cut their roster down to at least 15 players before the start of the season. Holmes is on the outside looking in, but could be a candidate to play for the D-Fenders, the Lakers' NBA Development League squad.
In addition to his brief stretch on the court Monday, Holmes has made just one additional appearance this preseason, logging four points and six rebounds in 14 minutes against the Toronto Raptors.
Email Eric Pincus at eric.pincus@gmail.com and follow him on Twitter @EricPincus.
All things Lakers, all the time.
Get all the Lakers news you need in Dan Woike's weekly newsletter.
You may occasionally receive promotional content from the Los Angeles Times.