Lakers' chance at Kevin Love dims, in Aaron Gordon-Marcus Smart range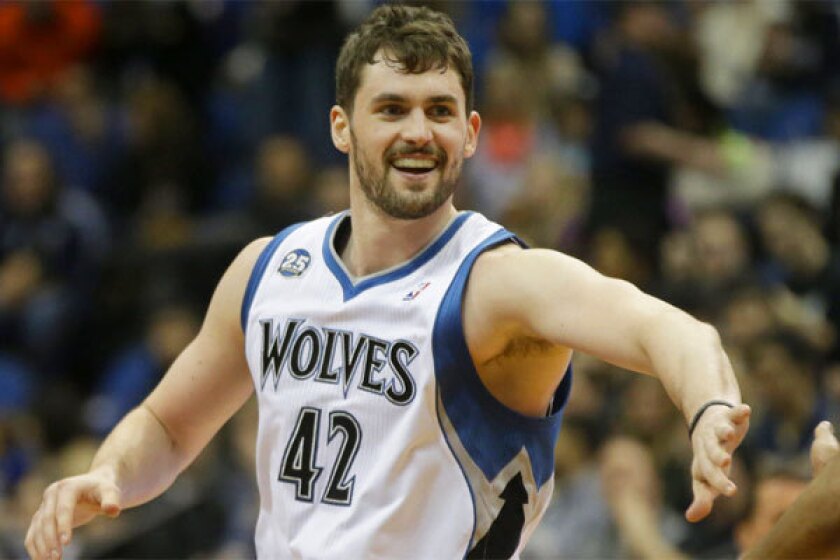 The Lakers had hoped to move up in Tuesday's NBA draft lottery, despite a 74.4% chance they'd pick sixth or seventh.
While seventh wasn't their worst-case scenario (4.0% chance at eighth, 0.1% all the way to ninth), the Lakers can't be thrilled with the results.
A jump to the top three would have meant either a better player in the draft, or a solid chance at trading for Minnesota Timberwolves All-Star forward Kevin Love over the off-season.
Would the seventh pick appeal to the Wolves?
The Boston Celtics may aggressively pursue Love as well, armed with the sixth and 17th picks, along with a number of future draft considerations that might appeal to Minnesota.
The Cleveland Cavaliers nabbed the top overall pick, despite 1.7% odds. Would they be willing to give up on a young player like Andrew Wiggins (Kansas), Jabari Parker (Duke) or Joel Embiid (Kansas) to acquire Love?
If so, the Cavs likely would trump any chance the Lakers and Celtics might have (then again, Cleveland may be more likely to keep its selection).
Other teams that might make a run at Love include the Phoenix Suns, Chicago Bulls, Golden State Warriors, Houston Rockets and New York Knicks.
If the Lakers keep their pick, they'll add a nice player.
Australian guard Dante Exum is expected to be off the board by the seventh pick. The Lakers should have a shot at one of three forwards (Indiana's Noah Vonleh, Kentucky's Julius Randle and Arizona's Aaron Gordon) or point guard Marcus Smart (Oklahoma State).
Vonleh has good size and can play both power forward and center. Randle is a prolific rebounder and ferocious scorer.
Gordon is a tremendous athlete who can guard five positions. Smart is a strong, defense-minded point guard.
Gordon or Smart would be a solid consolation for the Lakers, although not quite enough to make up for a miserable 27-55 season.
Other potential lottery (top-14) prospects include Doug McDermott (Creighton), Tyler Ennis (Syracuse), James Young (Kentucky), Adreian Payne (Michigan State), Rodney Hood (Duke), Zach LaVine (UCLA), Dario Saric (Croatia), Jusuf Nurkic (Bosnia) and Gary Harris (Michigan State).
A leap into the top three might have sped up the franchise's attempt to rebuild. A smart selection may still help the Lakers return to prominence, eventually.
The Lakers may still consider trading their pick for an established veteran.
Email Eric Pincus at eric.pincus@gmail.com and follow him on Twitter @EricPincus.
---
All things Lakers, all the time.
Get all the Lakers news you need in Dan Woike's weekly newsletter.
You may occasionally receive promotional content from the Los Angeles Times.