Kobe Bryant sits out Lakers practice because of 'general soreness'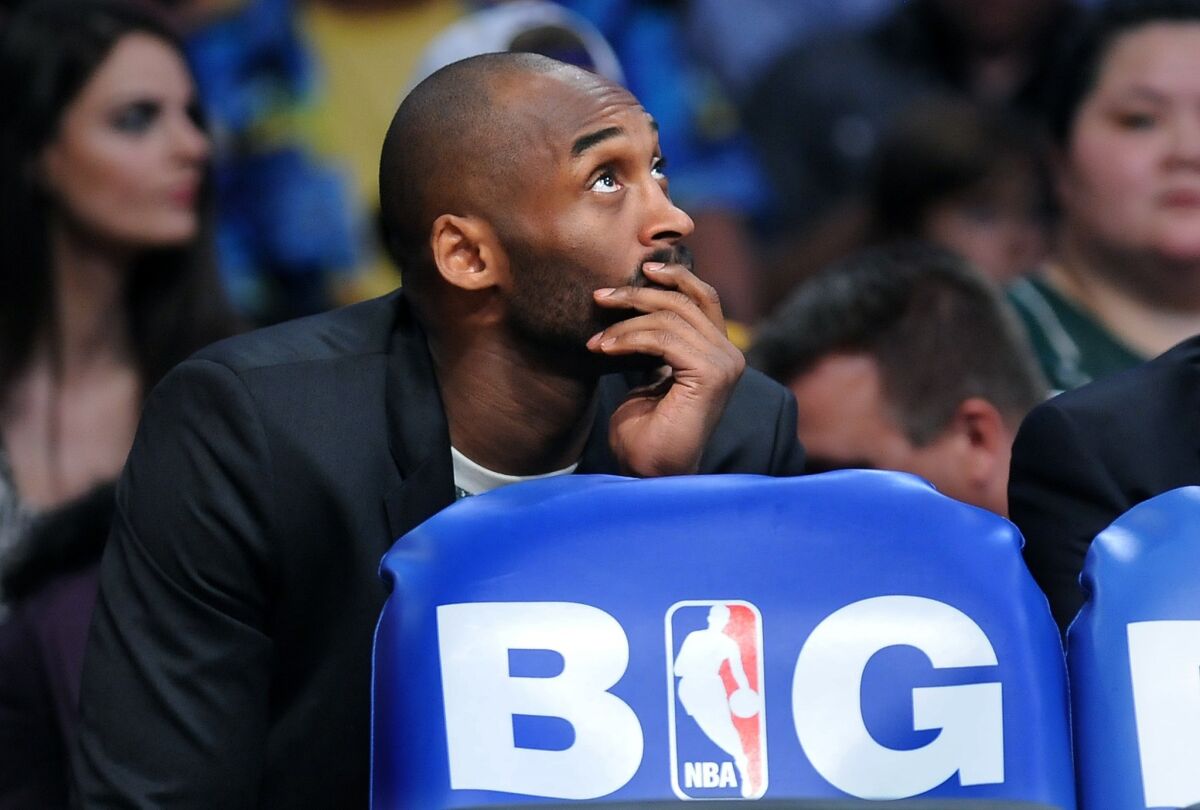 The Lakers emerged for their third consecutive day of practice but Kobe Bryant didn't join them.
He took Thursday off because of "general soreness" in his left foot, according to a Lakers spokesman.
Bryant had practiced at full speed for two days. Lakers Coach Mike D'Antoni equated Bryant with going through training camp and being fatigued on the third day.
It was hard to gauge Bryant's explosiveness because he hadn't pushed off his Achilles' tendon for many high-impact plays in practice, D'Antoni said. Bryant sustained a torn left Achilles' tendon in mid-April.
The Lakers did not use the dreaded "S" word Thursday, declining to call it a setback and saying it wasn't a surprise.
Bryant will not play Friday against Golden State and it looks increasingly unlikely he'll be on the court Sunday against Sacramento.
"I think it's just precautionary," Lakers Coach Mike D'Antoni said Thursday. "It's going to be a little bit of a process and [we'll] make sure he's healthy when he gets back."
Bryant is a little more than seven months into a timetable that predicted he would return in six to nine months.
"He didn't look too rusty," D'Antoni said. "With that said, he's not ready to play right now. We just have to hold the horses a little bit."
"I don't think we should be surprised about anything. You'd be surprised if he played [Friday] and we knew he wasn't going to play. There are going to be days he'll have to take off and days that he'll ramp it up. But definitely not a surprise.
"He looked pretty good, he's on target. He'll play when he plays."
Chris Kaman also did not practice Thursday because of a sore back.
Steve Nash said he was a "little better," holding his thumb and forefinger an inch apart when asked how he felt. Nash has not played in almost two weeks because of persistent nerve damage in his back.
ALSO:
Lakers one of three NBA teams without individual technical foul
Philadelphia 76ers waive ex-Lakers Kwame Brown, Darius Morris
Pau Gasol is impressed by Kobe Bryant's relatively quick return
---
All things Lakers, all the time.
Get all the Lakers news you need in Dan Woike's weekly newsletter.
You may occasionally receive promotional content from the Los Angeles Times.