Mike D'Antoni: Kobe Bryant won't be 'above the rim' for a while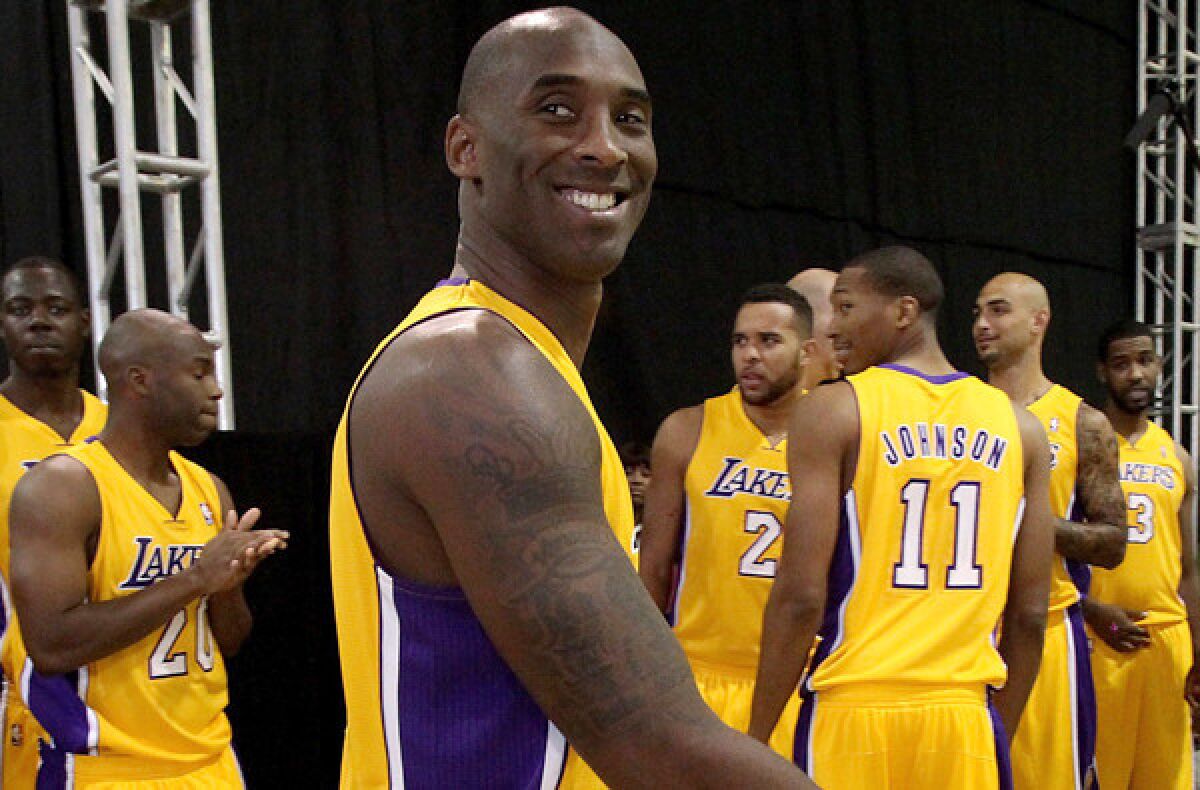 Kobe Bryant went through a brief but symbolic practice Saturday, his final step before returning from a torn Achilles' tendon.
He will make his comeback Sunday against Toronto at Staples Center.
"He's not going to be above the rim for a while, which is fine," Lakers Coach Mike D'Antoni said Saturday. "There's been great players that have played below the rim. He'll have to do that for a little bit."
Bryant did not talk to reporters Saturday. He will play 20-something minutes Sunday, D'Antoni said.
He averaged 27.3 points and six assists last season. Can he come close to those numbers this season?
"I think so," D'Antoni said. "I don't think right at the start, but I'd give him a month and he should be back to those numbers."
Bryant will start at shooting guard and sometimes slide over to the point with the Lakers down to one healthy point guard (Steve Blake). Bryant will defend small forwards or shooting guards his first few games.
The Lakers went 10-9 without him. Lineup changes are on the way.
"You throw that boulder in the water, there's going to be some ripples. Serious ripples," D'Antoni said. "People have to adjust to it."
Jodie Meeks will now come off the bench after averaging 13.5 points through 19 games mostly as a starter.
"I figured it was coming," Meeks said. "But for me, personally, my role doesn't change. I just have to come in, be solid on defense, knock down shots."
Nick Young or Xavier Henry could also lose minutes, part of the trickle-down effect from a player who averaged 38.6 minutes last season before getting injured April 12.
Robert Sacre will continue to start for the Lakers after making his first career start Friday against Sacramento. He had 11 points and five rebounds in 17 minutes.
Steve Nash will not play Sunday because of nerve damage in his back and reserve point guard Jordan Farmar is out at least three more weeks because of a strained hamstring.
ALSO:
Kobe Bryant to return Sunday against Toronto Raptors
Lakers above .500 again with 106-100 victory at Sacramento
Steve Nash doesn't want to rush return and risk 'yo-yo season'
All things Lakers, all the time.
Get all the Lakers news you need in Dan Woike's weekly newsletter.
You may occasionally receive promotional content from the Los Angeles Times.