Lakers' Kobe Bryant has shoulder surgery, to be out about nine months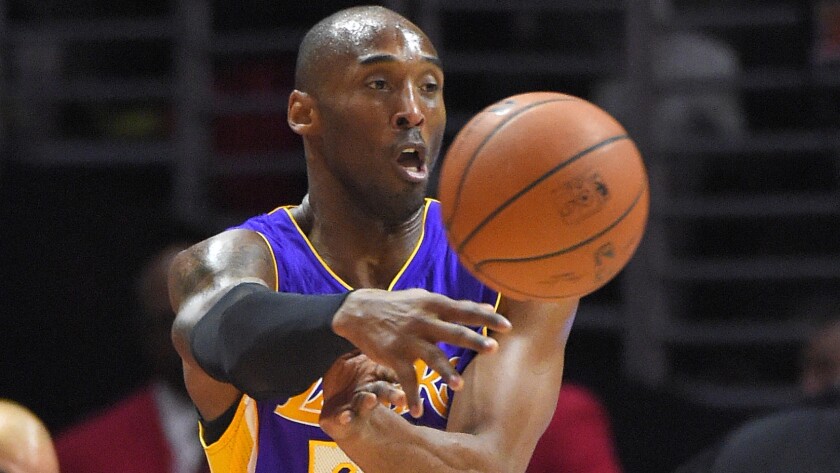 Kobe Bryant will be sidelined about nine months after undergoing surgery Wednesday morning to repair a torn rotator cuff, the Lakers announced.
The surgery was performed by doctors Neal ElAttrache and Steve Lombardo of the Kerlan-Jobe Orthopedic Clinic.
"I expect Kobe to make a full recovery and if all goes as expected, he should be ready for the start of the season," ElAttrache said in a statement.
Next fall will mark Bryant's 20th NBA season, in which he will make $25 million in the final year of his contract.
"It's pretty painful from what I've heard, and the rehab is long," Lakers Coach Byron Scott said Wednesday.
Bryant, 36, has been unable to finish the Lakers' last three seasons, sidelined by a torn Achilles' tendon in April 2013 and a fractured knee just six games into an already delayed start to his 2013-14 season.
He played only 35 games this season, sitting out a total of eight so he could rest.
All told, he will have played in 41 of the team's 164 games over two seasons, though Scott was already looking forward to Bryant's return next season.
"He's still one of the best players in this league, so if you [media] guys just keep saying that he's done, I think that will help him as well," Scott said.
Despite being a part-time presence at best the last two seasons, Bryant plans to help the Lakers recruit free agents and sit in on pitches to top players in July, according to people familiar with his thinking.
Scott said it would be a benefit, although Dwight Howard did not like Bryant's aggressive approach during the team's free-agent meeting with their former player in 2013.
"I think it's super important," Scott said. "If he's telling guys that he's going to be here next year … they're going to want to know."
Bryant aggravated an already sore right shoulder last Wednesday when he dunked in the third quarter against New Orleans. An MRI exam the following day revealed a tear, and subsequent visits with two doctors convinced him he needed the season-ending procedure.
Bryant and Scott spoke for about five minutes Tuesday night.
"He didn't seem to be struggling at all. He was calling me to console me," Scott quipped. "He seemed to be in great spirits."
Gasol's return
What reception should Pau Gasol get Thursday when he plays the Lakers at Staples Center for the first time since leaving them?
"Standing ovation," Scott said. "This is a guy that was here that helped them win two championships. I think fans should show him the respect that he deserves."
Gasol is having a great season with the Chicago Bulls, voted a starter on the Eastern Conference All-Star team while averaging 18.3 points and 11.9 rebounds. He is also averaging 2.2 blocked shots a game, on pace for a career-high.
He left the Lakers in July for less money from the Bulls, declining two Lakers' offers — three years and $29 million or two years and $23 million — to take a three-year deal worth about $22.5 million.
"I think he's rejuvenated," Scott said. "He went there with a renewed sense of energy. Here in L.A., for whatever reason, I thought he was getting beat up a lot and I think it took a toll on him. I thought that was one of the main reasons that he decided to go to Chicago."
Gasol was frequently mentioned in trade rumors while with the Lakers and was effectively dealt in 2011 as part of the Chris Paul trade until it was vetoed by former NBA Commissioner David Stern. Last season, Gasol found himself in a tug-of-war between his desire to be in the post and the perimeter-oriented schemes of former coach Mike D'Antoni's small-ball offense, a battle that sometimes played out in the media.
Gasol, 34, had 23 points and 13 rebounds against the Lakers on Christmas Day in Chicago. The Bulls won with a strong fourth quarter, 113-93.
Losing streak?
Scott said he would feel "pretty messed up" if the Lakers tied a franchise record with a 10th consecutive loss Thursday.
"I'm a competitor and I want us to start winning basketball games," he said. "That's the bottom line."
The Lakers haven't won since Jan. 9 against Orlando. They lost 10 consecutive games to end the 1993-94 season.
LAKERS VS. CHICAGO
When: 7:30.
Where: Staples Center.
On the air: TV: TNT; Radio: 710, 1330.
Records: Lakers 12-34, Bulls 30-17.
Record vs. Bulls: 0-1.
Update: The Bulls are oddly average at home (13-11) but incredibly effective on the road (17-6). They ended Golden State's franchise-record home winning streak at 19 games Tuesday when Derrick Rose made a late jump shot in overtime for a 113-111 victory. Rose had 11 turnovers and made only 13 of 33 shots to finish with 30 points.
Follow Mike Bresnahan on Twitter @Mike_Bresnahan
---
All things Lakers, all the time.
Get all the Lakers news you need in Dan Woike's weekly newsletter.
You may occasionally receive promotional content from the Los Angeles Times.