Mitch Kupchak admits Brown-D'Antoni-Jackson transition was clumsy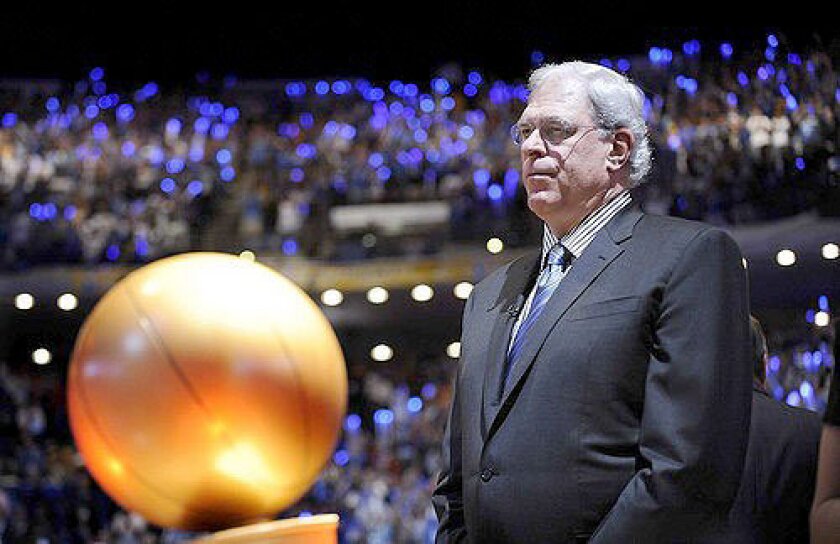 The transition from Mike Brown to Mike D'Antoni as coach early last season was an awkward time for the Lakers.
"Clumsy is not a bad characterization," General Manager Mitch Kupchak said Thursday to Colin Cowherd on ESPN Radio.
The Lakers fired Brown only five games into the season. After an interview with Phil Jackson, the team chose to go with D'Antoni.
Kupchak informed Jackson late on Sunday, Nov. 11, by telephone, apparently waking the coach to deliver the news.
"There was really no other way to get around it. In this business you don't make announcements until you have signed contracts," Kupchak said. "The last thing we wanted was for Phil Jackson, who we love in the organization, the city loves him, to wake in the morning or to get a phone call from somebody at 4 or 5 in the morning saying, 'Guess what? Didn't Mitch tell you?'"
In hindsight, Kupchak still isn't sure there was a more comfortable way to let Jackson know.
"Really there was no other way to do it, and you could say it was clumsy," Kupchak said.
It was a difficult year for D'Antoni, coaching without the benefit of a training camp and with a roster decimated all season by injuries. The team won 45 games before falling to the San Antonio Spurs in a first-round playoff sweep, with Kobe Bryant sidelined after surgery on his torn Achilles' tendon.
The chant of "We Want Phil" could often be heard from the crowd at Staples Center throughout the regular season and playoffs.
"Phil is a really close friend of mine and he's an icon, not only in the city but in the basketball community. He's revered here," Kupchak said. "Certainly there was some feeling that Phil would coach this year and then we hire Mike D'Antoni. From the get-go, he's been under a lot of criticism. It can't be easy."
Kupchak notes that D'Antoni, formerly the coach of the New York Knicks, has a relatively thick skin.
"He came from New York too," Kupchak said. "It's not like he came from someplace where there was no criticism."
ALSO:
Mitch Kupchak: 'Kobe is a big question mark'
Jim Buss says Dwight Howard was never really a Laker
Watch Nick Young, Wesley Johnson shoot at Lakers' practice facility
Email Eric Pincus at eric.pincus@gmail.com and follow him on Twitter @EricPincus.
---
All things Lakers, all the time.
Get all the Lakers news you need in Dan Woike's weekly newsletter.
You may occasionally receive promotional content from the Los Angeles Times.