Byron Scott says Pau Gasol should get a 'standing ovation' from fans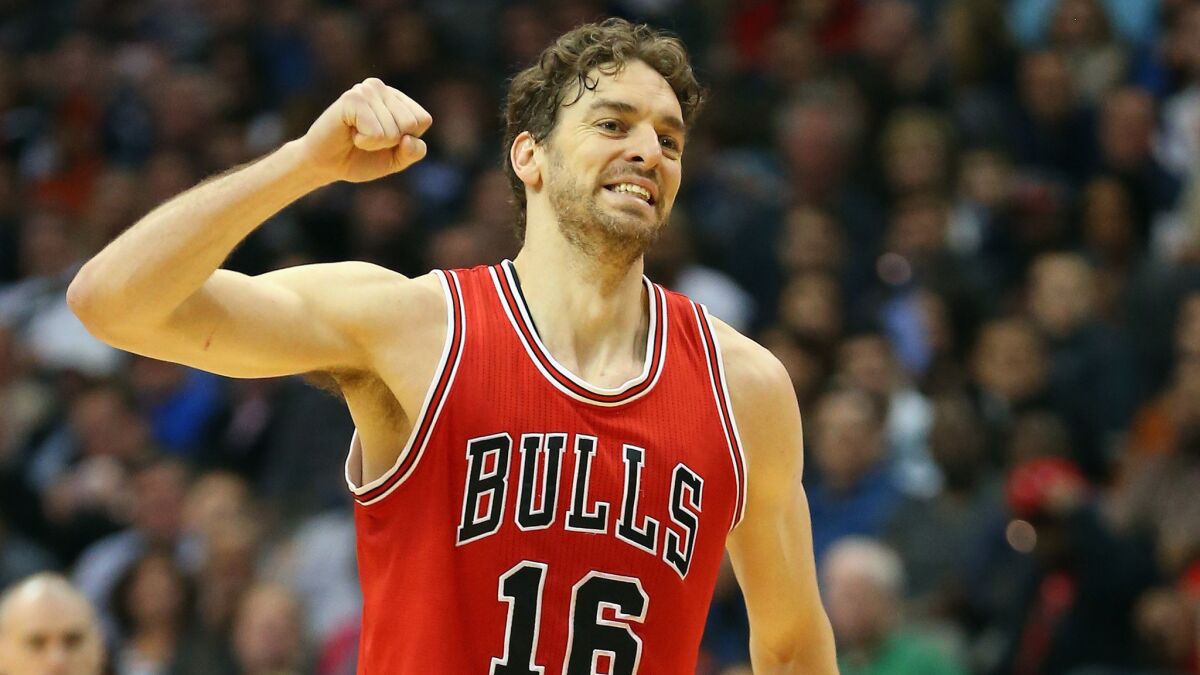 What reception should Pau Gasol get Thursday when he plays against the Lakers at Staples Center for the first time since leaving them?
"Standing ovation," Lakers Coach Byron Scott said Wednesday. "This is a guy that was here that helped them win two championships. I think fans should show him the respect that he deserves."
Gasol is having a great season with the Chicago Bulls; he was voted a starter on the Eastern Conference All-Star team while averaging 18.3 points and 11.9 rebounds. He is also averaging 2.2 blocked shots a game, on pace for a career high.
He left the Lakers in July for less money from the Bulls, declining two Lakers offers — three years and $29 million or two years and $23 million — to take a three-year deal worth about $22.5 million.
"I think he's rejuvenated," Scott said. "He went there with a renewed sense of energy. Here in L.A., for whatever reason, I thought he was getting beat up a lot and I think it took a toll on him. I thought that was one of the main reasons that he decided to go to Chicago."
Gasol was frequently mentioned in trade rumors while with the Lakers and was effectively dealt in 2011 as part of the Chris Paul trade until it was vetoed by former NBA Commissioner David Stern.
Last season, Gasol found himself in a tug-of-war between his desire to be in the post and the perimeter-oriented schemes of former coach Mike D'Antoni's small-ball offense, a battle that sometimes played out in the media.
Gasol, 34, had 23 points and 13 rebounds against the Lakers on Christmas Day in Chicago. The Bulls won with a strong fourth quarter, 113-93.
All things Lakers, all the time.
Get all the Lakers news you need in Dan Woike's weekly newsletter.
You may occasionally receive promotional content from the Los Angeles Times.