Not even John Wooden could have helped these Lakers, Steve Nash says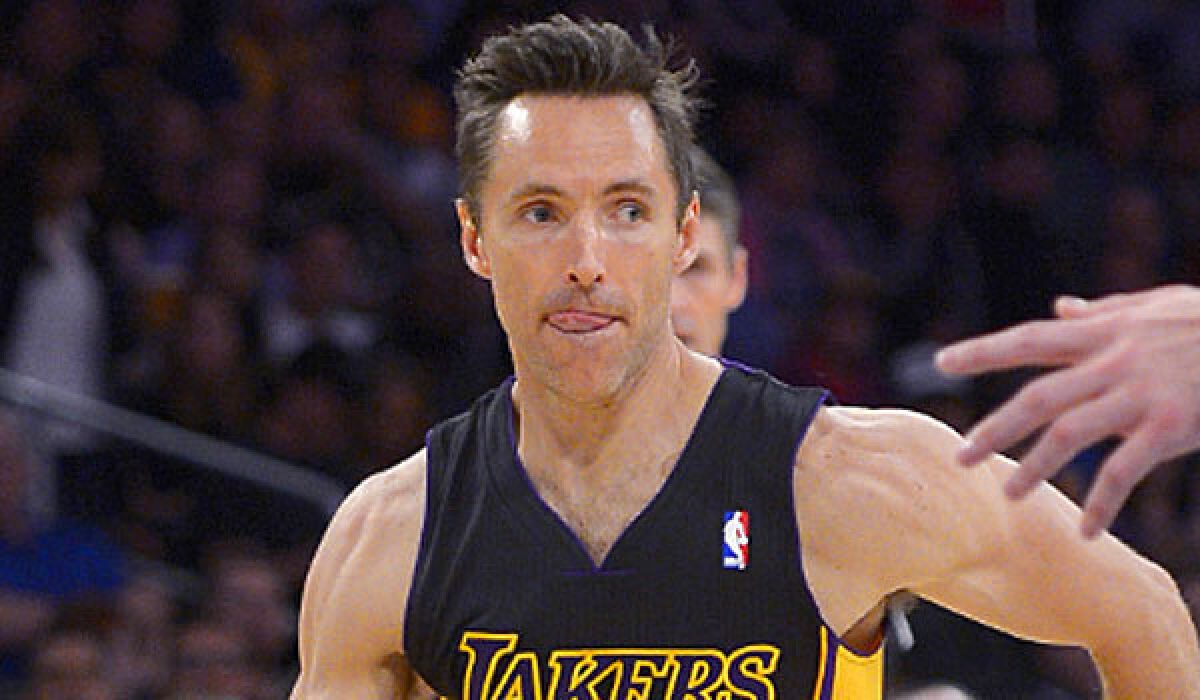 It came during a pause in the national anthem, loud and clear.
"Fire D'Antoni!" was the yell from a single fan before the Lakers played Houston on Tuesday.
Don't tell that to Steve Nash, who came to the defense of Lakers Coach Mike D'Antoni earlier in the day.
"With the amount of injuries and the rebuilding and the evaluating different players, I don't know that any coach is going to be real successful this season," Nash said. "John Wooden is not going to be dealt a great hand with all the change and injuries we've had. You look at it every week, someone else goes down."
The Lakers will take their time evaluating D'Antoni. There won't be an abrupt decision when their season ends next week. They owe him $4 million next season whether he stays or goes, and they will dwell on it.
Nash wasn't done after mentioning the name of Wooden, who led UCLA to 10 NCAA championships and died in 2010.
He also brought up Phil Jackson.
"I think people have to realize that although I understand [D'Antoni] is not Phil, someone who's beloved and been extremely successful here, it's not been kind of a fair fight in some respects," Nash said.
Jackson won five championships in 11 seasons as the Lakers' coach. He became the New York Knicks' president last month.
Nash and D'Antoni are natural allies because Nash won NBA MVP awards in 2005 and 2006 while playing under D'Antoni in Phoenix. Kobe Bryant and Pau Gasol, however, do not like D'Antoni's small-ball approach.
D'Antoni has tried to maintain a sense of humor throughout this season, as bad as it has been.
He laughed off a Monday report that Kentucky Coach John Calipari was a "done deal" to coach the Lakers, a concept immediately shot down by the Lakers.
"You try not to hear the 'noise,' though that was deafening," D'Antoni said. "I mean, I live in a cocoon but I still live in the same country so you did hear it."
D'Antoni said he did not hear from the Lakers' front office after the rumor drifted out before the NCAA championship game, which Kentucky lost to Connecticut, 60-54.
"No, and I didn't expect them to," he said before smiling. "Although John [Black] did ask me about a restaurant."
Black is the Lakers' publicist and a self-avowed epicurean.
D'Antoni said he felt bad for Calipari, not himself.
"I hate it for John more than anybody because that puts an undue pressure on something before a big game that he doesn't need to be distracted with," D'Antoni said.
Farmar returns
The Lakers had three healthy point guards for the first time in a long time.
The key was Jordan Farmar's return from a 10-game absence Tuesday because of a strained groin.
Farmar was sidelined a total of 30 games because of separate hamstring strains earlier this season. He has something to prove as one of many Lakers becoming free agents soon.
"Finish up healthy and show that it's behind me and I can hopefully play well … and have positivity going into to talking to them," Farmar said.
Twitter: @Mike_Bresnahan
All things Lakers, all the time.
Get all the Lakers news you need in Dan Woike's weekly newsletter.
You may occasionally receive promotional content from the Los Angeles Times.