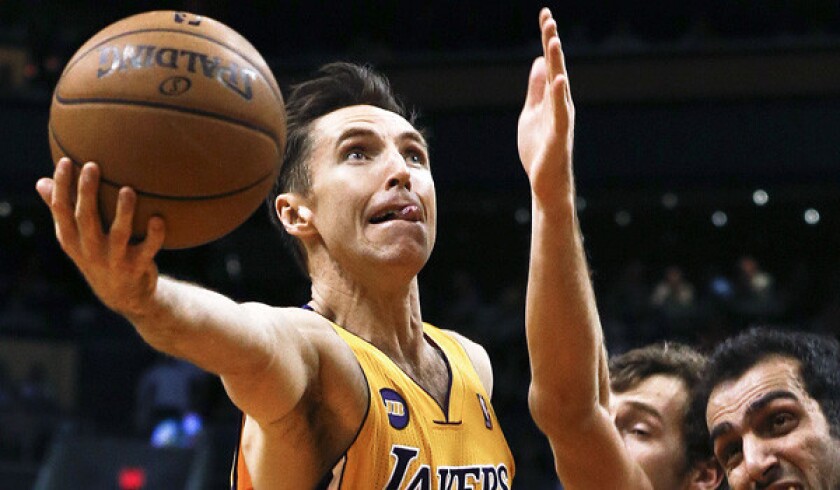 Steve Nash said he expects to play Tuesday night when the Lakers host the Utah Jazz at Staples Center.
"Yeah, I can play tomorrow," Nash said after practice Monday.
Nash aggravated his nerve root issue (back) after getting hit in the knee in the third quarter of a loss Sunday to the Chicago Bulls, leaving the game after playing 21 minutes.
"It's probably going to flare up from time to time," said Nash of the nerve. "It's still a little irritated, but it's not too bad."
If Nash is medically forced to retire before playing 10 games this season, his salary will come off the Lakers' books in April (although he will still be compensated).
Nash has made nine appearances this year, spending most of his time rehabbing back and hamstring problems related to the nerve issue in his back.
If he is pushed by injury into retirement after playing in 10 games, his salary would be removed from the Lakers' cap a full year after his final appearance.
"Right now I have no intentions to stop playing," said Nash.
The Lakers play just two games this week before the league's All-Star weekend in New Orleans.
Should Nash take advantage of the light schedule, resting until the Lakers play the Houston Rockets on Feb. 19?
"It depends how it feels. There's no reason to sit if it's better tomorrow and I feel pretty good," answered Nash. "If it is an issue, then I'm definitely not going to try to jeopardize any further or prolonged absences."
Nash has averaged 8.2 points and 5.0 rebounds for the Lakers this season.
ALSO:
Kobe Bryant gets passed by John Cena as most-liked Facebook U.S. athlete
Preview: Lakers Week 16 predictions
Lakers bumped from national TV yet again
Email Eric Pincus at eric.pincus@gmail.com and follow him on Twitter @EricPincus.
---