LeBron James and Lakers hold off Heat to take 3-1 NBA Finals series lead
ORLANDO, Fla. —
LeBron James' shouts could be heard all the way to the top of the nearly empty arena.
"WOOO! WOOO! WOOO!"
Anthony Davis had just hit a three-pointer to give the Lakers a nine-point lead with 39.5 seconds remaining. He was shouting too, but it was James' voice that carried as the Lakers' socially distanced fan sections, spread into little pockets throughout the arena, erupted in cheers.
"You kind of know momentum plays, momentum shots," James said. "… It's a three-possession game with 39 seconds. Most veteran ball clubs will be able to survive that. Just a big-time play, big-time moment. For AD but also for our franchise."
In Game 4 of the NBA Finals, the Lakers found a way.
They had just enough to come out ahead 102-96 and take a 3-1 series lead over the Heat in the best-of-seven series and are now one win away from securing the franchise's 17th championship.
The Los Angeles Lakers defeated the Miami Heat 102-96 in Game 4 of the NBA Finals on Oct. 6, 2020, in Orlando, Fla. Here are the best photos from the game.
James led the Lakers, scoring 28 points, eight assists and 12 rebounds, while Davis scored 22 points, with four assists and nine rebounds, distinguishing himself with his stifling defense on Miami star Jimmy Butler. James and Davis each made eight of 16 shots attempted.
The importance of this game wasn't lost on the Lakers. They were on edge after their Game 3 loss Sunday, unhappy with how that game unfolded. Just in case, James wanted them to know just how important it was to him.
He woke up from his game-day nap and texted them all: this is a must-win.
"I feel like for me personally this was one of the biggest games of my career," James said. "Just wanted to relay that message to my teammates."
He knew what can happen if you give the Heat life. He knew how much confidence they would summon if the Lakers allowed them to pull even at two games each.
"All season we said we don't want to be a team that loses two in a row and we have that ability to make that happen," Davis said. "We was already on edge."
There would be no repeat domination from Butler. He scored 11 points in the first quarter, making his first five shots, and then didn't make another field goal until the fourth quarter with James and Davis guarding him.
LeBron James was a no-show for the first half of Game 4 against the Miami Heat, but his stardom and leadership emerged when the Lakers needed it most.
"Set a great tone," Lakers Coach Frank Vogel said. "That was a big part of our plan. Our adjustments from last game to this game is try to keep those two guys on him as much as possible. They rose to the challenge."
After a 40-point triple-double in Game 3, Butler finished with 22 points, nine assists and 10 rebounds in Game 4.
Game 4 was another sloppy start for the Lakers, who committed nine first-half turnovers, five from James. It was part of why they couldn't pull away from the Heat despite Miami's low shooting percentages.
The third quarter has been predictive for the Lakers this season. They had never lost after taking a lead into the fourth quarter, and on Tuesday they entered the fourth quarter with a 75-70 lead.
"You got 12 minutes to buckle down defensively to the lead, you gotta hold that lead," James said. "For us that's just the mind-set. We've got 12 minutes. … If we win the quarter, we win the game."
In the middle of the fourth quarter, Miami tied the game at 83 after a banked-in three-pointer by Duncan Robinson and a layup through traffic by Butler. James then drove to the basket, took some contact and fell to the floor as his shot went up. As the ball dropped into the hoop he lay down and flexed his arms while staring into the rafters.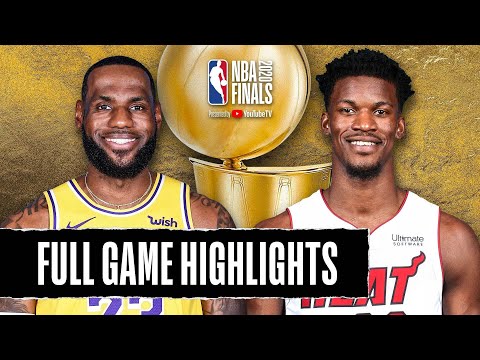 Highlights from the Lakers' 102-96 win over the Miami Heat in Game 4 of the NBA Finals.
The Heat do not relent and James wasn't going to either. In all, he scored 20 second-half points.
But that moment didn't allow the Lakers to pull away.
With the Heat down 90-88, Butler had an open look for a corner three-pointer, but missed. Moments later, James assisted Kentavious Caldwell-Pope on a three-pointer to stretch the lead to five points. The next score belonged to Caldwell-Pope too, a driving layup with two minutes left in the game to give the Lakers a seven-point lead.
Against a dangerous team like Miami, they couldn't feel comfortable just yet. But that would come soon.
At least for this game.
"Our confidence ain't going nowhere," Butler said. "It's going to stay high. I'm going to make sure that it stays high, because it's going to have to be at an all-time high to get this next win."
LeBron James was a no-show for the first half of Game 4 against the Miami Heat, but his stardom and leadership emerged when the Lakers needed it most.
All things Lakers, all the time.
Get all the Lakers news you need in Dan Woike's weekly newsletter.
You may occasionally receive promotional content from the Los Angeles Times.