Lakers ruin LeBron James' return with second-half collapse vs. Celtics
BOSTON —
The return of LeBron James after missing eight games because of an abdominal strain was good news for the Lakers.
The rest of the news Friday night was all bad for the Lakers.
They basically got run off the TD Garden court by the hated rival Boston Celtics during a 130-108 loss that dropped the Lakers to 0-2 on this five-game trip.
James looked healthy during his 32 minutes in which he scored 23 points and grabbed six rebounds. He was 10 for 16 from the field.
Trevor Noah asks people to get a grip about L.A.'s Staples Center becoming Crypto.com Arena. 'You don't need to get that nostalgic about it. It's a company.'
"Felt OK," James said. "Obviously, being out 2½ weeks, it felt like a rookie again, kind of just being away from the game. But excited. Physically, I felt OK. Good enough to know that I could trust my body and get out and play tonight. So, I'm more or less looking to see how I feel tomorrow when I wake up. That is the telltale sign if I'm moving in the right direction with my injury."
James left the game for good with 4 minutes 26 seconds left and Al Horford shooting two free throws that completely closed the door on the Lakers, putting them in a 20-point hole.
James' first basket of the game came early in the first quarter on a cut to the hoop and a pass from Talen Horton-Tucker, who was posted up on the left block, with James throwing down a dunk.
It was the first time James had scored in a game since he went down after the Lakers played the Houston Rockets on Nov. 2 at Staples Center, when he had 30 points and 10 assists. The Lakers went 3-5 over the eight games without him.
James' next basket was a 28-foot three-pointer later in the quarter, leading to a little shoulder shake and glance toward the Lakers' bench.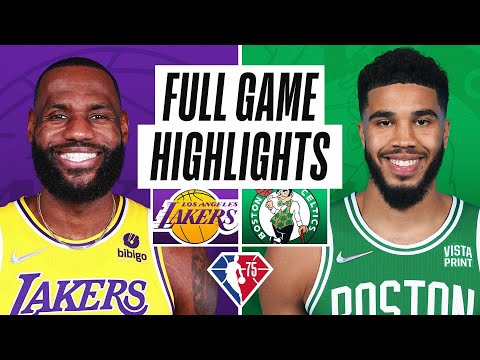 Then there was a post-up basket and James taking a charge against former Laker Dennis Schroder. James took his first rest with 5:04 left in the quarter, his three-for-three start for seven points impressive.
"He looked good," said Anthony Davis, who had 31 points. "He looked really good to me. He looked like his old self. When you're out eight games, and we were playing a certain way and he comes back, it's always an adjustment."
The Lakers had another dismal third quarter, getting outscored 33-21 to fall behind 93-82 entering the fourth. It got worse from there.
"We just got to find a way to score in the third quarter," Davis said. "That's been our kryptonite the whole season. Can't score. That's putting us in a deficit."
The Lakers were unable to deal with Jayson Tatum, as the All-Star forward burned them for 37 points and 11 rebounds. Schroder did his thing against his former teammates with 21 points, six rebounds and six assists.
The small-ball lineup the Lakers used again hurt them, especially when it came to rebounding. They were outrebounded 51-33. They gave up 12 offensive rebounds.
Russell Westbrook laughed as he suggested Staples Center will soon be called 'Crip Arena,' adding to the long list of nicknames for Crypto.com Arena.
"As we continue to log more minutes, continue to see where we're great at, where we're not so good at, things that we can improve upon," James said. "Like I said it was my first game in 2½ weeks. I believe it was [Horton-Tucker's] fourth game back and just trying to figure out [the] rotation. Obviously, coach is trying to figure out rotations, who to play when and how we can be our best on the floor for 48 minutes."
The Lakers dropped to 8-9 with three more games on the trip: Sunday at Detroit, Tuesday at New York, Wednesday at Indiana.
"The reality of it is that everybody on the outside has really high expectations of our team, as they should," said Russell Westbrook, who had 12 points. "But the reality of it is we haven't really played with each other realistically. Nobody [watching us] cares, and obviously after each game everybody ask the same question and I'm tired of giving the same answer. So, it's the same question after every game. Every time after we lose it's, 'Hey, how long you think it's going to take?' We don't know. Right? When we win, it's going to take some time."
All things Lakers, all the time.
Get all the Lakers news you need in Dan Woike's weekly newsletter.
You may occasionally receive promotional content from the Los Angeles Times.