LeBron James plays big with a triple-double as Lakers end losing streak
Never in LeBron James' career has it looked quite like this, even though it's always kind of been like this.
James walked onto the floor as a starter, just as he had 1,331 times before, only Tuesday night in Houston, he not only had to be his team's best player. He needed to be its biggest.
For the first time in the NBA, the do-it-all star was going to do something new. He was going to start the game as his team's center.
Forced into examining one of the few options that makes them look drastically different, the Lakers firmly committed to the style of play that's yielded the most positive results this season. It wasn't perfect — the Lakers have been anything but this season — but James and his team finally found a way, beating the Rockets 132-123.
"I just told the team that, they kind of laughed at first like it was no big deal, but I'm like, 'I don't think you guys realize what this guy just did. He just played the five for four quarters and dominated at the position and played it while playing point guard,' " Lakers interim coach David Fizdale said. "Ah, my gosh, this guy is unbelievable. I can't help it, man. We all are, we're very lucky as basketball people to get to watch what we're watching right now out of this man, and it's just beautiful."
James, who has been sensational over the last two weeks, finished with 32 points, 11 rebounds and 11 assists. He has done it by increasingly functioning as the Lakers' center on defense.
All things Lakers, all the time.
Get all the Lakers news you need in Dan Woike's weekly newsletter.
You may occasionally receive promotional content from the Los Angeles Times.
"It's the evolution of the game," teammate Carmelo Anthony said.
James now has 36,001 career points — joining Kareem Abdul-Jabbar and Karl Malone as the only players in NBA history to reach that mark. On Tuesday, he did it alongside Russell Westbrook, 10-day player Stanley Johnson, Malik Monk and Avery Bradley in the starting lineup, easily one of the strangest fives with which he's ever started a game.
Of the five, only Johnson didn't finish in double-figure scoring — the Lakers got 24 points off the bench from Anthony — but everyone in the rotation made plays. Monk, in his second game back from COVID-19 protocols, scored 25. And Westbrook, fresh off a four-for-20 game, rebounded to make 10 of 17 shots to score 24 points as he recorded another triple-double with 12 rebounds and 10 assists.
Fittingly, the plan to downsize came against Houston, which once eschewed conventional centers to play small in order to create better driving lanes for then-Rocket Westbrook. In part because of Westbrook's presence on this Lakers roster, teams have been able to pack the paint against the Lakers, making them play inside of a shoebox instead of an open, balanced floor.
Russell Westbrook's style of play has produced some solid statistics but not led to a record the Lakers, or their fans, expected this season.
"Based on the way the league is going, your small-ball lineup is something we can use and utilize," Westbrook said. "And as the season goes on, we find ways to better utilize it throughout games to be able to give teams a different look from us."
It wasn't just creative inspiration. It was also necessity, Fizdale forced into the choice with the Lakers (17-18) still very much without a full deck.
Stricken with a COVID-19 outbreak that still has regulars such as Trevor Ariza and Austin Reaves out of the rotation and coach Frank Vogel working from a couch and a monthlong absence of Anthony Davis while he nurses a knee injury, the Lakers were running out of choices.
Starting in Minnesota, when Davis originally sprained the medial collateral ligament in his knee, the team had lost five straight games, pushing the Lakers below .500 with the meanest part of their schedule still ahead of them.
But even with the Lakers undermanned, James is the ultimate mismatch, and by using him as the team's center, the Lakers can dictate the style of the game.
Against the Rockets (10-25), it meant tons of pace — and ultimately, not a lot of defense.
The teams traded turns pushing into the paint without much resistance. Earlier in December, Vogel declared the "open" man the most talented on the court. On Tuesday in Houston, talent was everywhere — because defenders were nowhere.
One of the exceptions was Bradley, returning to start after his bout with COVID-19. Bradley was cleared to play on Christmas against Brooklyn but required more time before returning to court action.
And Bradley's 14 points, a handful coming early in the third quarter, helped give the Lakers a quick burst out of halftime.
Westbrook and James teamed up in two-man combinations down the stretch that Houston couldn't come close to solving. Fizdale called that stretch a key moment of growth for the two — and something the Lakers need more of.
Maybe it was just a simple win against a young team, the Lakers having beaten the Rockets in all three meetings this season. Maybe it was some sort of schematic discovery that can unlock the team as it eventually gets healthy.
But for sure, it was a victory — one the Lakers badly needed and one James was up to do anything for.
"I can play any type of basketball game that the game presents itself. This is Year 19 for me, and I've been successful at the offensive end my whole career," he said. "So if it's a game that calls for a big lineup, I'll be successful. If it's a game that calls for a small lineup, I can be successful. Because my game is not just one-dimensional."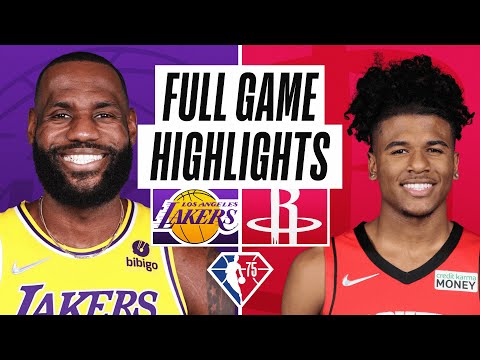 Dan Woike reported remotely from Los Angeles.
UP NEXT
AT MEMPHIS
When: Wednesday, 5 p.m. PST
On the air: TV: Spectrum SportsNet, NBA TV; Radio: 710, 1330
Update: The Lakers finally have a little momentum after a strong offensive performance in Houston, but it will be tough to play small against the Grizzlies' frontcourt size anchored by 7-foot veteran Steven Adams. Memphis has pushed to the top of the second tier in the Western Conference and has, functionally, become the team the Lakers are chasing at this point in the season. Fourth in the West, the Grizzlies have guard Ja Morant back and plenty of firepower, making them a contender to host a first-round series if they continue to play this way through the second half of the season.
All things Lakers, all the time.
Get all the Lakers news you need in Dan Woike's weekly newsletter.
You may occasionally receive promotional content from the Los Angeles Times.