Lakers in crisis? LeBron James won't talk about Russell Westbrook amid 0-3 start
LeBron James heard the questions, the ones about decision-making and shot selection and late-game offensive philosophy and knew what everyone was getting at.
His team had lost to the Warriors on Tuesday, the Clippers on Thursday and now the Trail Blazers on Sunday.
And if it didn't feel like a crisis before; it kinda does now.
"I feel like this is an interview of trying to set me up to say something. I can tell that you guys are in the whole 'Russell Westbrook category' right now," James said three questions into his postgame news conference. "I don't like to lose. I hate to lose at anything. I don't care what happens throughout the course of my season or throughout the course of my career, I hate to lose. And especially the way we had this game. But give credit to Portland.
"You guys can write about Russ and all the things you want to try to talk about Russ, but I'm not up here to do that. I won't do it. I've said it over and over. …That's not who I am."
But no matter the pull James has in and around the NBA, even he can't stop this — a messy situation between Westbrook and the Lakers only getting messier Sunday in a 106-104 loss to Portland.
Two Westbrook missed shots in the final four minutes — an open three-pointer and a pull-up jumper with 18 seconds on the shot clock and 30.4 remaining — led to a pair of Damian Lillard threes, the Lakers being outscored 16-7 after Darvin Ham reinserted Westbrook into the game with 4:42 left in the fourth.
Postgame, Ham supported Westbrook's decision to try to go two-for-one with a one-point lead late, but said he thought Westbrook "settled" for the jumper.
"I just wished he had attacked the rim," Ham said.
LeBron James was not happy with how the Lakers performed in their 106-104 loss to the Portland Trail Blazers. Here are four takeaways from the game.
Portland, just like the Clippers did on Thursday, closed the game with its center defending Westbrook with a foot anchored in the paint.
"Just trying to do the best I can," Westbrook said.
It hasn't been good enough.
Despite activity and physicality on the defensive end, Westbrook has made just four of 26 in the past two games, his deficiencies as a player loudly shouting over the things he's done well as the team has opened the season winless.
But whether it's his airballed threes or his missed layups or bad turnovers, the mistakes are just so glaring and they're compounding day over day making things even tougher on him and the team.
After the Lakers explored trading Westbrook in multiple different scenarios this offseason, the team had hoped it could salvage things with Ham's new system and Westbrook's commitment to defending and accepting whatever role.
But the early season has been almost entirely focused on him.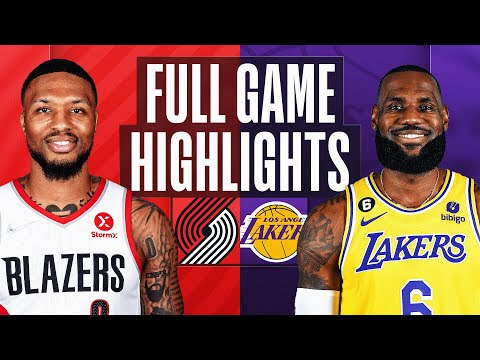 Following the Lakers' loss to the Warriors, Westbrook said he "absolutely" believed changing his preparation routine by coming off the bench contributed to a preseason hamstring issue.
Thursday, he was caught on film confronting a heckling fan after the Lakers lost to the Clippers and he missed all 11 of his shots. Sunday, the spotlight was back on him following the two late-game misses, with multiple players citing "shot selection" as a problem the team needs to correct.
With and without Westbrook, the Lakers have defended at a high level through most of their first three games, taking on the tough-minded persona that earned Ham a career as a player in the league.
And Anthony Davis has been at the front of that effort, flying around, changing shots and forcing turnovers as the focal point of the team's defense.
But his six blocks Sunday didn't matter, the fast breaks he triggered or the stops he authored. None of it.
Postgame, his words were totally flat, devoid of explanation and with each scarcely spoken word wrapped in frustration.
"Just not winning," he said. "There's no way we're supposed to lose this game. That's where my frustration comes from."
And try as James might to extinguish the fire by trying to ignore the flames, they're burning hotter than ever around the Lakers and Westbrook, a situation looking more and more impossible.
The first three games have exposed big problems beyond Westbrook, the Lakers somehow shooting worse from three Sunday (18.2%) than they did in either of their first two games when they went a combined 19 for 85.
"I mean, we can't shoot a penny in the ocean," James said. "But it hasn't stopped us from competing and stopped us from defending. That's given us a chance in all three games to win."
But the chances have been too small, too temporary. And it's unclear whether any trade would improve the Lakers enough to make it worth exploring including the only two future first-round draft picks they have at their disposal to deal.
The Lakers need to trade Russell Westbrook before his reckless play and divisive personality cost them whatever chance they have at a rewarding season.
So three games in, the Lakers are sitting in their locker room in frustrated silence. They're answering questions flatly with one and two-word sentences. And they're trying to avoid making this about one person and his flaws.
But it's tough.
"It's just a matter of stepping up," Ham said of the late-game shots. "If you're gonna take it, you have to step up and make it.
"And that's pretty much it."
It's maybe the only simple thing about any of this.
All things Lakers, all the time.
Get all the Lakers news you need in Dan Woike's weekly newsletter.
You may occasionally receive promotional content from the Los Angeles Times.