Lakers struggle again with shooting, offense in loss to Cavaliers
Midway through the fourth quarter Sunday afternoon, Lakers coach Darvin Ham stood near midcourt, slumped slightly to his left with both of his hands in pockets.
There was no magic card to be played, no tweak to be unearthed as his team came face-to-face with one of the best teams in the NBA and retreated into the offensive shell that has been the defining trait of a team now five games below .500.
Only one option presented itself — pull the starters and hope for better on Monday.
A disastrous second half that exposed so many of the Lakers' weaknesses led to an easy 114-100 win for the ascending Cleveland Cavaliers on Sunday at Crypto.com Arena.
The Lakers? They were left to again deal with familiar problems of the early season, problems that could very well be debilitating flaws without any correction.
Just one day after star forward Anthony Davis said the Lakers were "not the team our record shows," the Lakers fell to 2-7 with a difficult second leg of games in back-to-back games awaiting for them in Utah.
The Lakers host the Cleveland Cavaliers on Sunday after one of their worst defensive performances of the season in a loss to the Utah Jazz.
"We are who we are," LeBron James said.
Who the Lakers are in the first week of November is one of the worst teams in the league, owners of only two wins because their defensive effort and execution can't overcome a mostly punchless offense.
It was more of the same against the Cavaliers, the Lakers building a 12-point lead in the first half by riding a wave of defensive momentum and energy only to see that slowly eroded by a Cleveland team that's much better — the Cavaliers winning their eighth in a row.
"Our record is our record. We played some great teams, some really good teams so far to start the season, but our record is our record," James said.
Following the Lakers' loss Friday to Utah, Ham 's voice crackled as he said the Lakers' defensive energy and intensity were unacceptable. This, he said, would not be how they played.
Yet asking a team to consistently defend when they miss so many shots, when they fail to execute so consistently is something much easier said than done.
It didn't matter that Russell Westbrook's rebirth as a force off the bench led to 19 points, 10 assists and a trio of three-pointers. Maybe if the rest of the Lakers didn't shoot five of 22 from deep. Or if the Cavaliers didn't make 20 more free throws than the Lakers. Or if the team's role players better supported Westbrook, James and Davis.
"Nine games in, it sucks to be 2-7," Ham said. "But we just have to keep learning, keep working and keep trying to find a way."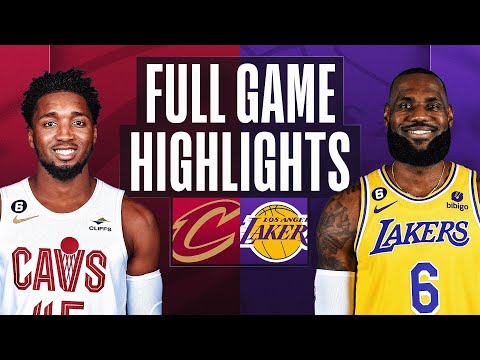 That search is clearly going to be pretty limited.
While Westbrook did have seven turnovers — "I don't mind trying to make the right reads and turnovers happen. I'll be better tomorrow. That ain't nothing I'm worried about," he said — his energy over the past week has been one of the most consistent things about the team.
For the second consecutive game, he received growing "MVP" chants when he shot free throws.
Yet he was one-for-six shooting in the second half. Davis, who declined to speak with reporters postgame, took only two shots in the second half. While James made seven of 11 shots in the third and fourth quarters, the rest of the Lakers shot 26.7% from the field.
James, Davis and Westbrook scored 65 of the Lakers' 100 points. Only Troy Brown Jr. joined them in double figures with 12. Kendrick Nunn, who started in place of the ill Patrick Beverley, missed all five of his shots and was scoreless.
Nunn, Austin Reaves and Lonnie Walker IV combined to miss eight three-point shots.
"Russ has been phenomenal. And we need to get him help," Ham said. "We need to get Bron help. We need to get AD help. It's a team of talented players but these are our leaders."
As the game entered the final minutes of the fourth, it was that group that Ham needed to send to the bench.
Surrender, at least for one day, was all that was left.
UP NEXT
AT UTAH
When: 7:15 p.m. PST, Monday
On the air: TV: Spectrum SportsNet; Radio: 710, 1330
Update: The Lakers play the surprising Jazz for the second time in three games, now with no excuses to be stunned to see a fast, skilled team playing well beyond expectations. The Lakers, who struggled to get stops in a loss to the Jazz on Friday, will be without Patrick Beverley because of a non-COVID illness that's spreading from player to player. Kendrick Nunn, who started in Beverley's place Sunday, was scoreless in the Lakers' loss to the Cavaliers, part of a supporting cast that coach Darvin Ham challenged to step up.
All things Lakers, all the time.
Get all the Lakers news you need in Dan Woike's weekly newsletter.
You may occasionally receive promotional content from the Los Angeles Times.