'Playing like the MVP': Anthony Davis scores 55 in Lakers' win over Wizards
WASHINGTON —
Russell Westbrook swung his hips in a circle with his hands straight up in celebration.
He'd just hit Anthony Davis with a perfect pass, the Lakers big man rolling to the basket for two more points while drawing a foul. He swished the free throw, his 41st point.
The Lakers were up huge.
The crowd chanted "M-V-P."
Their bench howled.
The third quarter still wasn't over — there were more points to score.
The L.A. Lakers continued to show signs of their potential behind their Big Three with a win over the Bucks in Milwaukee to start six-game road trip.
"Just straight dominance," LeBron James said after. "Straight dominance."
By the time it was done, Davis scored 55, his most as a Laker, grabbed 17 rebounds and blocked three shots in the Lakers' 130-119 win Sunday, another historic performance for the big man.
His 55 points are the second-most scored by an NBA player this season.
Sunday, he barely missed while dominating the glass and at the rim, becoming the first player since Patrick Ewing to score at least 50 on 70% shooting with 15-plus rebounds and three-plus blocked shots.
Ewing did it 32 years ago.
Davis was 22-of-30 shooting from the field Sunday — including two of three from deep — plus a perfect nine of nine from the free-throw line. He was unquestionably the best player on the court.
"We've been talking all summer about him just being the go-to guy. I told him none of this is going to work if he's not right," coach Darvin Ham said. "Not only available to play, but playing at an extremely high level, which he's doing right now. I've said that to him, to the team, you guys. Like, we need AD to be special in order for us to get to where we need to get to."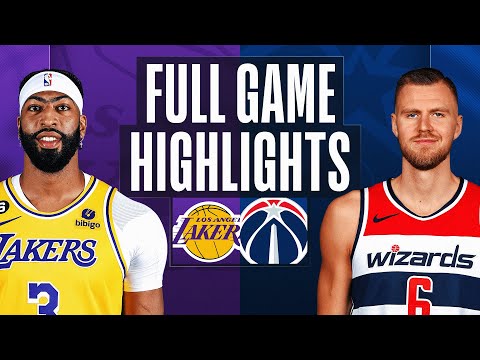 It was Davis' 10th consecutive game with at least 20 points and 10 rebounds
The performance was so dominant and efficient, it was just the 12th game in NBA history in which a player scored at least 55 points and shot fewer than 10 free throws. No player had ever scored 55 or more on just 30 shot attempts.
Davis scored 44 points to open the trip, leading the Lakers to a big win over the Bucks in Milwaukee. He's the first Laker to score 40 or more in back-to-back games since Kobe Bryant did it in 2013.
"Everything is going well for us right now," Davis said. "Guys are shooting the ball well. Guys are communicating on defense. We're doing it all as a group. But for me, it's just being locked in, staying with a mindset of being aggressive, not taking the game off and coming out with the mindset of dominating.
"Whatever I got to do to help the team win — whether that's scoring, rebounding, blocking shots. Whatever it is, I'm just trying to do my part."
While 50-plus nights might be a big ask on a consistent basis, the aggression, the intensity and the consistency are the pillars the Lakers are hoping to use as the foundation for their turnaround.
Since starting 2-10, the Lakers have won eight of their last 10, losing a tight game to the Phoenix Suns and one in which they blew a 17-point lead against the Indiana Pacers. Although they are in 12th place in the West, they are only three games out of fifth place.
Over the Lakers' last 10 games, Davis is averaging 35.3 points and 15.6 rebounds, both tops in the league during that span. His 2.9 blocks per game are second.
"Playing like the MVP of this league," James said.
Davis' excellence and hot perimeter shooting from James and Lonnie Walker IV, pushed the Lakers to a 29-point lead before the Wizards started to chip away, closing to within single digits in the fourth quarter. Before it could get uncomfortably close, Davis was always there to restore things for the Lakers.
Lakers forward Anthony Davis has 44 points, 10 rebounds, four assists and three blocked shots in a defeat of Milwaukee to start six-game road trip.
In the tightest moments, he hit a clutch three-point shot and skied for a lob from James to put Washington away.
James scored 29, Walker had 20 on only 10 shots and Westbrook had 15 assists in the Lakers' win.
"Had to figure out some things, figure out who we were and what our identity was going to be — how we wanted to play," James said.
They've got a plan now.
"It's our job to get him the ball at all times," James said of utilizing Davis.
As the Lakers' leaders walked off the court just before the win went official, fans inside the arena stood and cheered as James and Davis did their choreographed handshake. James then put his head on Davis' chest and the two embraced.
The Lakers might not be out of the hole they dug to begin this season, but they're getting closer, their best player leading the way.
"He's totally picked up the torch and he's running with it," Ham said of Davis. "And he's bringing us along for the ride. It's totally great to see."
All things Lakers, all the time.
Get all the Lakers news you need in Dan Woike's weekly newsletter.
You may occasionally receive promotional content from the Los Angeles Times.