No reason to panic, Carlos Beltran tells his Houston Astros teammates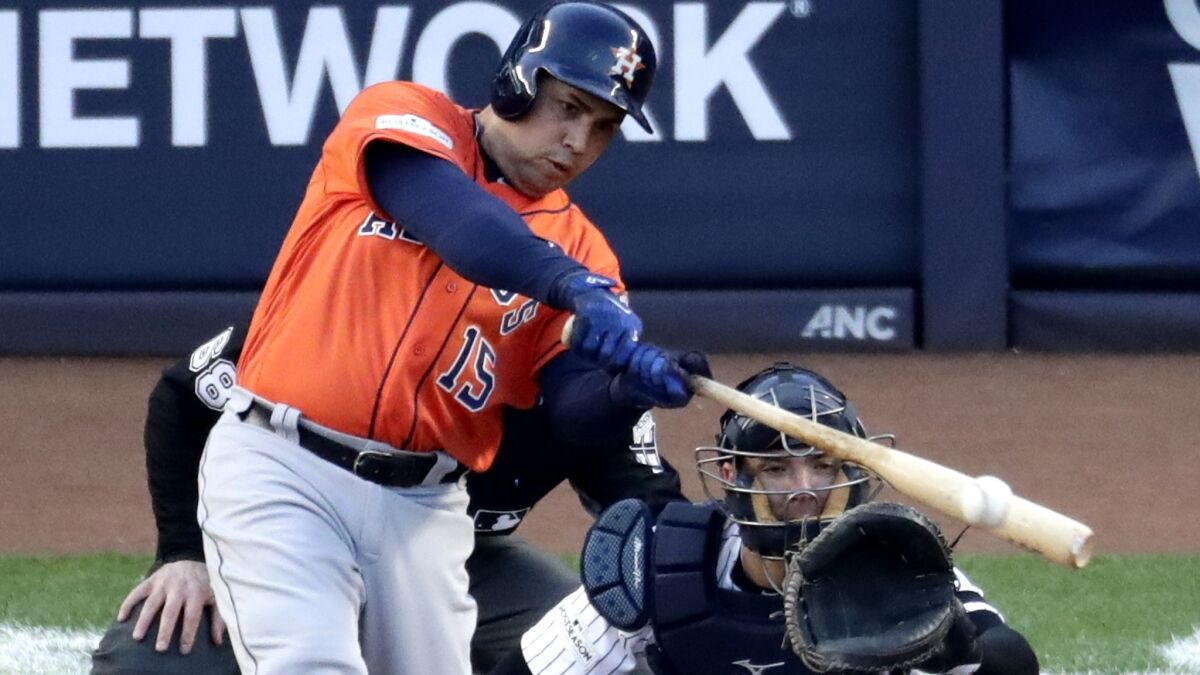 Reporting from Houston —
Carlos Beltran looked one way, then another, and saw only his Houston Astros teammates at their lockers, silent, not moving.
They had returned to the visiting clubhouse Wednesday night at Yankee Stadium after their third consecutive American League Championship Series loss to the New York Yankees and had not spoken to each other.
Beltran, struggling as the designated hitter but still the club's leader, was compelled to speak up.
"I know they're thinking about the situation," he later explained. "I know they're thinking about, 'Wow, we came here with a 2-0 lead, and now we're leaving with them up 3-2.' I know it's going through their heads, because it was going through my head."
Beltran stood in front of his corner locker and addressed his teammates. We need to win twice, he told them. Not a big deal. Catcher Brian McCann, like Beltran a former Yankee, did the same.
"Sometimes you see people acting differently than they do in the regular season," Beltran said. "I just don't want people to feel down. If you get caught up in the hype and the crowd, it could get into your head. We have a lot of young guys in here who are in their first or second time in the playoffs, and they can get caught up in that."
After he spoke, the Astros started to move around and prepare for their flight back to Texas. Beltran believed that his simple message had been received.
Most of the Astros took Thursday off. Only manager A.J. Hinch and his Game 6 starter, Justin Verlander, spoke with reporters at Minute Maid Park.
Hinch said he wasn't surprised to hear that Beltran and McCann had spoken up.
"That's who they've been since the beginning of spring training," Hinch said. "Any sort of meeting or get-together we've had, they either originated it or participated in it in some capacity. Those are the two most tested guys, along with Verlander and [Josh] Reddick, the four guys that have the most playoff experience.
"So, I applaud them for taking the opportunity to tell everybody to take a collective breath and get on the plane and have a different mindset to get home."
Beltran's playoff history is nonpareil, but at 40 he is not nearly the offensive force he once was. Reddick has significant experience, participating in the playoffs in five of the last six seasons for three teams. But by advanced metrics, his performance is clutch situations is worse than any other active major leaguer, and his playoff track record is no different.
He is 0 for 17 in this series. After a late strikeout Wednesday, Reddick flung his bat and chucked his helmet. He later said he saw himself and his teammates overcompensating for the score, when the Astros trailed from the second inning.
"Everybody's trying to be the one guy who can put the team on their back with one swing," Reddick said.
Enter Beltran, the arbiter of clubhouse debates and the bilingual bridge for his teammates.
Asked at this series' outset for an example of Beltran's leadership, Houston's star second baseman Jose Altuve said he was unable to provide one.
"Because we are about to play a good series," Altuve said. "So they're going to find out."
Maybe Beltran's preaching will prove prescient. Maybe it won't make a difference.
Luis Severino, the Yankees' Game 6 starter, outperformed Verlander in the regular season. However, he is 23 and could fold as he did in the wild-card game.
Yankees manager Joe Girardi said that Severino's focus should be on getting through the first inning without "being too hyped up," which was his issue in the wild-card game against the Minnesota Twins.
Asked Thursday where his level of excitement for this start stood, Severino said, "I think it's a hundred."
Follow Pedro Moura on Twitter @pedromoura
---
Get our high school sports newsletter
Prep Rally is devoted to the SoCal high school sports experience, bringing you scores, stories and a behind-the-scenes look at what makes prep sports so popular.
You may occasionally receive promotional content from the Los Angeles Times.