Augie Garrido, who built Cal State Fullerton into a college baseball power, dies at 79
Augie Garrido, who transformed an upstart baseball team from a commuter school into one of the most respected and successful programs in college sports, died Thursday in Newport Beach of complications following a stroke. He was 79.
Garrido coached Cal State Fullerton to three College World Series championships, taking down an annual parade of Goliaths and providing a proud national identity for a campus often belittled as "Cal State Disneyland." Garrido, who parlayed his Fullerton accomplishments into higher-profile and higher-salaried jobs at the University of Illinois and the University of Texas, retired in 2016 with 1,975 wins, the most by any coach in college baseball history.
"He was a charismatic man whose wisdom impacted millions of people, especially the young men who were fortunate enough to play for him," said Steve DiTolla, senior associate athletics director at Fullerton.
In 48 years as a college coach, Garrido shepherded dozens of players into the major leagues, including such Fullerton stars as infielders Tim Wallach and Phil Nevin and outfielder Mark Kotsay. Though none of his jobs afforded him more prominence or resources than the Texas position, none fit him better than the Fullerton job.
When he got to Texas in 1997, the storied Longhorns already had won four national championships and played in one of the finest stadiums in all of college baseball. When he got to Fullerton, in 1973, the school built a new backstop and installed electricity for the pitching machines.
"Everybody would like to be born as the king of a small country. ... It sure as hell didn't work for me," Garrido told ESPN in 2015. "I tell all my teams that I had to settle for coming out of the housing projects, but it was up to me to reinvent myself."
August Edmun Garrido Jr. was born on Feb. 6, 1939, in the San Francisco Bay Area suburb of Vallejo. His father worked in a shipyard, and in his off time he introduced Garrido to a variety of sports at the neighborhood recreation center: baseball and football, ping-pong and pool.
In the summers of his college years, Garrido took the bus from Vallejo to San Francisco to play ball by day and wait tables at night. At Fresno State, where he represented the school as an outfielder in the 1959 College World Series, he lived in a shack intended for migrant farm workers.
After six unremarkable minor league seasons, he started his coaching career at Sierra High in Tollhouse, Calif., at the foot of the Sierra Nevada. He coached one season at San Francisco State and three at Cal Poly San Luis Obispo before arriving at Fullerton.
The players changed clothes in the parking lot and drove themselves to road games. Garrido had no money to pay his assistant coaches. But, with the Titans two years from climbing into Division I — the highest level of college sports — he immersed himself in recruiting community college and high school from Orange County and surrounding areas.
"We didn't have the money to go all over recruiting them," he told The Times in 1995. "But, if we were in the oil industry, we were sitting in the middle of the oil. The area was the best resource we had."
In 1975, the Titans stunned the college baseball world by advancing to the College World Series in their first season in Division I. In their first regional playoff game, they upset USC, the school with the most championships in college baseball history.
And they did it at USC.
"The organist came up to me and asked if she could have a copy of our fight song," Garrido said in the 1995 Times story. "I remember saying, 'I don't think we have a fight song.' "
The organist played "It's a Small World," for the school just down the freeway from Disneyland.
The Titans' baseball field has become one of the happiest places on Earth. Starting from that first season in Division I, the Titans have never had a losing season. Neither of the most celebrated college sports programs in Southern California — USC football and UCLA men's basketball — can make that claim.
Fullerton rarely beat out the glamour colleges in attracting elite high school players, but major league teams took note of Garrido's ability to make his players better. That helped to lure quality players, and so did the Titans' relentless success.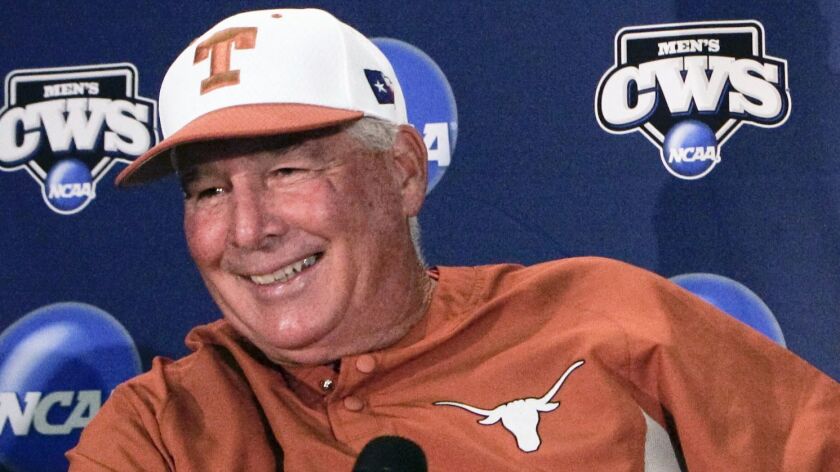 The Titans won the national championship in 1979 and 1984, but the facilities were still so poor that Fullerton regularly played its playoff games on the road. Garrido left for Illinois in 1988 — by the same athletic director who had hired him at Fullerton — but returned after three years.
In his first tenure at Fullerton, Garrido coached 15 years. In his second, he coached six, winning a third national championship.
He spent the last 20 years of his career at Texas, where he became the first coach to win national baseball championships at more than one school and the first to win a title in four different decades.
Former major league closer Huston Street, who was a first-round draft pick in 2004 after playing for Garrido at Texas, on Thursday took to Twitter and repeated some of his former coach's favorite sayings: "Pressure is a choice. The world treats winners different than losers. Time is the ultimate game. Passion will persuade reality," and added: "Coach you've been a genius for so many of us. A friend, our charming second Dad we all thought was just so cool I love you forever"
Garrido won five NCAA titles in all, including two at Texas. He resigned under pressure after the 2016 season, when he was 77 and the Longhorns had posted their third losing record in four years in conference play.
By then, the foundation Garrido had poured at Fullerton had long since taken hold. The Titans now boast their own first-class ballpark, which opened in 1992, the second season of Garrido's second tenure.
"If you build it, he will come back," the school teased.
Fullerton alumnus Kevin Costner, who starred in "Field of Dreams," threw out the ceremonial first pitch to christen the new ballpark. Costner, the most famous fan of the Titans' baseball team, also cast Garrido as the manager of the New York Yankees in the 1999 film "For the Love of the Game."
Garrido, a six-time honoree as national college coach of the year and a 2016 inductee into the College Baseball Hall of Fame, had set off on his career path only after defying his father's wish that he stay home after high school and work in the Vallejo shipyards.
"I remember at that time seeing a guy on 'The Ed Sullivan Show' who was really good with a yo-yo," Garrido told The Times in 1995. "I decided that if you're really good at anything, even doing the yo-yo, you can make a living out of it, so I told my dad, 'I'm going to college.'
"I told him the one thing I knew was sports, and I'd gotten a lot of that from him. I wanted to be a coach."
Garrido is survived by his wife, Jeannie, and daughter, Lisa. Information on services was not immediately available.
Follow Bill Shaikin on Twitter @BillShaikin
---
UPDATES:
10:49 a.m.: This article was updated with Garrido's survivors and the location where he passed.
1:19 p.m.: This article was updated with reaction from Fullerton's associate athletic director and Huston Street, who played for Garrido at Texas.
---
Get our high school sports newsletter
Prep Rally is devoted to the SoCal high school sports experience, bringing you scores, stories and a behind-the-scenes look at what makes prep sports so popular.
You may occasionally receive promotional content from the Los Angeles Times.