Scott Boras holds court on the Bryce Harper sweepstakes at placid winter meetings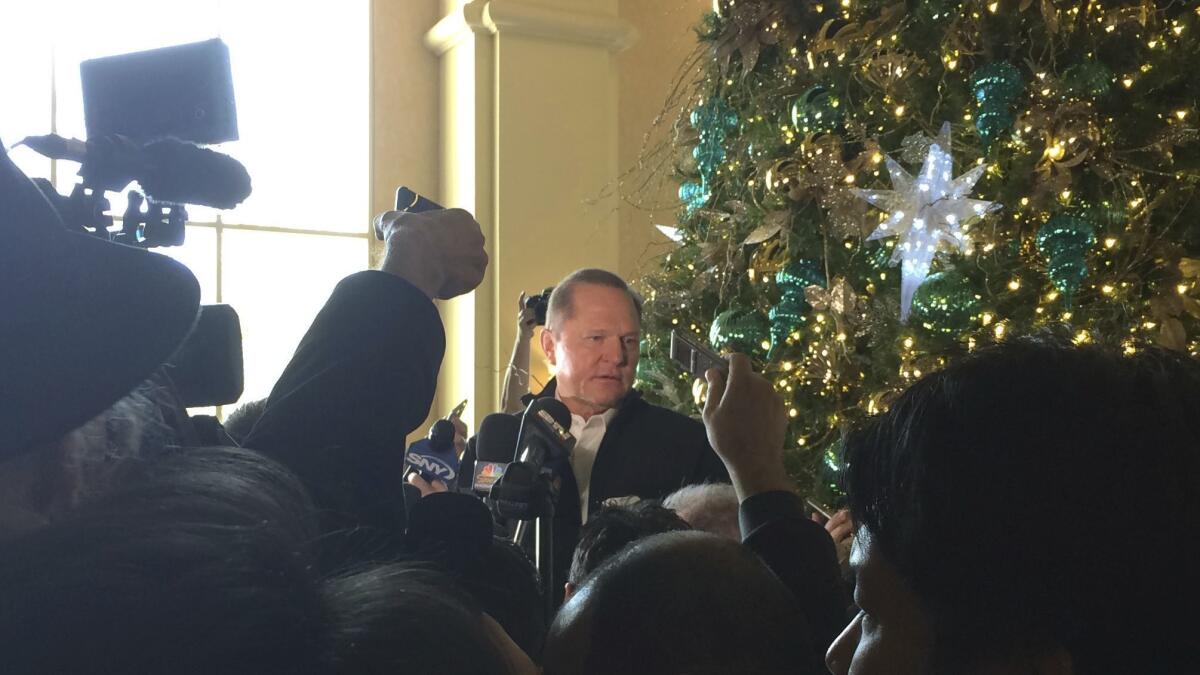 Reporting from Las Vegas —
Scott Boras climbed atop a platform before a ceiling-scraping imitation fir bedecked with silver, gold and emerald ornaments as dozens of reporters swelled around him. On the penultimate day of the winter meetings, Boras came bearing corrections, metaphors and reassurances about the strength of the market for his premier client, free-agent outfielder Bryce Harper.
Last week, before the sport convened at the Mandalay Bay, Washington Nationals owner Mark Lerner cast doubt on his franchise re-signing Harper after his initial rejection of a $300-million offer, and insisted "I really don't expect him back at this point." The Chicago Cubs lack interest in bloating their payroll, and the Dodgers appear only interested in a shorter-term commitment to Harper. Earlier this week, New York Yankees general manager Brian Cashman told reporters he was unsure why they kept asking him about Harper — his team was not interested.
Yet Boras rejected the premise that interest for Harper has not reached the fever pitch once projected. Harper is still capable of eclipsing Giancarlo Stanton's $325-million contract for a new industry benchmark. In meetings with clubs here and in Los Angeles, Boras has sold Harper, the 26-year-old former National League MVP, as a pillar around which a franchise should build.
"When you get to that point, something could happen quickly," Boras said. "And something could also happen in a number of weeks. You can't really put a time on it. We're certainly at a point where we understand the interest level, and what clubs want to do."
The presence of Boras qualified as an event in an otherwise sedate week. The dominoes of the offseason remain upright. Neither Harper nor infielder Manny Machado has found a new team. The market is still well stocked with relievers like Craig Kimbrel, Andrew Miller and Zach Britton. J.T. Realmuto is still a Miami Marlin, Corey Kluber is still a Cleveland Indian and Yasiel Puig is still a Dodger.
No longer do executives treat the winter meetings as an event which requires action. In the past, a team might arrive here with a shopping list, hell-bent on checking off its needs for the coming season. Now, these meetings often serve as only a prelude, a chance for people to interact in person before consummating deals later. And a newer generation of risk-adverse executives loathe creating artificial deadlines: There is no reason to make a move here just to make one, which helps explain the dearth of official activity this week.
Andrew Friedman, Dodgers president of baseball operations, summed up the prevailing philosophy of the majority of his peers Tuesday evening.
"I just don't feel any pressure to do something in the next day and a half," Friedman said. "But obviously if things do line up, we'll do it."
Friedman followed that blueprint last offseason, using the winter meetings as a springboard for discussions with Atlanta about the trade that brought Matt Kemp back to Los Angeles. The team is engaged in similar talks about salary swaps this offseason, aiming to unload Kemp and possibly outfielder Puig and pitcher Alex Wood.
The Dodgers have worked through concepts for those types of deals with Cleveland and Cincinnati, according to people familiar with the situation. They have also sought a match for Kluber or fellow Indians pitcher Trevor Bauer. The coverage of those talks left Cleveland manager Terry Francona sounding wary Wednesday morning.
"I've seen the rumors," Francona said. "I would say 99.9 [percent] are not correct . . . I think that some of this stuff — it's the winter meetings. It gets a life of its own. That's just the way it is."
By winnowing their outfield surplus, the Dodgers could create an opening for Harper. The possibility appears remote, although neither side will comment publicly on the potential for a match. Boras ruled out discussing which teams have expressed the most zeal for his client. He also declined to speak about the length of any offers.
"This is not a car where every race is labelled," Boras said.
The annual address from Boras has become a staple of this week's festivities. Few other agents attempt to match the wattage he projects — there will not be a counter news conference from Dan Lozano, the agent for Machado. Boras peppers his remarks with quips and turns of phrase, levying contempt upon those franchises unwilling to spend.
The Yankees are willing to spend. But Cashman has repeatedly downplayed any desire for Harper, pointing to his surplus of outfielders like Stanton and Aaron Judge. Boras countered in creative fashion.
"When the nurse comes into your room with a thermometer, the issue isn't the temperature of the patient that day," Boras said. "It's their health when they're ready to leave the hospital. And they're not ready to leave the hospital."
All 30 teams will leave this venue in the aftermath of the Rule 5 draftThursday. Harper is unlikely to have found a destination by then. But Boras still sounded confident about the overall outlook.
"Bryce is open to a lot of different venues," Boras said. "It's really about what a lot of different owners have said to him about their commitments, and what they want to do long term."
Twitter: @McCulloughTimes
Get our high school sports newsletter
Prep Rally is devoted to the SoCal high school sports experience, bringing you scores, stories and a behind-the-scenes look at what makes prep sports so popular.
You may occasionally receive promotional content from the Los Angeles Times.