Column: Is Bryce Harper worth $330 million? It's too soon to tell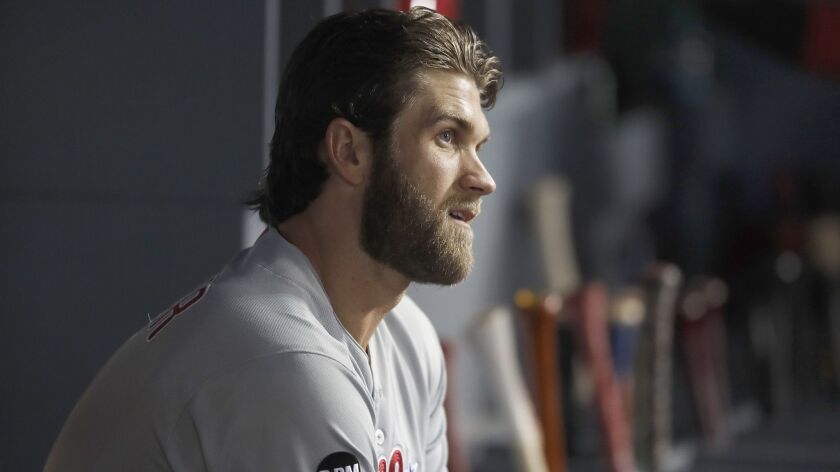 When the Dodgers courted Bryce Harper this spring, they spoke to him about the possibility of him playing left field for them.
Harper went on to sign a $330-million contract with the Philadelphia Phillies. The Dodgers stayed with Joc Pederson in left field.
Pederson launched his 17th home run of the season Friday night, redirecting a fifth-inning slider by Jake Arrieta high above Harper's head and into the Matt Stairs region of Dodger Stadium's right field pavilion.
Harper was 0 for 4 in the Dodgers' 6-3 victory over the Phillies. He remained stuck with 10 home runs to go with a .248 average, which is 26 points lower than Pederson's.
Harper will earn $30 million this season. Pederson will make $5 million.
The early results indicate the Dodgers made the right call in exercising restraint in their pursuit of Harper, but, well, it's still early. A little more than a third of the season has been played. Harper's contract is for 13 years. There's still plenty of time to render a verdict.
The judgment should become clearer in October, when the Dodgers and Phillies could very well be the last two teams standing in the National League. The Dodgers have the best record in the league at 39-19. The Phillies are next at 33-24.
"I think they're one of the best teams in the league," Phillies manager Gabe Kapler said. "I think we're one of the best teams in the National League as well."
The ascension of the Phillies was expected. What's surprising is how they have managed to build a three-game lead over the Atlanta Braves in the NL East without Harper producing much offensively.
Even with his underwhelming form at the plate, Harper was described as an "unbelievable" addition to the team by Larry Bowa, a former All-Star shortstop with the Phillies who now serves as a senior advisor to general manager Matt Klentak.
Sign up for our daily sports newsletter »
"I don't think there's buyer's remorse at all," Bowa said. "He's been a perfect citizen, as far as what his obligations are. … Even when he was not getting his hits, he was playing unbelievable defense, he was running the bases, taking the extra base."
Harper has embraced becoming the face of the franchise, making himself available to the media after most games. Friday was a rare exception, as he was part of a group of Phillies who were summoned by Kapler for a post-game meeting in the manager's office.
"I've never seen anything like it," one of the team's beat reporters said.
Bowa thinks Harper's willingness to absorb the spotlight has relieved pressure on some of the team's younger players such as center fielder Scott Kingery, second baseman Cesar Hernandez and first baseman Rhys Hoskins.
Bowa downplayed Harper's early-season slump.
"Forget the hitting," he said. "He's going to hit his 35 or 40 [home runs] and score 100."
If anything, Bowa was encouraged by how the Phillies have won games without Harper posting Harper-like numbers.
"Usually when you sign a guy like that and he doesn't hit right away, it affects your offense," Bowa said. "But we don't rely on one player."
Bowa pointed to the acquisitions the Phillies made over the winter.
They traded for shortstop Jean Segura. They signed Andrew McCutchen as a free agent. They traded for catcher J.T. Realmuto.
With the addition of Harper in March, second-year manager Kapler has enjoyed the luxury of fielding a regular lineup.
"Last year, he tried to match up and everything," Bowa said. "The pickups we made during the winter, they're all everyday players. Realmuto, Segura, McCutchen, they all play every day. You have a lineup you can throw out there every day."
Bowa was in uniform for all of spring training and has made several trips with the Phillies, including this one to Los Angeles. He has liked what he's seen of Harper's comportment.
"He's pretty even-keeled guy," Bowa said. "He doesn't get really excited if he goes four for four and he doesn't get down when he's 0 for 4. He's the same. He posts up every day, he wants to play, which now, with this generation of players, when you see a guy who wants to play 162 games, that's great. You've got to love that."
A former Yankees coach under then-manager Joe Torre, Bowa compared Harper's demeanor to Derek Jeter's.
"The thing with those guys, they want to be up when the game's on the line," Bowa said. "You can't teach that. And if they fail that night, they want to be up there the next night."
The 73-year-old Bowa was also third base coach with the Dodgers from 2008-2010, when Torre was their manager.
As someone familiar with both Harper and the Los Angeles market, Bowa believes Harper would have been a fit with the Dodgers.
"I think he would have fit in anywhere," Bowa said. "I really do. When you have those kinds of skills, you're going to fit in."
And come October, Harper could be roaming the outfield at Dodger Stadium, just as Andrew Friedman envisioned. Only instead of being a player that takes them to their third consecutive World Series, he could represent their final obstacle.
Follow Dylan Hernandez on Twitter @dylanohernandez
---
Get our high school sports newsletter
Prep Rally is devoted to the SoCal high school sports experience, bringing you scores, stories and a behind-the-scenes look at what makes prep sports so popular.
You may occasionally receive promotional content from the Los Angeles Times.