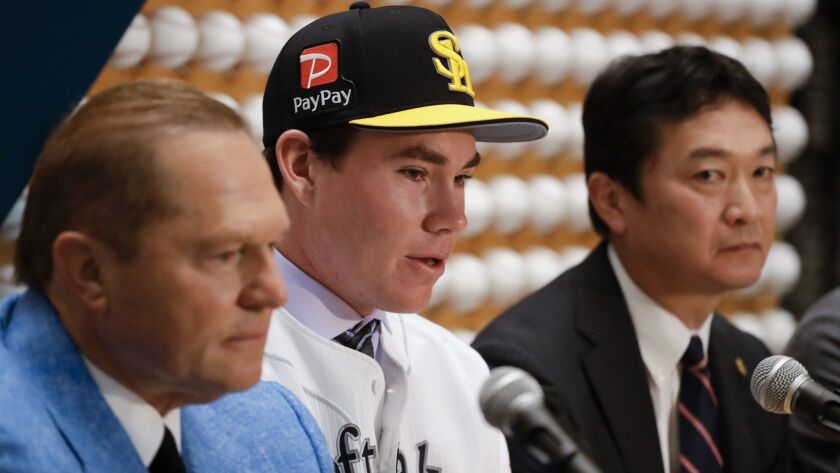 About a month after Bobby Seay was chosen by the Chicago White Sox in the first round of the 1996 draft, the pitcher filed a grievance to become a free agent, citing an obscure rule that required teams to make written offers to players within 15 days of selecting them. Seay won and signed with Tampa Bay for $3 million.
His advisor? Scott Boras.
The following year, J.D. Drew rejected an offer of about $3 million from the Philadelphia Phillies and signed with an independent league team. He reentered the draft in 1998 and signed a deal worth close to $9 million.
His agent? Also Boras.
Last year, Carter Stewart was chosen eighth overall by the Atlanta Braves. Concerns over his physical examination resulted in the Braves offering him less than half of the $4.98-million slot value of the pick, prompting Stewart to enroll in a junior college to ensure he would be eligible for the draft again this year. And before another team could select him next week, the 19-year-old right-hander signed a six-year, $6-million deal with the Fukuoka Softbank Hawks of Japan.
Care to guess who is representing him?
"Today is a momentous day," Boras said Thursday at his office in Newport Beach, where the Hawks introduced Stewart as their newest player.
Momentous because of the freedom the deal could afford Stewart in the future. Momentous because this was a rare victory for a player, however minor.
Triumphs have become hard to come by, even for the agent known as the Lord of the Loopholes.
A salary-suppressing vehicle since its inception, baseball's draft has become even more restrictive in recent years, with penalties for teams that spend more than league guidelines.
Limiting the cost of the draft picks has made them more valuable, as they allow franchises to sign top-level talent for pennies on the dollar. This dynamic has encouraged noncontending teams to be downright awful to better position themselves in the draft. The escalating value of draft picks has also affected the free-agent market, as teams have become reluctant to sign players who would cost them draft picks. Craig Kimbrel and Dallas Keuchel remain free agents for this reason.
Meanwhile, the sport has continued to generate record profits, with Major League Baseball's revenues now in excess of $10 billion.
"The American system failed him," Boras said of Stewart.
When Stewart was drafted by the Braves out of Eau Gallie High in Florida, the point in contention was his wrist. The irregularities that were discovered in his physical with the Braves are why Stewart believes his trademark curveball rotates as much as it does. The Braves viewed them as a reason to offer him only $2 million.
Stewart had no recourse, other than to reenter the draft. He kept the option open by enrolling at Eastern Florida State College, where he knew the coach.
Sign up for our daily sports newsletter »
He pitched at the junior college this year and was projected to be an early second-round pick in the draft next week, where the slot values range from $1.4 million to $1.7 million.
Boras, who didn't advise him when he was drafted last year, offered him an alternative, which was to start his career in Japan.
Even under the best-case scenario, Stewart was projected to earn less than $4 million in his first six years of professional baseball in the United States – and that included a draft bonus. He would likely have made less than $10,000 annually in the minor leagues.
Compare that to what the Hawks offered: a deal that has incentive clauses that could increase its total value to $18 million. Realistically, Stewart is expected to collect somewhere between $10 million and $12 million.
The key is what happens afterward.
Any player who spends six years in a foreign league is considered by MLB to be a foreign player, making them draft-exempt. And any foreign player over the age of 25 is exempt from the kind of restrictions that limited Shohei Ohtani to a $2-million bonus when some teams viewed him as a $200-plus million player.
The language in Stewart's contract will allow the right-hander to become an unrestricted free agent at 25. Similarly aged players will have to wait until they are close to 30 years old to have such rights.
Boras said Stewart will benefit from Japan's player development system, which created the likes of Ohtani, Masahiro Tanaka and Yusei Kikuchi. Pitchers in Japan generally pitch once every seven days, which Boras thinks will preserve his client's arm.
"The land of the rising arms," Boras called Japan.
Stewart will initially be part of the Hawks' minor league team. Hawks general manager Sugihiko Mikasa said he was hopeful Stewart could be part of the first team by next season.
Mikasa was confident in his team's ability to develop an American player, pointing to how his team had similar experiences with Cuban and Venezuelan players. He acknowledged there could be some difficulties for Stewart, from learning a new language to Japan's unique baseball culture.
Mikasa said he understood the risks, but was open to taking them on because of the vision he has for his franchise.
"We want to be a world-class organization," he said in Japanese.
Doing that, Mikasa said, required the Hawks to find players wherever they could.
Stewart's parents, Scott and Patricia, said they believed their son was ready to go overseas.
"It's only geography," Scott said.
Patricia pointed to the maturity her son gained in the wake of the death of his older brother, Hyde.
"He has perspective of what's important and what isn't," she said.
For his part, Stewart said he recognized the potential impact of his overseas challenge.
"I do hope that I create new opportunities for young amateur players to have a different path," he said.
It's unlikely Stewart's move will immediately start a trend. Most American players prefer to stay home. Stewart could become a cautionary tale.
But Stewart could also become a source of inspiration. In an era when teams are hesitant to pay for players on the decline, Stewart will have a chance to become a free agent as he is about to enter his prime. He could be Boras' most time-consuming project. He could also be the most rewarding.
---