Blake Snell wins Cy Young Award in American League, Jacob deGrom wins it in the National League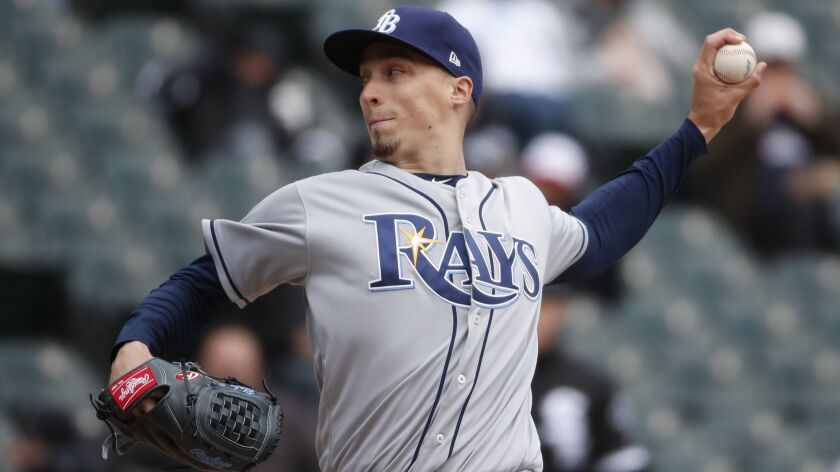 Tampa Bay Rays left-hander Blake Snell rode a 21-win season to the American League Cy Young Award and New York Mets ace Jacob deGrom overcame a dearth of run support to win the award in the National League.
Both were first-time winners who bested well-decorated veterans. Snell (21-5, 1.89 earned-run average) finished ahead of Houston Astros veteran Justin Verlander, who won the award in 2011 while with the Detroit Tigers, and Cleveland Indians stalwart Corey Kluber, who won in 2014 and 2017. DeGrom (10-9, 1.70 ERA) ended Washington Nationals ace Max Scherzer's reign at two years.
The awards are decided by members of the Baseball Writers' Assn. of America. The voters did not punish deGrom, who became the starting pitcher with the lowest win total to collect the hardware since Felix Hernandez won 13 games in 2010 with the Seattle Mariners. DeGrom still received 29 first-place votes, a nod to his otherwise sparkling statistics.
DeGrom, 30, operated with little aid from the Mets offense. He still posted the sixth-lowest ERA of any pitcher to win the Cy Young Award, with 217 innings and 11.2 strikeouts per nine innings. He romped over Scherzer, who had a 2.53 ERA in 220 2/3 innings with a league-best 12.2 strikeouts per nine innings. Scherzer got 29 second-place votes. Philadelphia Phillies right-hander Aaron Nola finished third.
Rounding out the ballot in the NL were Colorado Rockies left-hander Kyle Freeland in fourth place and Arizona Diamondbacks left-hander Patrick Corbin in fifth. Corbin is one of the most coveted free agents on the market this offseason after a 200-inning season with a 3.15 ERA. Also receiving votes were St. Louis Cardinals starter Miles Mikolas, Milwaukee Brewers reliever Josh Hader, Atlanta Braves starter Mike Foltynewicz and Chicago Cubs starter Jon Lester.
The voting in the AL offered more room for debate. Snell, 25, received 17 first-place votes; Verlander received 13. Snell logged only 180 2/3 innings as one of the few reliable starters on the Rays. Tampa Bay experimented with relievers as "openers" during a 90-win campaign. Verlander, 35, remained a workhouse, with 214 innings and a 2.52 ERA. Verlander struck out 12.2 batters per nine innings and Snell struck out 11 per nine innings.
Boston Red Sox ace Chris Sale earned two second-place votes but finished in fourth. He was followed by Astros right-hander Gerrit Cole, Indians right-hander Trevor Bauer, Oakland Athletics closer Blake Treinen, Mariners closer Edwin Diaz and New York Yankees right-hander Luis Severino.
The results cut short a streak of recognized excellence for Dodgers ace Clayton Kershaw. Since 2011, the year he won the first of his three Cy Young Awards, Kershaw had landed in the top five of voting every season, including runnerup in 2012 and 2017. Kershaw did not appear on any of the 30 ballots of the NL voters.
"It gives me a chance to prove a lot of people wrong," Kershaw said after signing a three-year, $93-million deal with the Dodgers shortly after the season ended. "I think this year especially, maybe rightfully so, but there's been a lot of people [saying] that I'm in decline or not going to be as good as I once was. And I'm looking forward to proving a lot of people wrong with that."
Twitter: @McCulloughTimes
---
Get the latest on L.A.'s teams in the daily Sports Report newsletter.
You may occasionally receive promotional content from the Los Angeles Times.