Yuli Gurriel suspended five games, in 2018, for actions in World Series Game 3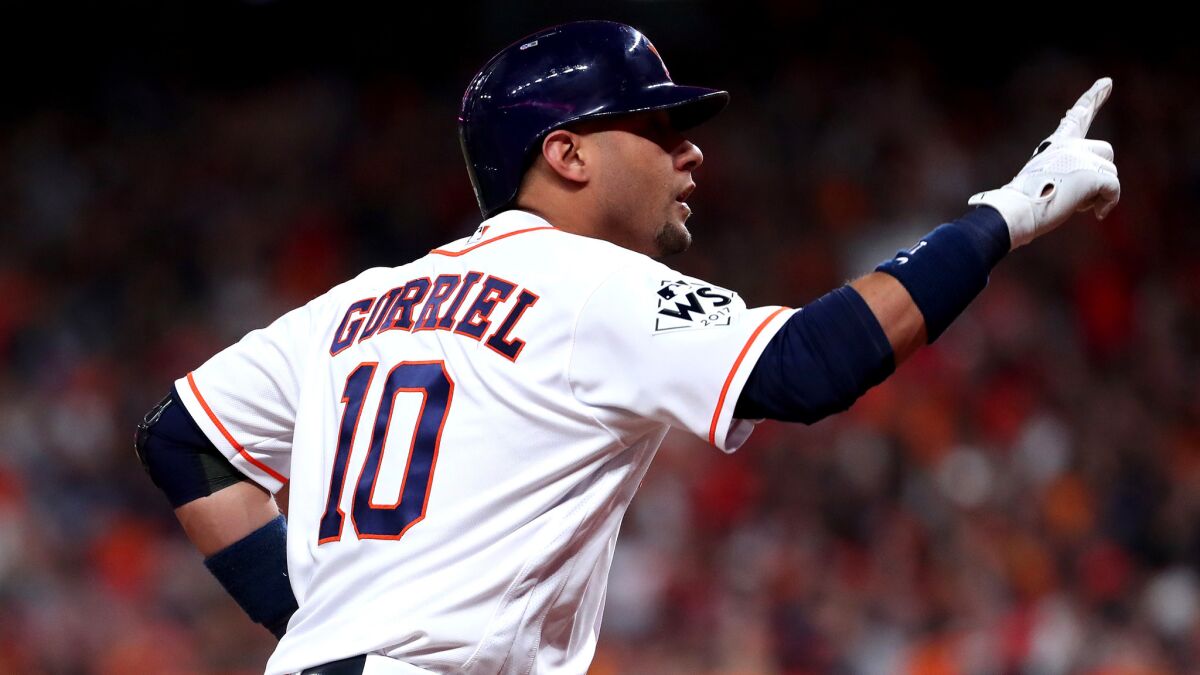 Yuli Gurriel, one of the key hitters for the Houston Astros, was suspended for five games after television cameras caught him making a gesture and mouthing a word with racial overtones during Friday's Game 3 of the World Series.
The unpaid suspension will be served at the start of the 2018 season, and Gurriel will not appeal. He will not miss any games in the Series, with the Astros and Dodgers scheduled to play Game 4 on Saturday.
In announcing the suspension, Commissioner Rob Manfred said that "there is no place in our game" for Gurriel's behavior. He then was asked whether baseball had passed on a chance to make its biggest statement to that effect by choosing not to suspend Gurriel during the World Series.
"I used my best judgment as to where the appropriate disciplinary level fell," Manfred said.
Manfred deflected a question about the virtual certainty of the players' union challenging a suspension during the Series.
He said he thought the penalty was appropriate in part because the suspension would be unpaid (players do not earn extra salary during the World Series), because the Dodgers' Yu Darvish — the player at whom Gurriel's actions were directed — had expressed a desire to move forward and because a World Series suspension would unfairly punish the rest of the Astros players.
"I wanted the burden of this discipline to fall primarily on the wrongdoer," Manfred said.
Manfred commended Darvish for the "exemplary way" in which he handled the incident.
"I made an offensive gesture that was indefensible," Gurriel said in a statement released by the Astros. "I sincerely apologize to everyone that I offended with my actions. I deeply regret it.
"I would particularly like to apologize to Yu Darvish, a pitcher that I admire and respect."
After Gurriel hit a home run off Darvish in Friday's game, Gurriel returned to the Astros' dugout. He put his fingers to the sides of his face and lifted the corners of his eyes, the "slanted eyes" gesture widely regarded as offensive by Asians. Gurriel also used the word "chinito," Spanish slang for Chinese boy.
Gurriel will have to undergo sensitivity training. The Astros said they would donate the salary Gurriel would have earned from the five games to charities, including one "directly supporting diversity efforts."
Manfred said Gurriel "expressed remorse" when they met Saturday. The commissioner also met with owners and executives from teams and representatives of the players' union. The commissioner said there was "complete unanimity" that Gurriel's actions were indefensible.
The union issued a statement saying that Gurriel would not appeal and that it would "refrain from further comment at this time."
Dodgers manager Dave Roberts, who was born in Japan, said that Gurriel's actions were "obviously not acceptable" and that he was pleased Manfred had acted so quickly.
"I think that it gives us all some closure," Roberts said.
Said Astros manager A.J. Hinch: "I have great remorse that it involved our team. And Yuli has great remorse, and I appreciate that out of him.
"It's very personal for me, with Dave Roberts and his family heritage and Yu. We had Nori Aoki on this team earlier this season, and we know how diverse our sport is. And so we support everything that's right about this game, and we'll move forward, if everyone will allow us to."
Darvish was born in Japan to an Iranian father and a Japanese mother. He grew up in Japan and played there before coming to Major League Baseball in 2012.
Gurriel was born in Cuba and played there and in Japan in 2014 before coming to MLB last year.
Darvish was widely reported to have called Gurriel's actions "disrespectful." Times columnist Dylan Hernandez, who speaks Japanese, said Darvish did not use that adjective in speaking with English-language reporters and that the translation had been improper.
Darvish said he had seen Gurriel's gesture.
"Personally, it doesn't really bother me," Darvish said.
"But I'm sure the Astros have Asian fans, and there are a lot of Asian people all over the world, and to those people, from a humanistic perspective and as a baseball organization, I thought the Astros' image might suffer as a result."
Darvish said he was not angry with Gurriel.
"As teammates, we joke about stuff like that," Darvish said. "He played in Japan, and I have respect for him. As citizens of the world, if we can learn from this and take a step forward. I think this could be a good thing."
Manfred said Gurriel had agreed to offer a personal apology to Darvish.
"I've never had anything against Darvish," Gurriel said Friday. "On the contrary, he's always been one of the best pitchers. If he was offended, I ask for his forgiveness. That wasn't my intention."
Gurriel said he was relieved to have hit the home run because he previously had struggled to hit against Darvish.
"I was commenting how I hadn't had much luck with Darvish," Gurriel said. "I said I thought maybe they saw me as they did see themselves, and I wanted to see if they would throw me a pitch like that."
Gurriel said he was aware that "chinito" is regarded as a slur among the Japanese.
"In Cuba and in various places, you don't say Japanese, you call all Asians 'chinitos,'" Gurriel said. "But I was in Japan, and I know they are offended by that."
Other MLB players have been suspended for making offensive comments. Matt Joyce of the Oakland Athletics and Kevin Pillar of the Toronto Blue Jays were suspended two games each this season for using anti-gay slurs. Manfred said he thought the longer suspension for Gurriel would represent "a statement of our disapproval of this behavior."
After Darvish spoke with reporters Friday, he posted a note on social media, expressing hope that the Gurriel incident could serve as a learning experience.
"No one is perfect," Darvish wrote. "That includes both you and I.
"What he had done today isn't right, but I believe we should put our effort into learning rather than to accuse him. If we can take something from this, that is a giant step for mankind. Since we are living in such a wonderful world, let's stay positive and move forward instead of focusing on anger.
"I'm counting on everyone's big love."
The Los Angeles Dodgers in the 2017 World Series
Follow Bill Shaikin on Twitter @BillShaikin
---
UPDATES:
4:20 p.m.: This article was updated with comments from Dodgers manager Dave Roberts and Houston manager A.J. Hinch.
2:20 p.m.: This article was updated with MLB Commissioner Rob Manfred's comments on the decision plus details on players' union reaction and a statement from Gurriel.
1:10 p.m.: This article was updated with information about the MLB's suspension of Yuli Gurriel for five games at the beginning of the 2018 season.
This story was originally published at 12:25 p.m.
Get our high school sports newsletter
Prep Rally is devoted to the SoCal high school sports experience, bringing you scores, stories and a behind-the-scenes look at what makes prep sports so popular.
You may occasionally receive promotional content from the Los Angeles Times.