The Dodgers will be in the market for a third baseman this winter. Justin Turner says he would like to return, and the Dodgers say they would like that too.
But there is no deal in place, and Turner is six weeks from free agency, and from the first and last big contract of his career. He is the only power-hitting third baseman expected to be available in free agency. The rest of the third-base class: Martin Prado, who cannot hit for power; Pedro Alvarez, who cannot field the position; and a handful of utility infielders.
Turner has 27 home runs, and he is a dynamic fielder and clubhouse leader. He will get paid, and more than you think.
Five years, $85 million? Turner will be 32 next year. It is difficult to imagine the Dodgers, so wary of committing big bucks to players beyond their mid-30s, bidding so grandly for Turner.
What if — for five years and $85 million — they could get a third baseman just as good as Turner, arguably a little bit better, and three years younger?
What if they could get Corey Seager's big brother?
Spoiler alert: There is almost zero chance of the Seattle Mariners trading Kyle Seager to the Dodgers, or any other team. But, as we await Corey Seager's coronation as National League rookie of the year, this would be a good time to point out that Kyle Seager is playing just as well as his kid brother.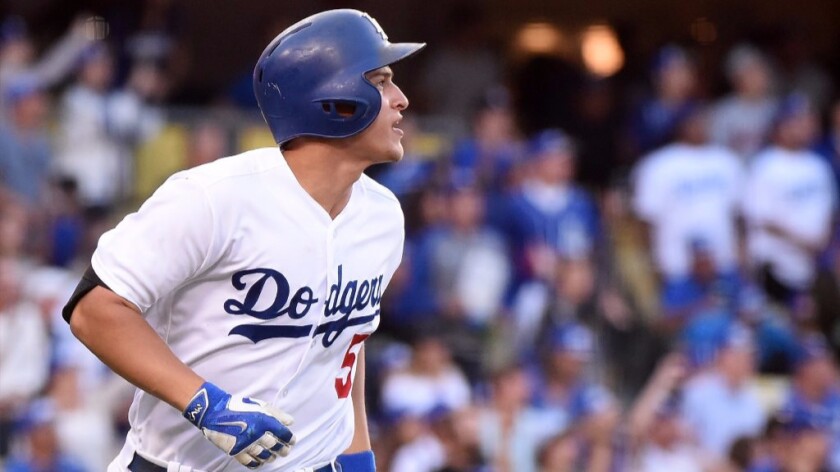 The Seagers are the first brothers to hit 25 home runs each in the same season, according to Elias.
Their WAR ratings differ — Fangraphs rates Corey as the third-most-valuable player in the major leagues, slightly ahead of Kyle; Baseball Reference rates Kyle as sixth-most valuable, slightly ahead of Corey — but both rank comfortably among the top 20 players this season.
Kyle was batting . 288 with 29 home runs, 93 runs batted in and a .367 on-base percentage before Saturday. Corey was batting .315 with 25 home runs, 97 runs scored and a .374 OBP.
Kyle is the first major leaguer to increase his home-run total in each of his first six seasons since Matt Kemp did it for the Dodgers (2006-11). He is more impressed by the numbers Corey has put up.
"Phenomenal," Kyle said. "I knew this was definitely in the tank, but to be able to break in his first year and do the things that he's doing is incredible."
The Mariners feel the same way about Kyle, and they are not alone. Corey already draws recognition as one of the best players in baseball — and prominent consideration for most valuable player — but Kyle scarcely gets recognition even as one of the best players at his position.
"I know it's a real glamorous position right now, with [Toronto's Josh] Donaldson and [Baltimore's Manny] Machado and [Tampa Bay's Evan] Longoria, but Kyle ranks up there with the best of them," Mariners General Manager Jerry Dipoto said.
"The fact that he is tucked away up there in the Pacific Northwest means not a lot of people realize just how good he is."
Throw in the National League stars at third base — Kris Bryant of the Chicago Cubs and Nolan Arenado of the Colorado Rockies — and you barely hear a word about Kyle.
And we have not even mentioned the gold standard for American League third basemen: Adrian Beltre of the Texas Rangers.
"He's every bit as good as Beltre," Angels coach Gary DiSarcina said of Kyle.
"He plays Gold Glove defense, and he plays every day. He's going to get 25 to 30 home runs. He's clutch. He gets big RBIs. He runs. He plays the game hard.
"He likes to talk, whether it's a bad game or a good game, whether he struck out three times or homered four times. His personality is the same. That's what I love about him. He's the same every day.
"I could sit here and talk about him all day. He is that impactful of a player. He's just everything you want a player to be. That's why those types of guys get the contracts like he got. You can build your team around him."
He is the third member of the Mariners' $100-million club, following Felix Hernandez and Robinson Cano. Kyle's contract is backloaded, with five years and $85 million remaining, and with the really big numbers kicking in come 2018.
In that year, the Mariners have $82.5 million committed to Hernandez, Cano, Nelson Cruz and Seager –— when Hernandez will be 32, Cano 35 and Cruz 37.
"They were in their 30s this year, and they're playing pretty well," Kyle said. "I think they're different animals. They're not old old yet. Those guys will be good for a long time."
Before the season, Kyle told Seattle reporters that he was "a little jealous" of Corey, who had gotten into the playoffs last year, after one month in the major leagues.
"Watching my brother in the postseason was really cool," Kyle said then. "And I'd like to join him."
The Mariners last visited the playoffs in 2001 — the longest postseason drought in baseball — but they rode an eight-game winning streak into the midst of this year's wild-card race.
The Mariners also had each of their minor league affiliates qualify for the playoffs this season, and so Kyle said he does not believe he needs to leave Seattle to enjoy October.
"I think we've built something we could sustain," he said.
Dipoto inherited Hernandez, Cano, Cruz and Seager. He is building around them, even at their relatively advanced ages.
"That, I guess, is our version of the Core Four," Dipoto said. "There's no reason why we can't extend this window a little bit longer."
So, if the Dodgers were to try to trade for Kyle, they would have to offer young players who could step in and help the Mariners win now — say, pitcher Jose De Leon and first baseman Cody Bellinger. The Dodgers might not entertain that, even if the Mariners agreed to take outfielder Yasiel Puig too, and the Mariners might not consider trading Kyle anyway.
"I'm sure it would be much better for the frequent-flyer miles for the Seager family, but we have every intention of making sure he's a Mariner for a long time," Dipoto said.
"He just continually gets better. He's signed to a long extension that is very reasonable for the way he performs. He's super steady. There's no reason you wouldn't want him playing for you."
The three baseball-playing Seager brothers — Kyle, Corey and Justin, a minor league infielder in the Mariners' organization — text or talk just about every night.
Yes, Kyle admits, he would love to play alongside Corey. Imagine that: a lineup card on which two lines read "SEAGER 6, SEAGER 5."
"That would be cool," Kyle said.
So how about a trade to join Corey on the Dodgers?
"He needs to get traded over here," Kyle said. "You've got Justin too. So you've already got two of us over here. I like it in Seattle."
Not happening. If the Dodgers would not trade Corey for Jose Fernandez, it is difficult to find anyone on the Seattle roster the Dodgers would want for him — not even his brother, because Kyle is six years older.
In 2018, Kyle and Corey could become the first brothers selected to the All-Star game in the same year since Aaron and Bret Boone in 2003, according to STATS LLC.
Even then, they would not be teammates. Maybe one of these years, in one shade of blue or another.
Follow Bill Shaikin on Twitter @BillShaikin
---