Column: Oh no, Ohtani? Not really. Angels will be fine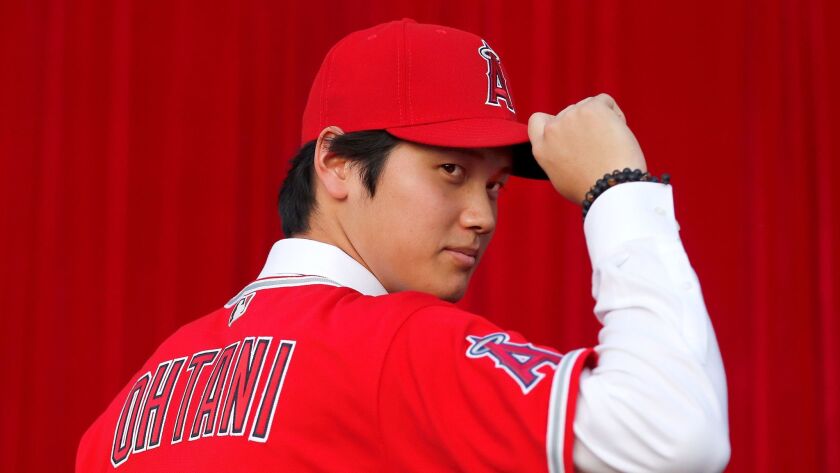 The Shohei Ohtani news might have captured the headlines in Southern California on Tuesday, but did you catch the Drew Smyly news?
The Chicago Cubs guaranteed Smyly $10 million. He is a starting pitcher, but he probably will not start a game for them next year because he is coming off Tommy John surgery. The Cubs hope Smyly can help them in 2019.
Tommy John surgery is not a calamity, not in a time when rehabilitation techniques are so advanced that the Cubs feel comfortable betting $10 million on them. And the Cubs are far from alone, or novel: Teams routinely sign pitchers after Tommy John surgery. The Angels did it 13 years ago, with a high school pitcher named Nick Adenhart.
So it turns out that Ohtani, whom the Angels celebrated last week, has a sprain — a small tear — of the ulnar collateral ligament in his pitching elbow. That ligament, if fully torn, generally requires Tommy John surgery to fix.
Ohtani's new teammate, Garrett Richards, returned without surgery from a partial tear in his UCL. Ohtani's countryman, Masahiro Tanaka, did the same.
The Dodgers signed Kenta Maeda after an examination revealed what he and the team agreed to call "irregularities" in his pitching arm, believed to be an issue with his elbow. He pitched effectively in Japan before signing with the Dodgers, and his only disabled list appearance in two years in Los Angeles related to what the team said was an injury to his hamstring, not his arm.
Ohtani might never need elbow surgery. But consider this: The Angels signed him to a minor league contract. The rehabilitation from Tommy John surgery generally takes one to two seasons. The Angels could control Ohtani for as long as nine seasons.
This is not the revival of the Angels curse.
If Ohtani cannot pitch in 2018, yeah, that would hurt. That could make it more likely that Mike Trout gets one year closer to his potential 2020 free agency without a career postseason victory.
But there is no evidence Ohtani cannot pitch in 2018, at least not yet, and just about every team in the major leagues saw Ohtani's medical reports and bid on him anyway.
The Cubs got Smyly, 27, for two years. The Angels got Ohtani, 23, for at least six years, at little more than twice the cost. Again, he might never need elbow surgery.
If he does, unlike Smyly, Ohtani comes with a Plan B — really, a Plan BB. He can be a big bat.
Follow Bill Shaikin on Twitter @BillShaikin
---
Get the latest on L.A.'s teams in the daily Sports Report newsletter.
You may occasionally receive promotional content from the Los Angeles Times.