San Francisco has (woeful) Giants problem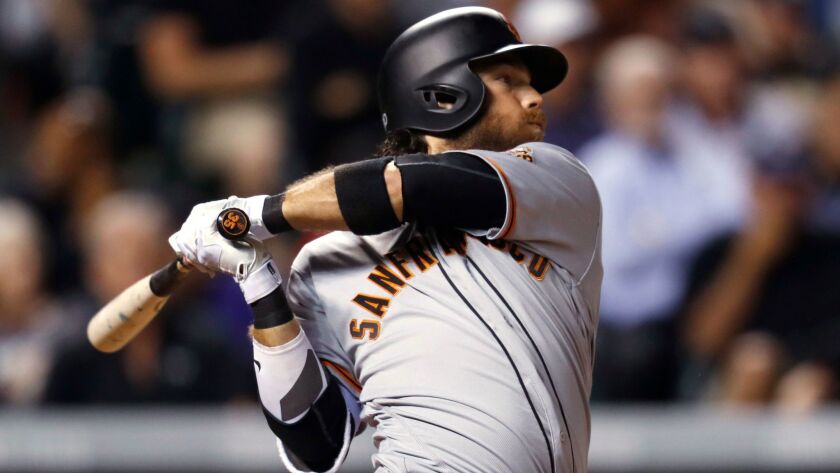 Reporting from San Francisco —
The San Francisco Giants don't have much to sell these days. The garlic fries still tantalize, but that's about it. On Tuesday, the Giants are trying $1 hot dogs.
The Giants could lose the most games in the history of the franchise, which opened for business in 1883. Even the Dodgers could not help them sell out AT&T Park last week, for the first time in seven years.
And, after a wretched display of something vaguely resembling baseball in last Wednesday's finale against the Dodgers, San Francisco fans might as well tune out until spring training.
How 'bout them 'Niners? (Sorry, they're terrible too.)
That Wednesday scorecard:
• The right fielder flailed as a fly ball cleared his head for a triple.
• A runner was caught off base, triggering a double play on a routine comebacker.
• A pop fly dropped between the second baseman and the right fielder.
• The third baseman threw a ball away.
• The third baseman dropped a throw.
• The catcher could not handle a third strike.
• A runner was caught off base and got doubled off on a fly ball.
• The public address announcer introduced the wrong player.
• The attendant stationed down the foul line let a foul ball trickle through his legs, then he got up to retrieve it and fell on his face.
We'll excuse the public address announcer, and the foul-ball guy. The other offenses were committed by major league players, and not by the call-ups you would expect a last-place team to field this time of year.
The ages of the five players involved in the blunders: 34, 34, 31, 28, 26. The one that was not on this year's opening day roster wears three Giants championship rings.
That gets to the heart of the matter: Are these Giants too old to expect another championship run?
The point of the game is to win the World Series; the Giants did it three times in five years. If their player development cupboard is bare now, the Giants should be applauded for trading high-quality prospects in the interest of winning. If their run is over, they stand as the only team this century to win three titles in five years, and the only National League team to do so since World War II.
But the Giants rank last in the major leagues this season in home runs and last in on-base-plus-slugging percentage. They rank last in the league in OPS at third base, left field and right field. Of the five starting pitchers they have used most often, two have earned-run averages over 5.00; none has an ERA under 4.00.
By the time next season starts, the only two players remaining from all three World Series championship teams figure to be pitcher Madison Bumgarner and catcher Buster Posey.
"We know we can't come back with the same roster and expect different results," Giants general manager Bobby Evans said. "We've got to make changes."
The Giants have the oldest set of position players in the NL. First baseman Brandon Belt turns 30 next April; Posey, shortstop Brandon Crawford and outfielders Denard Span and Hunter Pence are already there.
So are two key starting pitchers, Johnny Cueto and Jeff Samardzija, as well as setup man Cory Gearrin, injured closer Mark Melancon and injured setup man Will Smith.
Bumgarner and Belt were lost to injury for much of the season as well. Every team suffers injuries, of course, but older players tend to get injured more often.
"Historically, you don't look at players peaking at 30," Evans said. "Maybe today's players peak a little earlier.
"You'd like to think that, because of the caliber of players we have, they're not peaking at 30. They've got more in the tank that will allow them to continue to play at the highest level."
This might have been an ideal time for San Francisco to take a step back and rebuild, given the strength of the Dodgers, Arizona Diamondbacks and Colorado Rockies, and the development of the San Diego Padres, a team that happily tanked this year and still might finish 10 games ahead of the Giants.
The Giants' ownership does not want to rebuild, and Evans doesn't see the need. The Giants are a year removed from playing in the division series, a year and a half removed from the best record in baseball, with Bumgarner under control through 2019, Melancon and Samardzija signed through 2020 and Posey, Belt, Crawford and Cueto signed through 2021. (Cueto can opt out this fall but is not expected to do so.)
"That this isn't about rebuilding is pretty well understood, especially with the core guys we have," Evans said. "We've signed the guys we've signed because we see the benefit of them helping us compete now and into the future."
As the Dodgers and other teams move into an era of disposable starters — five innings is fine, thank you very much, and please don't try a third time through the opposing lineup — the Giants stand proudly traditional.
Bumgarner, Cueto and Samardzija each pitched 200 innings last year, and Matt Moore threw 198. That recipe is not outdated — the playoff-bound Washington Nationals ride their starters fairly hard — and the Giants plan to try it again next season.
No major league pitcher this season has thrown as many innings as Moore and posted a higher ERA than his 5.39. But he is healthy, and such is the price of starting pitching that the Giants will say yes to their choice to pay him $9 million next year.
"We'll pick up his option," Evans said.
There are 105 players that have hit 20 home runs this season, through Friday. None of them play for the Giants.
If the Miami Marlins trade Giancarlo Stanton, there would be no better fit than the Giants, a team that could earmark some of its millions from developing the Mission Rock neighborhood around the ballpark to deploying the game's premier power hitter. If the Giants assume most of the $295 million left on Stanton's contract, they probably could do a deal for a couple minor leaguers, plus Span and the $13 million left on his contract.
The Giants also could try to fill their third base vacancy with free agent Mike Moustakas, who has 36 home runs — twice as many as Belt, who leads the Giants with 18.
The Giants' outfield defense has been horrendous, which is deeply problematic for a pitching-dependent team that plays in a big ballpark. Their first priority ought to be an elite defensive center fielder who can get on base. So long as the Giants remain in go-for-it mode, they could add another thirtysomething in free agent Lorenzo Cain.
This is Crawford's seventh season with the Giants. He has endured two losing seasons, this one and the one in 2013, a year between two World Series championships. He does not see another losing season in 2018.
"We have a lot of good players still here," Crawford said. "We all have faith that we can do good things with the players we have. On paper, we look like a pretty good team. This is just one of those years where nothing really went right. We feel like we can bounce back."
The NL West is a more entertaining place when the Dodgers and Giants are jousting atop the standings. Next year? The Giants have at least one thing going for them. It is an even year.
Follow Bill Shaikin on Twitter @BillShaikin
---
Get our high school sports newsletter
Prep Rally is devoted to the SoCal high school sports experience, bringing you scores, stories and a behind-the-scenes look at what makes prep sports so popular.
You may occasionally receive promotional content from the Los Angeles Times.