U.S. Open can keep out the rain but can't escape the injuries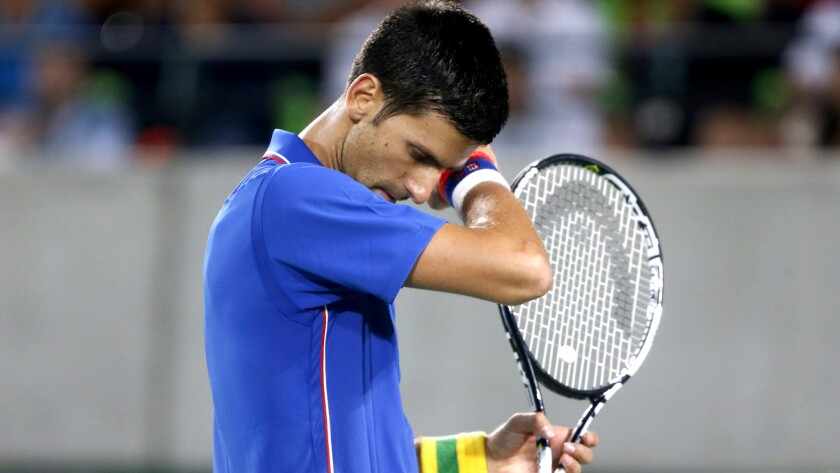 First off, there was Roger Federer's left knee. Next, the injury ante was raised in a big way by the time the Olympics ended with Novak Djokovic's left wrist and, finally and dramatically, the right shoulder of Serena Williams.
The way things are going, the portable ultrasounds better be poised for plenty of action at the year's final major, the U.S. Open in New York. The tournament starts Monday with a new $150-million retractable roof on Arthur Ashe Stadium, which will allow the rain-plagued event to finish on time.
Federer's tennis year wrapped in July and at the moment, the No. 1s on both tours, Djokovic and Serena Williams, are under siege.
Instead of leaving Rio with medals, Djokovic was remembered for his heartfelt tears following a first-round loss to Juan Martin del Potro of Argentina. Djokovic's title at the Rogers Cup in Toronto was a rare shining moment of a rough summer.
The defending U.S. Open champion Djokovic admitted to reporters on Friday that the wrist has not been in an "ideal state" the last few weeks. For Djokovic, the first test will come Monday against the slumping Jerzy Janowicz of Poland.
The top men are a tired group with the possible exception of Wimbledon finalist, No. 5-seeded Milos Raonic of Canada, who skipped the Olympics. ESPN commentator John McEnroe revealed on a conference call Friday that he would not be working with Raonic at the Open, saying it would be "easier for everyone."
There were questions raised at Wimbledon when McEnroe, then a consultant to the Raonic camp, called the Canadian's matches. McEnroe, for his part, has not ruled out a future collaboration.
Djokovic and Raonic are in the upper part of the draw and Olympic champion Andy Murray of Britain is in the bottom half with the likes of Stan Wawrinka of Switzerland, Kei Nishikori of Japan and American Sam Querrey, who is 1-4 in his last five matches.
Murray's itinerary has been daunting. Days after beating Del Potro to win gold in Rio, he was on the court at a Masters Series tournament in Mason, Ohio. On fumes, he reached the final but Marin Cilic of Croatia won in straight sets, ending Murray's 22-match winning streak.
ESPN commentator Patrick McEnroe, for one, thought Murray's success this season was sparked on clay courts before he moved on to the grass and hard-court campaigns.
"That really helped him do what he's been able to do the last couple of months, McEnroe said on a conference call. "Because of that…now he's got a chance to take over No. 1" later this year.
But Djokovic isn't the only player who was a clear-cut No. 1 in January who is feeling the hot breath of a pursuer now that the calendar is about to click over to September.
Serena Williams's problematic shoulder helped contribute to a shock third-round exit to Elina Svitolina of Ukraine at the Olympics. Her closest pursuer is Rio silver medalist and No. 2-seeded Angelique Kerber of Germany, who could supplant Williams at No. 1 if certain circumstances unfold in New York.
"I think Serena is almost offended if she's not No. 1," said Patrick McEnroe. "It's like her right. Even those years when she was working her way back and she wasn't No. 1, it didn't feel right."
Williams said the shoulder problems started in July just after winning Wimbledon, which was her 22nd Grand Slam singles title, tying the legendary Steffi Graf. That only trails Margaret Court's 24 singles championships at the Slams.
In 2016, Williams has played in seven tournaments — allowing the likes of Kerber and, to a lesser extent, No. 3 Garbine Muguruza of Spain and No. 4 Aga Radwanksa of Poland -- to draw closer. She has played three matches since Wimbledon but few are better than Williams at succeeding despite a limited schedule.
Serena is in the same half of the draw as her older sister Venus and No. 5 Simona Halep of Romania. Venus will face Kateryna Kozlova of Ukraine in the first round and Serena, in a tough assignment, will meet Ekaterina Makarova of Russia.
According to ESPN analyst Chris Evert, young American Madison Keys is a player to watch and has a chance to create a major upset.
"She's beaten Venus and she's played Serena some good matches. I always think if she's on her A-game -- and Serena is off -- I always give her a shot," Evert said.
Keys, who broke into the top 10 in June, is better equipped to handle the pressure of higher expectations.
"The last year or so I've had to deal with a lot of it," she said in a telephone interview with The Times. "I think after my semifinal at the Aussie Open (in 2015), I was thrown into it and I wasn't quite ready for it.
"The last year and a half has really helped me mature and get more comfortable being in that position. For me, just having my own expectations and not really listening to other people has been a major thing that I've had to do."
Twitter: @reallisa
---
Get the latest on L.A.'s teams in the daily Sports Report newsletter.
You may occasionally receive promotional content from the Los Angeles Times.