Alabama star Tua Tagovailoa came close, twice, to being a Trojan
Reporting from Santa Clara —
Squint your eyes until that crimson jersey turns a slightly darker shade of cardinal. Imagine those white pants becoming gold.
With top-ranked Alabama playing for the national championship Monday night, USC fans can be forgiven for daydreaming about what might have been.
What if quarterback Tua Tagovailoa had stepped off the plane in Los Angeles, instead of continuing east to Tuscaloosa, when he left high school in Hawaii? What if the big, strong-armed sophomore had guided the Trojans' offense this season?
"Our team was USC growing up," he says. "I used to be No. 11 because of Matt Leinart. He was a lefty, as well."
Back in 2016, when Tagovailoa was a prized recruit out of Hawaii, there were whispers about him "silently committing" to the Trojans. He acknowledges being "pretty close to going to 'SC."
But something happened when Alabama turned up the recruiting heat that spring.
Two years later, Tagovailoa has raised the Crimson Tide offense to a new level. At a school where quarterbacks have often fallen into the category of game-manager, he has become a game-changer.
Our team was USC growing up. I used to be No. 11 because of Matt Leinart. He was a lefty, as well.
— Alabama quarterback Tua Tagovailoa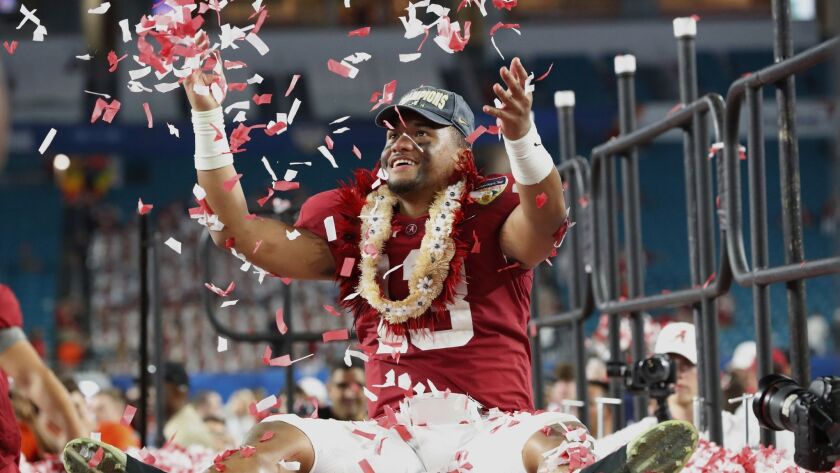 And some people in Southern California might still wonder about his change of heart.
::
To understand Tagovialoa's choice, you must first understand the dynamics that exist within his family. He throws left-handed because that is what his father wanted.
Once a defensive lineman, Galu Tagovailoa raised his son to be a passer from the age of 3 or 4.
"I guess he felt like he was the only lefty in our family, and he wanted one of his kids, I guess, to be a lefty, as well," Tua says. "I kick with my right, I write with my right, I eat with my right. The only thing I do is throw, shoot with my left."
Polynesian families tend to be close, with children honoring their parents. It cannot be discounted when Galu characterizes Tua's recruiting process as "a family decision … it was what made his family happy."
At Saint Louis School in Honolulu, Tagovailoa was ranked as the No. 1 prospect in the state and No. 57 in the nation. There was speculation he might follow another local player, Marcus Mariota, to Oregon, but the Ducks never showed much interest.
So USC and Alabama ended up on his short list, along with UCLA, Mississippi and Texas A&M.
The Trojans figured they had an inside shot at landing the 6-1, 210-pound prospect, with then-coach Steve Sarkisian flying across the Pacific Ocean to deliver a scholarship offer.
"Definitely," Galu says. "USC was always in the running."
But not much later, in the middle of the 2015 season, Sarkisian was fired. If the abrupt change startled the Tagovailoas, an equally significant chain of events began unfolding to the east.
At the end of the regular season, Alabama defensive coordinator Kirby Smart accepted the head job at Georgia, which prompted blue-chip recruit Jake Fromm to flip from the Crimson Tide to the Bulldogs.
We thought USC was the biggest stage but Alabama is even bigger
— Galu Tagovailoa, father of Tua
Just that quickly, Alabama needed a quarterback and shifted its focus to Tagovailoa.
Why did the Crimson Tide ultimately prevail? That remains the subject of various theories and murmurs.
Defensive coordinator Tosh Lupoi insists it was simple: Tagovailoa wanted to play for a program that had won three of the previous five national championships.
"Tua had his goals set on what he wanted to accomplish," Lupoi says. "When you put those things out on the table, it's an obvious choice."
Tagovailoa sidesteps the question, suggesting that a reporter ask his father.
"It was more so a family decision to come to [Alabama] and it's one of those things where it's cultural," he says. "So it's what my parents wanted more than what I wanted, you know?"
His family prefers to answer in terms of a deep, religious conviction.
"We thought USC was the biggest stage, but Alabama is even bigger," Galu says. "It was a platform … to utilize our faith and praise our Lord and Savior Jesus Christ."
Whatever the reason, Tagovailoa committed to the Crimson Tide as a junior. But even then, USC had a chance.
::
Those early days weren't idyllic for an island kid plunked down in Tuscaloosa.
The weather was hardly tropical, the practices could be brutal and Tagovailoa didn't like being stuck behind starter Jalen Hurts as the 2017 season approached. Rumors of a transfer began to circulate.
His family had already settled on moving to Alabama to be close to him. Galu remembers a telephone call that began with his son asking: "Do you think USC still has that scholarship open?"
"Tua, you're not serious, are you?"
"No, Dad, I'm joking."
But Tagovailoa later told a Hawaiian television crew that he might have left if not for the 2018 championship game, when Alabama coach Nick Saban pulled him off the bench and he ended up leading the team to victory with a long touchdown pass in overtime.
Those 30 minutes turned the freshman into a star.
'Everything changed," he says. "Just the way people look at you, the way people treat you."
Last summer, Saban kept insisting the quarterback job was wide open, that Tagovailoa would have to earn the spot, but the outcome seemed inevitable.
The only real surprise? The way Tagovailoa quickly changed things at Alabama, taking command of an offense that had played second-fiddle to the defense, transforming it into a juggernaut that averages more than 527 yards and 47 points.
Watching from afar, Clemson defensive lineman Christian Wilkins thought to himself that Tagovailoa was a different kind of player.
"The throws he can make are really quite special," Wilkins says. "I ain't seen too many quarterbacks that can really make throws like that, man, with poise throughout the game."
::
There isn't much that USC can say about the matter.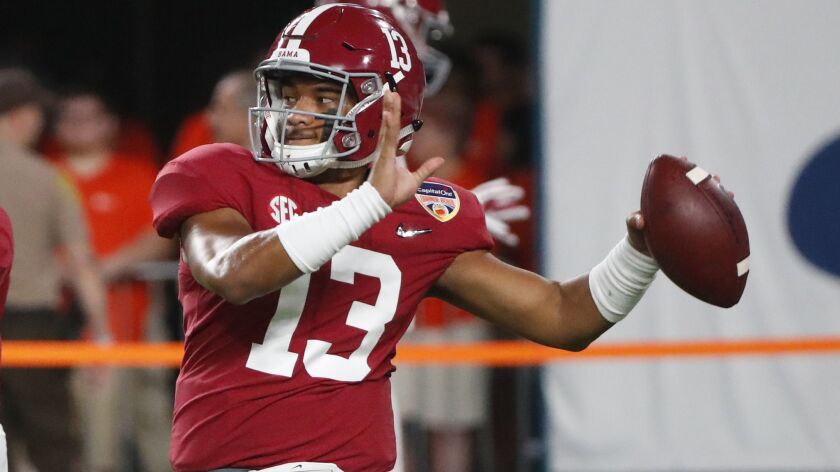 The assistant who led the effort to woo Tagovailoa, Marques Tuiasosopo, is now at California, where a spokesman says he is unavailable for comment. The Trojans have moved on, placing their hopes on the shoulders of another promising young passer.
JT Daniels struggled as a freshman this fall, ranking 71st in passing efficiency with 14 touchdowns against 10 interceptions. Those numbers pale in comparison to what is happening at Alabama.
In his first season as a starter – albeit surrounded by a better team – Tagovailoa just missed winning the Heisman Trophy, passing for 3,671 yards and 41 touchdowns while limiting his interceptions to four. His efficiency rating of 205.2 is tops in the nation.
The Southeastern Conference championship game against Georgia turned ugly – an injured ankle forced him to the sideline, leaving Hurts to spark a rally — things improved against Oklahoma in the College Football Playoff semifinals.
Clemson defensive coordinator Brent Venables lists the attributes that make him special: an accurate arm, a knack for moving around the pocket and the quickness to escape when plays break down.
Tagovailoa has also mastered the run-pass option, he says, faking the handoff, then turning and firing a pinpoint throw in the other direction.
"I mean, who does that?" Venables asks. "'Nobody' is the answer. Other than him."
The championship gives Tagovailoa another chance to showcase his talents on the sport's biggest stage, against a Clemson defense that ranks among the best in a slew of statistical categories.
Not much more than a year after his darkest days, he seems confident and happy. There are no more doubts about choosing Alabama, and no more thoughts about the school he left behind.
"It worked out great," he says.
Well, it did for him. USC fans watching Monday night's game might not agree.
Follow @LAtimesWharton on Twitter
---
Get our high school sports newsletter
Prep Rally is devoted to the SoCal high school sports experience, bringing you scores, stories and a behind-the-scenes look at what makes prep sports so popular.
You may occasionally receive promotional content from the Los Angeles Times.