Column: Miomir Kecmanovic, Bianca Andreescu lean on good fortune and skill to advance at Indian Wells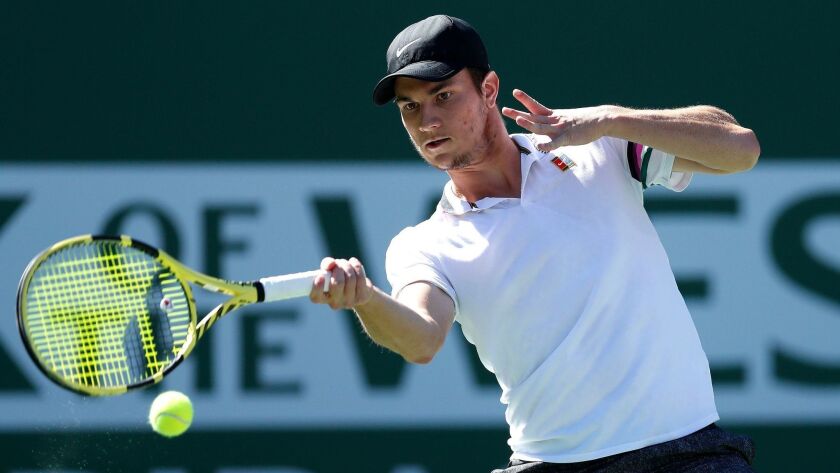 Reporting from indian wells —
INDIAN WELLS — Which matters more in sports, luck or skill?
What seems to be luck usually is the product of skill that has been refined by practice and preparation. But once in a while random good fortune comes along, and it has been embracing Miomir Kecmanovic at the Indian Wells Tennis Garden.
After the 19-year-old Serb lost a third-set tiebreaker in his final qualifying match last week and didn't earn a spot in the main draw of the BNP Paribas Open, his immediate gut reaction was to quit tennis. "But then you're like, 'OK, you don't know anything else in life, so you've got to stick to this,'" he said.
It's a good thing he did. Kecmanovic, who left home to train at the IMG Academy in Florida when he was 13, was the last lucky loser to squeeze into the main draw after three players withdrew due to injuries. He got a bye in the first round, won his first two matches in straight sets, and he reached the quarterfinals when Yoshihito Nishioka of Japan retired due to back problems after Kecmanovic had won the first set of their match, 6-4, on Court 2 on Wednesday.
Kecmanovic gave Nishioka a sympathetic hug at the net, unable to celebrate advancing in that fashion but thankful he will continue to a matchup against Canadian veteran and No. 13 seed Milos Raonic. Will his good fortune stay with him? "At this point, anything is possible," said Kecmanovic, who ranks 130th in the world and is the youngest men's quarterfinalist here since Michael Chang got this far in 1991 at age 19. "I mean, I lost a week ago and I'm still here."
If luck has been on Kecmanovic's side, pure skill was the overriding factor in Canadian teenager Bianca Andreescu's stunning, 52-minute quarterfinal demolition of two-time Grand Slam champion Garbine Muguruza, which put her in the semifinals on Friday against No. 6 seed Elina Svitolina.
Andreescu, debuting in the tournament as a wild card after a series of strong results that included winning a Challenger Series event at Newport Beach, won the first nine games at Court 1 before a flailing Muguruza held serve. That small victory drew a thin cheer from the crowd for Muguruza, who is more accustomed to thunderous ovations as a former world No. 1 and winner of titles at the French Open in 2016 and Wimbledon in 2017.
Andreescu wasn't fazed by the interruption to her onslaught, finishing the match with a service break sandwiched between two holds. With her 6-0, 6-1 rout, the 18-year-old from the Toronto area became the third female wild card in tournament history to reach the semifinals, following Martina Hingis (2006) and Serena Williams (2015). "I didn't focus on who was on the other side," Andreescu said. "It really helped me, and I used my serve to my advantage."
No. 20 seed Muguruza has struggled lately and got a break when Williams retired from their third-round match because of a viral illness, but Muguruza managed to upset No. 7 Kiki Bertens in the fourth round. She was helpless against Andreescu. "I was trying to disturb her somehow, take the lead, try to command," Muguruza said. "I felt like every time I was trying something different she was coming up with better shots. She didn't let me come close enough in the score."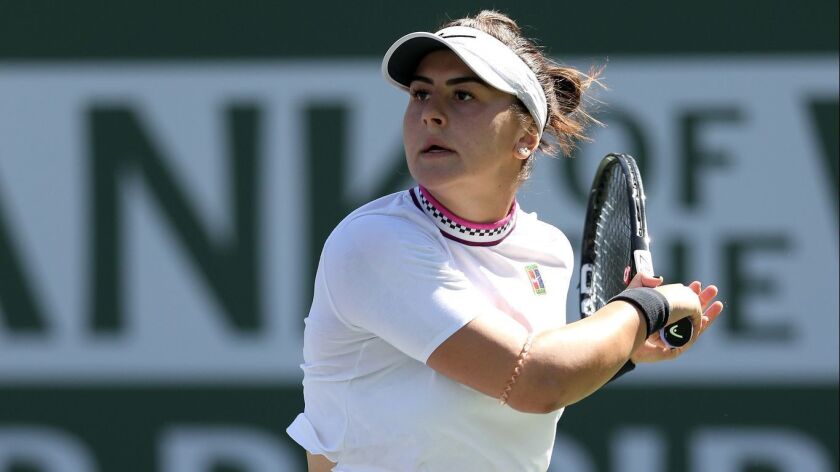 Andreescu started the year ranked 152nd. Early-season victories over former world No. 1s Caroline Wozniacki and Venus Williams contributed to her rise to No. 60 and she's approaching the top 40. She reads situations well and adjusts quickly on the fly, varying her shot selection and her game with clever ease. She's comfortable hitting drop shots and also can hit with power or topspin.
Confidence was among her top weapons on Wednesday. "I just started playing these high-level events a year ago and I think I'm gaining more and more experience after every match," she said. "I just stuck to my tactics, which was to put pressure on her forehand, move her around, change the rhythm like I always do, play my game. I had a good day. She didn't have such a good day. I felt she was holding back a lot and I felt it, so I just kept putting pressure. She just kept missing."
Andreescu is a devotee of yoga and meditates every morning to get her body and mind in tune. "I visualize myself having a good day, stuff like that," she said. No doubt she will do that again on Friday before she faces Svitolina, a formidable foe. Svitolina changed strategy against Marketa Vondrousova midstream on Wednesday to become more aggressive, and she was rewarded with a 4-6, 6-4, 6-4 victory. Andreescu had planned to study the match, "and then hopefully have another good day on Friday."
Andreescu certainly had a great day on Wednesday. So did Kecmanic, one of many he has enjoyed here. "I just hope to keep playing like this and we'll see," he said. Luck? Skill? It can't hurt to have both.
Follow Helene Elliott on Twitter @helenenothelen
---
Get the latest on L.A.'s teams in the daily Sports Report newsletter.
You may occasionally receive promotional content from the Los Angeles Times.