College basketball: Dean Wade leads second half surge for No. 12 Kansas in victory over Lehigh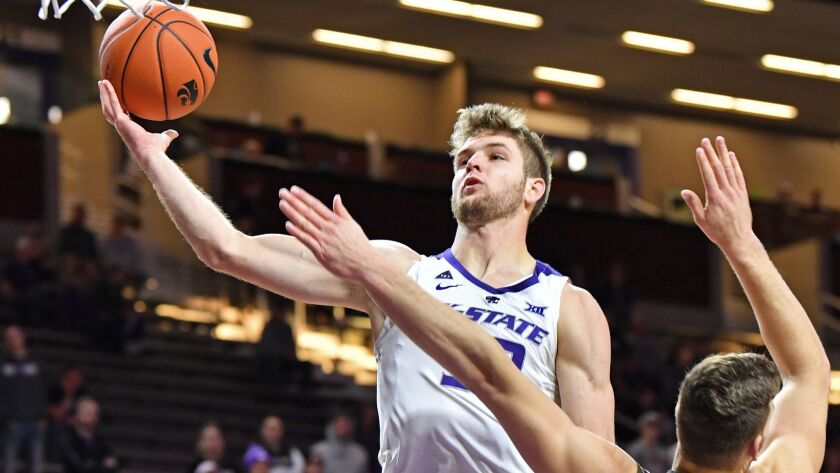 Dean Wade scored 14 of his 18 points in the second half, Barry Brown added 16 and No. 12 Kansas State beat Lehigh 77-58 on Saturday.
The Wildcats (6-0) controlled the second half after the Mountain Hawks hung around and trailed by two at halftime.
James Karnik had 15 points and eight rebounds for Lehigh (4-2), and Pat Andree scored 12. Lehigh compiled 16 turnovers and made just nine field goals in the second half, shooting 28 percent. Lehigh shot 54 percent in the first half.
Brown converted a three-point play to give K-State a 50-40 lead with 14 minutes remaining. That was part of a 12-5 run by the Wildcats that gave them a 57-45 lead.
at No. 13 Virginia Tech 75, St. Francis (PA) 37: Ahmed Hill scored eight of his 19 points during a 24-6 run spanning halftime, and Virginia Tech beat St. Francis, Pennsylvania.
The Hokies (5-0) led 23-20 when a 3-pointer by Ty Outlaw sparked a 10-2 run to end the first half. Nickeil Alexander-Walker made another 3-pointer right after halftime, one of 14 for Virginia Tech, and two 3s and a basket from Hill and a three-point play by Justin Robinson pushed the lead to 47-26.
Myles Thompson led the Red Flash (1-4) with 14 points. St. Francis shot just 25.9 percent (15 for 58) and committed 22 turnovers.
at No. 22 Buffalo 76, Marist 49: CJ Massinburg scored 21 points, Jayvon Graves added 16 and Buffalo overcame a slow start to beat Marist.
Massinburg returned after missing one game with a sprained knee and shot 7 of 10 from the field with six 3-pointers in 25 minutes off the bench.
Jeremy Harris had eight assists and Nick Perkins pulled down seven rebounds for the Bulls in their second blowout victory at home. Ryan Funk and Austin Williams each scored 10 points to lead Marist (1-4).
SOUTHLAND
Howard 86, Cal Baptist 84: RJ Cole scored 31 points with six rebounds and five assists as the Bison edged the Lancers. Cole was 10 for 17 from the field including four from distance for Howard (4-2).Dejon Davis scored 26 points with 11 rebounds to lead Cal Baptist (2-3).
Abilene Christian 60, UC Riverside 48: Jalone Friday had 10 points to go with 10 rebounds and Jaren Lewis added 10 points as the Wildcats remained undefeated on the season, beating the Highlanders in the Tigers Thanksgiving Classic.
UC Santa Barbara 66, at Idaho 55: Ar'Mond Davis scored 18 points with nine rebounds as the Gauchos rallied in the second half to beat the Vandals. Davis was seven for 18 from the field for the Gauchos (5-1).
Sacramento State 87, Cal State Fullerton 82, OT: CSU Fullerton took its only lead after halftime on Jamal Smith's free throw to open the overtime scoring at 73-72. The Hornets (3-0) then went on a 14-3 run to take a 10-point lead on Marcus Graves' pair of free throws with 43 seconds left. Jackson Rowe scored 17 points, Kyle Allman added 15 and Austen Awosika 14 for the Titans (2-5).
at Loyola Marymount 71, Florida A&M 63: James Batemon scored 24 points and Loyola Marymount held off Florida A&M 71-63 on Saturday night to remain undefeated. Loyola Marymount stretched its best start in program history to 7-0.
WOMEN
No. 17 South Florida 60, UCLA 56: Sydni Harvey scored a career-high 19 points before fouling out, Laura Ferreira added 14 and the Bulls beat the Bruins in the Paradise Jam, in St. Thomas, U.S. Virgin Islands.
---
Get the latest on L.A.'s teams in the daily Sports Report newsletter.
You may occasionally receive promotional content from the Los Angeles Times.