Spotlight: Coaches hug it out after things get heated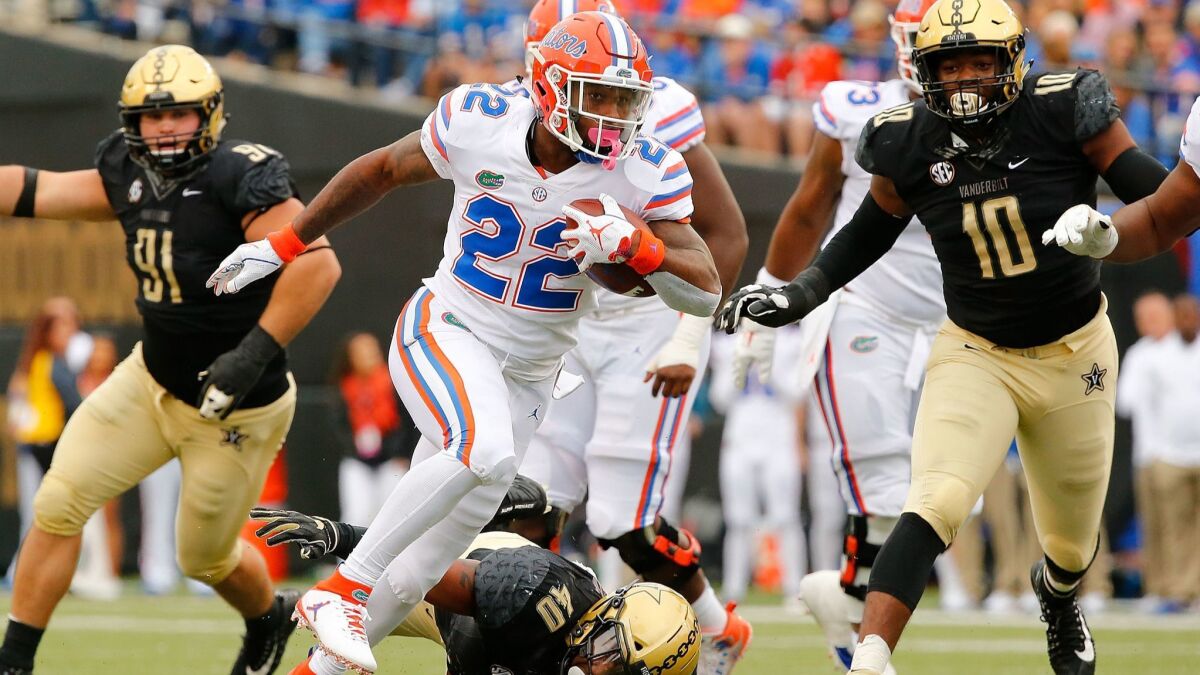 Before a dastardly deconstruction could be done of No. 14 Florida's 37-27 victory at Vanderbilt on Saturday, one where the Gators overcame an 18-point deficit and found themselves with a share of the Southeastern Conference West lead, Gators coach Dan Mullen sought out Commodores coach Derek Mason so they could have a longer-than-usual embrace at midfield.
Mason was all about seconding that emotion.
A few hours earlier, it appeared the two were closer to slugging than hugging. That was the result of an incident that played out as much more caustic on video highlight shows than what occurred in the context of the action.
Vanderbilt was looking just dandy with a surprising 21-10 lead late in the first half when a Florida punt return drew a pair of penalty flags, the second on Gators linebacker James Houston for targeting after he knocked the helmet off the Commorodes' Dare Odeyingbo.
Mason came across the field to check on Odeyingbo, down near the Florida sideline, and heard a Florida player say something to him. Mason responded. That upset Mullen, who had to be restrained by an official as he and defensive coordinator Todd Grantham yelled back.
As the benches started to empty, Mason ended it by turning around one his players, Dayo Odeyingbo, who had come over see his brother and ordering his players back.
Houston was ejected on the play, and officials also flagged each team for unsportsmanlike conduct. That led to the ejection of Florida linebacker and leading tackler Vosean Joseph, who was emotionally escorted to the locker room.
"It's the referee's job to referee the game and not ours," Mason said. "I've got a lot of respect for Dan. He respects the process otherwise, so we keep it moving."
Said Mullen: "We're not going to get into that publicly at all. Derek's a really close friend of mine, and I think we both, our sideline, we got to make sure our sideline is cleaner in that situation, and I'm sure he probably thinks the same thing. But there's nothing carrying over from my end."
Mason also said he did not regret getting emotional with one of his players down.
"Nah, what's the regret in being emotional?" Mason said. "Football is an emotional game. If you don't play football emotionally, what are we doing?"
Florida (6-1, 4-1) had prevailed in 26 of its last 27 against Vanderbilt (3-4, 0-3). But the Gators had also lost 26 in a row when trailing by 18 or more points before this turnaround.
No wonder emotions were a bit more heightened at that juncture in the game.
Self-inflicted shucking
Clutching a 10-point lead with less than three minutes to go in its game at Northwestern, Nebraska was given a 98.2% win probability by ESPN's computer-generated data.
Cornhuskers followers knew there was probable cause to not count its poultry prior to planned hatchery.
Now branded with its first 0-6 start in a football history that goes back to 1890, Nebraska suffered a 34-31 overtime loss, this time after allowing a 99-yard touchdown drive in the closing minutes to tie it up, failing to score in its first overtime possession that ended with a bad snap and interception in the end zone, and then gazing as Wildcats freshman Drew Luckenbaugh nailed a 37-yard field goal to give his team its first home win.
"At this point, the rah-rah stuff — that's got to go," Nebraska linebacker Luke Gifford said said after the program's 10th loss in a row. "I think we have passed that point."
"This is wearing on me, but mostly I just feel bad for them, especially the seniors," said first-year coach Scott Frost, a season after leading Central Florida to a 13-0 mark.
Nebraska pinned Northwestern on its one-yard line with 2:02 left. The Wildcats' drive was immediately aided by a roughing-the-passer penalty against Carlos Davis that moved the ball to the 16. Quarterback Clayton Thorson, who threw for a career-best 455 yards, finished the drive with a five-yard TD to JJ Jefferson with 12 seconds left in regulation.
The unhappy Gus bus detour
Auburn's early Top 10 occupancy started at No. 9 in the preseason, buoyed to No. 7 after Week 3, and was at No. 8 before Week 6. A 23-9 loss at Mississippi State last week meant a fall of 13 spots to No. 21 before Saturday's game against Tennessee.
A complete purge out of the top 25 is likely to occur after a 30-24 loss at home against the Volunteers, who tamed the Tigers for the first time since 1999 with Tee Martin calling signals.
"I'm very disappointed in our performance," Auburn coach Gus Malzahn said after the boos rose inside Jordan-Hare Stadium. Auburn (4-3, 1-3) has its worst SEC start since 1-3 in 2015.
"I'm disappointed for our players. I'm disappointed for our fans. I'm not happy."
Helmet messaging
To promote a Cancer Awareness game, Miami of Ohio gave its 112 players a choice of nine colored cancer-support ribbons to wear on the right side of their helmets during Saturday's eventual 31-6 win over Kent State. That allowed each to acknowledge which cancer form has most affected their lives. The Redhawks will hold an online auction through Sunday to sell eight of the helmets, with proceeds going toward a student-athlete run organization that partners with Cincinnati Children's Hospital. …
St John's players wore a "JOHN" sticker on the back of their helmets while recording what could be called a 40-20 upset over rival St. Thomas as they honored the memory of John Gagliardi, the College Football Hall of Famer and the sport's all-time winningest coach who died at age 91 last week. One of the coach's rules was that players called him "John," not coach, and hundreds of his former players who attended Saturday's Division III game in Minnesota plan to stay for Monday's funeral on the campus.
By the numbers
When Pittsburgh grabbed a 7-0 lead against No. 5 Notre Dame, it left No. 6 West Virginia as the nation's only team that has not trailed in a game this season. That was temporary. The Mountaineers had a 7-0 advantage at Iowa State later Saturday before falling behind 20-14 at halftime and eventually falling 30-14 …
Oregon is only the fourth team in the past two seasons to reach the 30-point mark against Washington. …
Since the start of the 2017 season, Iowa (5-1, 2-1 after a 42-16 win over Indiana) is 11-0 when scoring 20 or more points. …
Colgate's 31-0 win over Cornell marked the 100thmeeting of the schools going back to 1896. Colgate has won 19 of the last 22 meetings, but Cornell, which won 13 of the first 14 meetings, still has the series lead, 49-48-3.
Extra points
As 6-foot-7, 245-pound redshirt sophomore quarterback Tyree Jackson accounted for two touchdowns in Buffalo's 24-6 win over Akron, the Bulls' first 6-1 start since 1959 makes them bowl eligible for a second straight season and fourth overall …
Samford quarterback Delvin Hodges accounted for seven touchdowns — six passing, one running — in a 73-22 win at home in Birmingham, Ala., against Virginia Military Institute, which actually led 9-7 in the first quarter …
North Carolina got a waiver to play senior defensive lineman Malik Carney during its loss to Virginia Tech on Saturday despite his not having fully served a four-game NCAA suspension for selling team-issued shoes. The school appealed to activate Carney for "health and safety reasons" because the team had two key defensive linemen out with injury. Carney, one of 13 players suspended in a shoe-selling scandal last January, will continue his punishment next week.
Get our high school sports newsletter
Prep Rally is devoted to the SoCal high school sports experience, bringing you scores, stories and a behind-the-scenes look at what makes prep sports so popular.
You may occasionally receive promotional content from the Los Angeles Times.