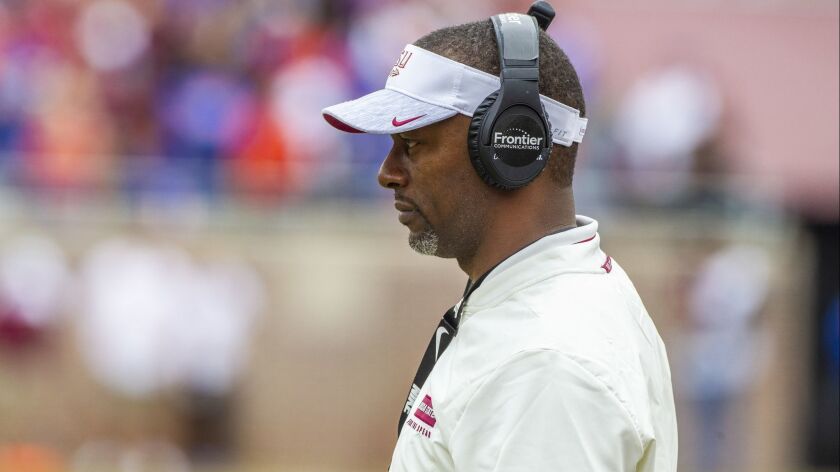 Keeping calm and minding one's bowl-eligible status occasionally gave way to a fear of missing out in some last-gasp moments of college football's Week 13.
Baylor may tout its bowl eligibility under its latest post-calamity coach, Matt Rhule.
Willie Taggart's Florida State and Lane Kiffin's Florida Atlantic can't demand a recount.
There are 78 bowl spots to fill — that's not a record, it just sounds like one — and 72 teams were certified as eligible club members with at least six wins coming into Saturday. Three more were going to join based on head-to-head, same-record matchups, but with no guarantee of being picked for a postseason bowl.
A host of teams could have qualified for possible December bowling. Among those who got that sixth triumph and hit the magical milestone of mediocrity: Purdue, Wake Forest, Southern Mississippi, Minnesota, Vanderbilt, Tulane and Wyoming.
Among those who missed out: USC, Arizona, Indiana, Texas Tech, Tennessee, Southern Methodist and, sigh, Maryland. Plus, amazingly, Colorado, which started the season 5-0.
Rhule, in his second season at Baylor after a 1-11 mark in 2017 — the result of a sexual assault scandal that rocked the campus more than two years ago — went 2-10 at Temple before the Owls became bowl eligible.
"Unfortunately, I've been there," Rhule said. "When you win one game, you preach the message all day about patience and progress and faith. I saw resolve in the players last year. I knew if we could just put a couple more pieces together, hopefully, we could get to this point. They were able to do it.
"We get another month to play. That's the benefit of bowl. The intangible is that those seniors get to be part of the team for another month and hang in there a little bit longer together. The freshmen will know a bowl is what you're supposed to expect. They'll see this as the bare minimum."
Wake Forest might be next to last, 3-5, in the ACC Atlantic Division, but three bowl eligible seasons in five years under Dave Clawson mean something after a 59-7 win at Duke.
"It's a really satisfying year -- not because we're 6-6, but because of what it took to get here," Clawson said. "This was not an easy 6-6."
Florida State (5-7), losing four of its last five, was the most noteworthy to come up short, ending a streak of making a bowl game every season since 1981 and going 41 seasons with at least six wins, back to 1977.
"It's unacceptable here at Florida State," first-year head coach Taggart said after a 41-14 loss to No. 11 Florida. "Nobody in the locker room wants to be part of a team that breaks this bowl streak. A lot of tears. Guys were hurting."
Kiffin, whose Florida Atlantic won nine in a row to end last season and get a Boca Raton Bowl bid, needed only to defeat sub-.500 Conference USA foe Charlotte at home to become certified. The Owls led 21-10 at halftime, then lost 27-24 on a late 56-yard field goal.
Technically, Virginia Tech isn't finished yet. The Hokies, ranked No. 12 in the Associated Press poll after a 2-0 start, lost six of eight games after a Week 3 cancellation against East Carolina because of Hurricane Florence. Friday's 34-31 home win on an overtime field goal against rival Virginia boosted Tech to 5-6 and also activated the need for what was a tentative Dec. 1 date against Marshall — a make-up opponent for that earlier missed game and one last shot at extending Tech's 25-season bowl appearance streak.
That would give the Hokies the longest bowl run in the nation, after Florida State tapped out.
"We still have a chance to turn the season around, and we can still have a winning record if we play our cards the right way," Virginia Tech quarterback Ryan Willis told the Washington Post after Friday's win.
So now we wait for the Bad Boy Mowers Gasparilla Bowl organizers to do their due diligence.
THE TYLER TRENT FACTOR
Tyler Trent, the 20-year-old Purdue student whose outlook on battling bone cancer has become one of the endearing stories this season, accepted an invitation to come to Bloomington, Ind., and come onto the field for the coin toss as one of the honorary captains when the Boilermakers ended their Big Ten season at Indiana.
Indiana also brought out team manager Matt Stauder as an honorary captain. Stauder recently recovered form Hodgkin's lymphoma.
After Purdue's 28-21 win to become bowl eligible, Trent joined the celebration on the field as well as in the locker room, where he had pictures posted with the Old Oaken Bucket trophy and posted on Twitter: "TIME TO GO BOWLING WITH @boilerFootball AND MY BEST FRIENDS."
He also thanked Indiana for its hospitality, tweeting: "Super classy! This is truly bigger than a football game. Don't give up; don't ever give up."
THE COACHING CONVEYOR BELT
Purdue head coach Jeff Brohm, a Louisville alum rumored to be the primary target for the Cardinals to replace fired Bobby Petrino, said after the Boilermakers' victory: "I want Louisville to do what's best for them. I'm a fan. But right now, I'm the coach at Purdue. This is where I want to be and I like it here." …
Kliff Kingsbury's future at Texas Tech after six seasons remains uncertain after a loss against Baylor to finish 5-7, with a five-game losing streak. "Going to talk to [athletic director] Kirby [Hocutt] and take it from there," said Kingsbury, 35-40 (and 19-35 in the Big 12) at the school with two years left on his contract. …
Central Michigan (1-11) fired head coach and alum John Bonamego after the team's season-ending 51-13 loss to Toledo on Friday. Bonamego was 22-29 in four seasons and survived a bout with tonsil cancer during his first year. …
Texas State (3-9) decided to cut loose head coach Everett Withers, 7-28 in three seasons, prior to the team's 33-7 loss against Arkansas State. …
UCF QB UPDATE
The family of Central Florida quarterback McKenzie Milton said his "surgery was successful and he is recovering well" from a right-knee injury after a helmet hit took him out in the second quarter of the No. 9 Knights' 38-10 victory over South Florida on Friday night.
Neither UCF nor the family disclosed the severity of the injury, saying only it was "traumatic." Milton's father, Mark, said surgery stabilized Milton's knee and also dealt with undisclosed "internal issues." Several reports indicated Milton needed emergency surgery to restore blood flow to the leg.
Milton has been responsible for 79 total touchdowns, most in the Football Bowl Subdivision, since the start of last season and is 22-0 as a starter during their 24-game winning streak.
BY THE NUMBERS
UConn (1-11), which gave up 516 yards in a 57-7 loss against visiting Temple, ended its season setting NCAA records by allowing the most points (605), points per game (50.4), total yards (7,409) and total yards per game (617.4). The Huskies' only win was 56-49 over FCS opponent Rhode Island. …
When Oklahoma outlasted West Virginia 59-56 on Friday, it marked the fourth straight week that two teams scored 50-plus points in the same game. …
Alabama has outscored Southeastern Conference opponents 374-113 after a 52-21 win over Auburn in the Iron Bowl. …
---