Like the national championship race, Heisman Trophy battle is wide open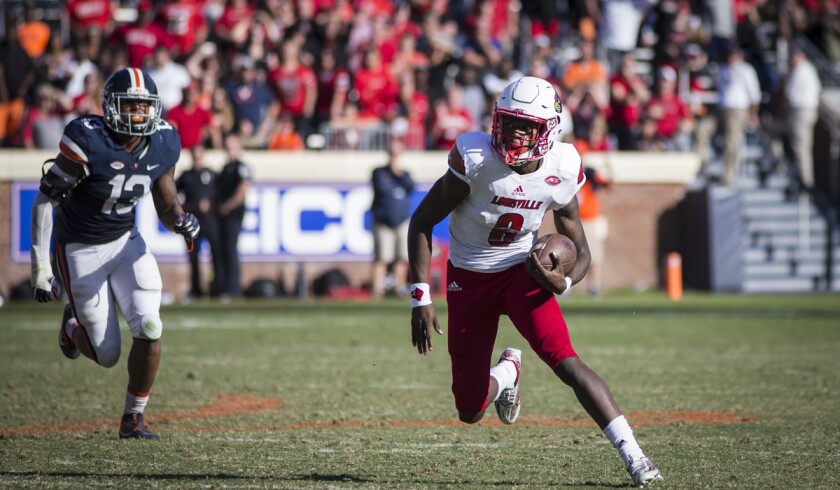 The grin on Lamar Jackson's face didn't make sense.
The Louisville quarterback knew his team was trailing Virginia by a point with less than two minutes remaining. He knew what an upset loss would cost the No. 5 Cardinals.
"Everything," he said. "Our whole season."
But the sophomore couldn't help grinning as he led his team on a last-minute drive because, to him, pressure situations are "fun."
And the pass he lofted into the end zone with 13 seconds remaining did more than give Louisville a 32-25 victory on Saturday. Like a political campaign commercial, it will surely be replayed in coming weeks as Heisman Trophy voters prepare to cast their ballots.
"He threw it to a spot where only I could get it and the [defensive back] had no chance to get it," receiver Jaylen Smith said. "Those are the little things that make Lamar the best quarterback in the country."
Big plays in big games are doubly important for Heisman contenders given the unwieldy nature of this season.
None of the teams atop Sunday's latest Associated Press poll — Alabama, Michigan, Clemson and Washington — can be characterized as dominant. Though they will probably occupy the first four spots when the College Football Playoff selection committee issues its initial rankings on Tuesday, eager contenders lurk close behind.
Louisville, Ohio State and Texas A&M are in position to make a move, their paths cleared by Nebraska, Baylor and West Virginia stumbling over the weekend.
Another onetime playoff hopeful, Florida State, came up short in a fourth-quarter shootout with Clemson that had Seminoles Coach Jimbo Fisher bemoaning what he called a "cowardly, gutless and wrong" penalty that nullified a big gain by star running back Dalvin Cook in the final minutes.
The Atlantic Coast Conference quickly fired back on Sunday, fining Fisher $20,000 for his comment.
Controversy aside, the game provided yet another Heisman-worthy advertisement for two candidates looking to emerge from the jumble and overtake the favored Jackson.
Cook gave his campaign a boost with 169 yards rushing and four touchdowns in the weekend's marquee matchup.
On the other side of the ball, Clemson quarterback Deshaun Watson figures to benefit from his 430 yards of total offense and two touchdowns, including the winning pass to tight end Jordan Leggett with 2:06 remaining.
"He's just unbelievable," Clemson Coach Dabo Swinney said. "He just keeps playing."
Out west, Washington quarterback Jake Browning doesn't have quite as much momentum, not after the No. 4 Huskies barely squeezed past No. 16 Utah. The sophomore quarterback was limited to 186 yards passing and two touchdowns with an interception.
He did, however, execute a sneaky pooch punt that trapped the Utes against their goal line at a critical point in the game.
"That's great execution and they executed it just right," Utah Coach Kyle Whittingham said.
As the darkhorse contender, San Diego State running back Donnel Pumphrey continued his run toward the NCAA career rushing record with 223 yards at Utah State.
But maybe the most intriguing Heisman contender remains Michigan's do-everything Jabrill Peppers.
Though only one primarily defensive player has won the trophy — cornerback Charles Woodson, also a Wolverine, in 1997 — Peppers continues to show he can excel in all phases of the game.
As Michigan rolled over in-state rival Michigan State, 32-23, he complemented seven tackles and a sack with five carries for 24 yards and a diving touchdown at running back. On special teams, he returned a punt and a kickoff.
In the final second of the game, with Michigan State trying for a two-point conversion, the 6-foot-1, 205-pound junior scooped up a wayward pitch and sprinted the length of the field for a defensive two-pointer.
And if all that weren't enough, when the clock finally reached 0:00, he landed a standing backflip that might have earned strong marks from the Olympic judges.
Asked about Peppers' many talents last week, Michigan State Coach Mark Dantonio attempted a list but eventually settled on: "He's just an outstanding football player."
Though Jackson remains the perceived Heisman favorite, Peppers and the others hold an advantage as the season winds down.
Michigan will finish the regular season against No. 6 Ohio State. Washington has high-profile conference games against USC, Arizona State and No. 25 Washington State.
Clemson's schedule is not as splashy, but the Tigers will likely play in the ACC championship game days before the Heisman ballot deadline.
Jackson will not have as big a stage with Louisville's only noteworthy remaining opponent being Houston, an early-season darling that has slipped from the top 25 after two recent losses.
So — like an Oscar-worthy film that is released early in the spring — Jackson's chances could be hampered. His coach put in a good word for him after Saturday's game.
"I'm not sure that we have to say a whole lot because his play and his stats speak for themselves," Bobby Petrino said. "I have not seen anyone better."
Just as long as the voters remember.
---
Get the latest on L.A.'s teams in the daily Sports Report newsletter.
You may occasionally receive promotional content from the Los Angeles Times.