Jim Harbaugh fires back at now-suspended Big Ten analyst Braylon Edwards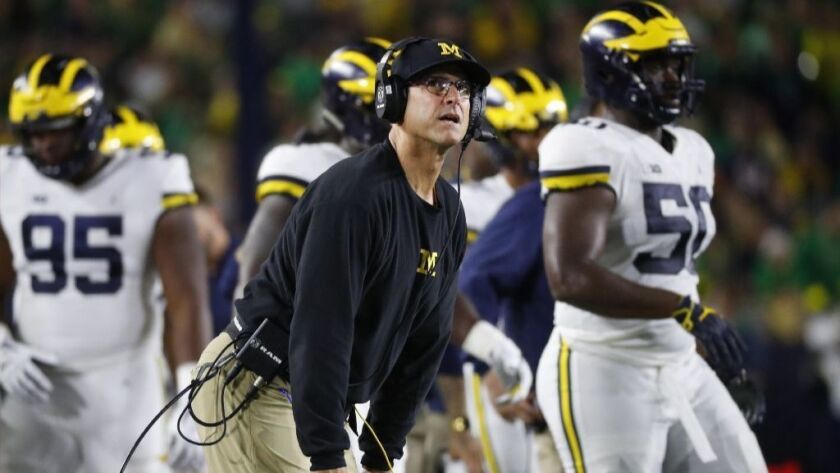 Reporting from ANN ARBOR, Mich. —
The war of words between Michigan coach Jim Harbaugh and former Wolverines receiver Braylon Edwards is heating up.
Harbaugh, upset that Edwards posted a negative tweet about two Michigan players during Saturday's 24-17 loss at Notre Dame, fired back at Monday's news conference.
Edwards, now a college football analyst, was suspended indefinitely Monday by the Big Ten Network for "a violation of the network's social media guidelines."
"I was disappointed that a member of the Big Ten Network would choose to attack the character of two of our players," said Harbaugh, whose program dropped its 17th consecutive road game to a ranked opponent, a streak dating to 2006.
"If somebody wants to attack the character of anybody on the ball club, come after me."
Edwards' tweet Saturday night, which was later deleted, was directed at University of Michigan center Cesar Ruiz and transfer quarterback Shea Patterson: "Ruiz is weak, line is weak, shea is scared, (expletive) Michigan offense is so predictable..Michigan football is sadly one thingTrash," Edwards wrote.
On Monday, Harbaugh defended his players, both first-year starters for the Wolverines.
"First of all, it's not true. It's not factual," Harbaugh said. "There's nobody in our program who thinks those things about any player on our team, let alone the two players that he described. Just so you know, that's not coming from anybody inside the program."
Edwards, one of the top receivers in Michigan history, still holds program records for career receptions (252), yards (3,541) and touchdowns (39).
After learning of his suspension from the Big Ten Network, Edwards fired off another tweet aimed at his alma mater.
"So funny that everyone is worried (about) my tweet as opposed to the real issue, 0-17 on the road against ranked opponents, 1-6 against rivals and the one win was against a 3-9 MSU. Last thing i will ask and really think about this before you get madis Michigan better than Iowa?" Edwards wrote Monday.
Michigan junior defensive end Rashan Gary, a likely first-round NFL draft prospect, said he didn't see Edwards' tweet Saturday night, though he was offended a former Wolverine would rip the program and current players.
"At the end of the day, we're college students, we're college football players and we love what we do," Gary said Monday. "We take it to heart. For someone to stab at somebody, I didn't see the tweet, but to take shots at a player and you're a grown man, I don't think that's cool."
With a long season still ahead, Michigan players are trying to focus on Saturday's home opener against Western Michigan.
"It's a new week, we're still in control of everything we want to accomplish," Gary said. "Right now, it's Week 2 and we're focused on Week 2. We got to get this win and keep it pushing."
---
Get the latest on L.A.'s teams in the daily Sports Report newsletter.
You may occasionally receive promotional content from the Los Angeles Times.