18 Images
London Olympics | Day 14
Winner's inspiration
Ethiopia's Meseret Defar puts a picture of the Virgin Mary on her face after winning the gold medal in the 5,000 meters race.
(Wally Skalij / Los Angeles Times)
Morgan Uceny falls
Kenya's Hellen Onsando Obiri leaps to avoid Morgan Uceny of the United States during the women's 1,500-meter final.
(Daniel Ochoa De Olza / Associated Press)
Carmelita Jeter
Carmelita Jeter crosses the finish line as anchor of the U.S. 4x100 relay team after it sets a world record of 40.82 seconds.
(Wally Skalij / Los Angeles Times)
New world record
Members of the United States women's 4x100-meter relay team celebrate their world record run and gold medal victory.
(Morry Gash / Associated Press)
Anthony Davis
Anthony Davis of the United States eyes a rebound against Argentina during a men's semifinals basketball game won handily by Team USA.
(Charles Krupa / Associated Press)
Jordan Burroughs
United States wrestler Jordan Burroughs defeated Iran's Sadegh Saeed Goudarzi, background, to win a men's wrestling gold medal.
(Robert Gauthier / Los Angeles Times)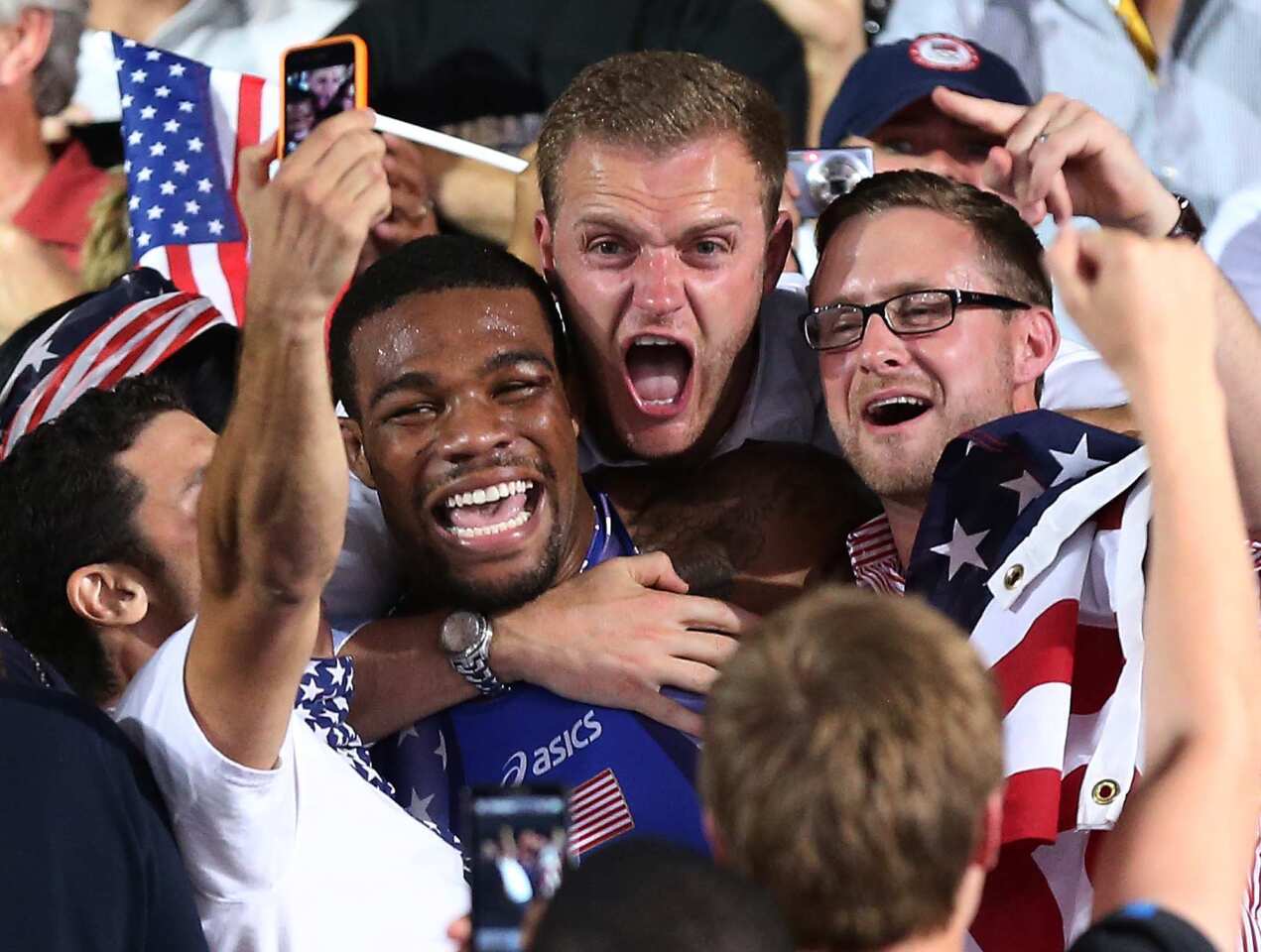 Jordan Burroughs
American wrestler Jordan Burroughs celebrates with fans in the stands after winning a gold medal.
(Robert Gauthier / Los Angeles Times)
Long may he wave
A fan wears a costume representing the flag of the United States at the canoe sprint competition.
(Natacha Pisarenko / Associated Press)
Celebratory dive
Luke Patience and Stuart Bithell of Great Britain celebrate their silver medal in the 470 men's two-person dinghy sailing race by leaping into the water.
(Francois Mori / Associated Press)
Up and over
France's Renaud Lavillenie clears the bar in the men's pole vault final on his way to a gold medal and an Olympic record.
(Hassan Ammar / Associated Press)
BMX crash
Brooke Crain of the United States passes countrywoman Alise Post who crashed in a BMX cycling women's semifinal run.
(Christophe Ena / Associated Press)
Italian water polo team
Team Italy celebrates during a men's water polo semifinal game against Serbia. Italy won and will play Croatia for the gold medal.
(Hannibal / EPA)
Handball victory
Goalkeeper Mattias Andersson of Sweden celebrates his team's victory over Hungary in a men's handball semifinal game. Sweden will play France for the gold medal.
(Jeff Gross / Getty Images)
Coach throw
South Korea's soccer team tosses head coach Hong Myung-bo after the team won the men's soccer bronze medal match against Japan.
(Luca Bruno / Associated Press)
Paige McPherson
Paige McPherson of the United States celebrates winning her bronze medal match against Franka Anic of Slovenia.
(Hannah Johnston / Getty Images)
High flyer
A member of the Chinese team flies through the air during the synchronized swimming team free routine final. China won the silver medal.
(Mark J. Terrill / Associated Press)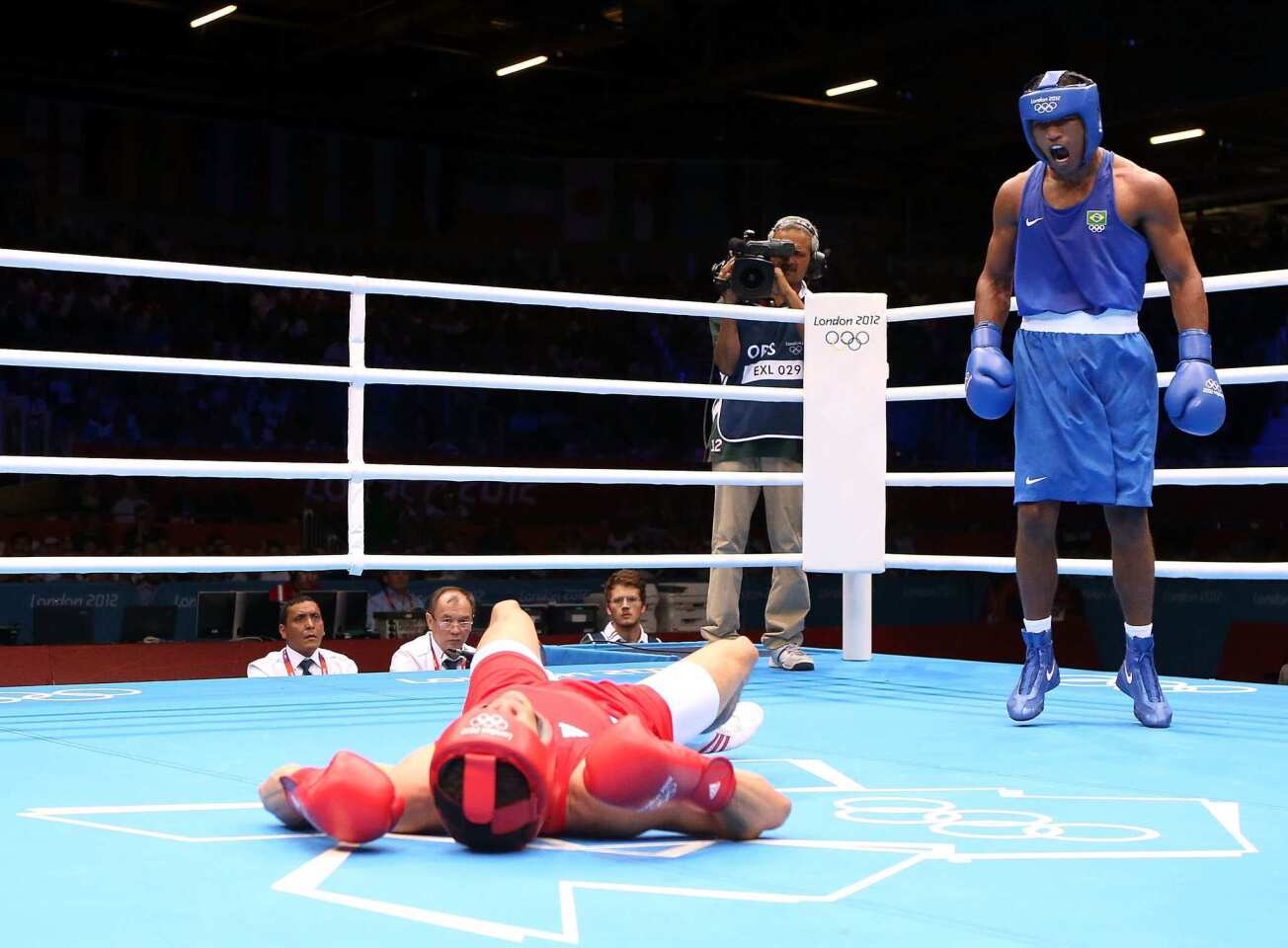 Boxing knockdown
Esquiva Falcao Florentino of Brazil, right, knocked down Anthony Ogogo of Great Britain during their men's middleweight boxing semifinal.
(Scott Heavey / Getty Images)
Rhythmic gymnastics
Daria Dmitrieva of Russia competes during the rhythmic gymnastics individual all-around competition.
(Ronald Martinez / Getty Images)