Oregon's secret weapon? A geriatric scout team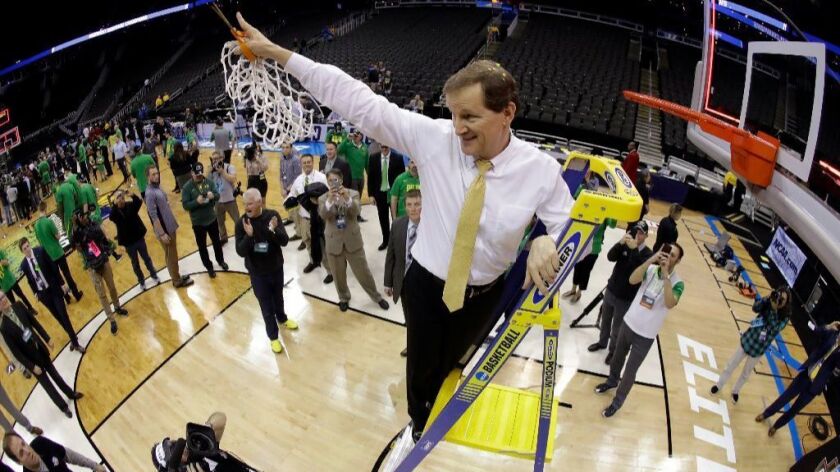 Kansas' point guard looked as though he'd lost a step or three during a practice last week. He could barely get off the ground. His dribbling was suspect at best.
His jumper? Well that was all right, actually, but everything else about his game seemed as if it had aged by about 40 years.
That's because it had. This wasn't Kansas' practice but Oregon's, and the man impersonating the Jayhawks' electrifying guard, Frank Mason III, was almost 40 years Mason's senior: Oregon Coach Dana Altman.
Scout teams are the rare area in which the NCAA allows creativity. Alabama's football team uses retired NFL players to simulate opponents. Women's basketball teams bring in male students to better mimic bigger opponents. Some men's teams use a young assistant or two, almost always recently retired former players in their 20s or 30s.
But the Ducks stumbled upon a secret weapon this season using the opposite strategy. The Ducks use their entire coaching staff, including Altman, who is 58.
"But he moves like he's 20 when he's excited," guard Dylan Ennis said.
Like that one geriatric who manages to embarrass his younger competitors at YMCAs everywhere, men who qualify for AARP membership take the Ducks to school before each game. The looks they provide have been enough to get Oregon to the Final Four.
Before the Kansas game, the youngest staffer, playing forward Landen Lucas, was graduate assistant Matt Zosel. He's 38, and he has some mileage: He played at Southern Oregon, an NAIA school, and earned two Bronze Stars in the Army Rangers.
Mike Mennenga, who played Sviatoslav Mykhailiuk, and Tony Stubblefield, who played Devonte' Graham, are in their mid-40s.
Kevin McKenna played the explosively athletic forward, Josh Jackson. McKenna is 58.
"When I was trying to imitate him for the lob, I didn't even jump when they threw the pass," McKenna said. "I just watched it sail over my head. He jumps a little bit higher than me."
The schooling, in this case, is of the more literal variety. Altman found that the coaching staff could offer the team the best possible scout. And they could offer tips and reminders while on the court.
"It just cuts down time," Altman said. "I should know what's going on. And my staff should know what's going on. So it just makes it all quicker."
Players said it keeps them focused. The staff can tell more easily when a player is slacking. And besides, no one wants to get crossed up by someone soon to receive Social Security benefits.
"It didn't really surprise me much," said Zosel, the graduate assistant. Altman, he said, "is a genius. And he wants to be out there and get everybody going. It sets the right tone for us. Sometimes at the end, guys' attention spans, it's easy to wander. And if he's out there running the point guard, everybody's locked in."
Altman occasionally participated in walk-throughs in seasons past, especially on the road when travel rosters are smaller. But this season, the team lost several practice players. There were fewer walk-ons. And the team wasn't playing up to potential.
"Coach just took the ball one day, put the jersey on and started calling the plays," Mennenga, an assistant coach, said.
Said Ennis: "I thought they were joking at the start, but they were dead serious."
It's not like the coaches lack skills. All played some level of college basketball. But their style is decidedly, uh, dated. McKenna, who was drafted by the Lakers in 1981, is regarded as the best, renowned for his sneaky back-cuts.
"I tell you, it's my favorite part of practice," McKenna said. "It gets you back playing again, and you feel like you're in the game a little bit."
Altman has passable ball skills.
"They're OK," guard Casey Benson said. "The jumper is more there than the handles."
Zosel diplomatically said that Altman "does a great job of lowering his base, making the simple play."
It also keeps the training staff on alert. McKenna said most of the coaches have long stopped playing regular pickup games. Two years ago, McKenna joined the student managers' three-on-three game.
"I was sore for a week after that," McKenna said. "My feet were killing me for a week. So I haven't played since. I might be good for one a year, but I'm worried about blowing something out, and I don't want to take the chance."
The scariest moment came when someone passed to Altman when he wasn't expecting.
"And he just fell over," Ennis said. "I swear, it took him like 10 seconds to fall."
Ennis thought Altman broke his ankle. But Altman got back up and continued playing.
It was enough to question whether Altman could handle the rigors of the position. But no one was messing with the lineup.
"Shoot," Mennenga said, moments after Oregon reached the Final Four. "As long as we keep doing this, man, I guess we'll just keep him going at the point."
Follow Zach Helfand on Twitter @zhelfand
---
Get the latest on L.A.'s teams in the daily Sports Report newsletter.
You may occasionally receive promotional content from the Los Angeles Times.