Gun Runner is a welcome presence at this year's Pegasus World Cup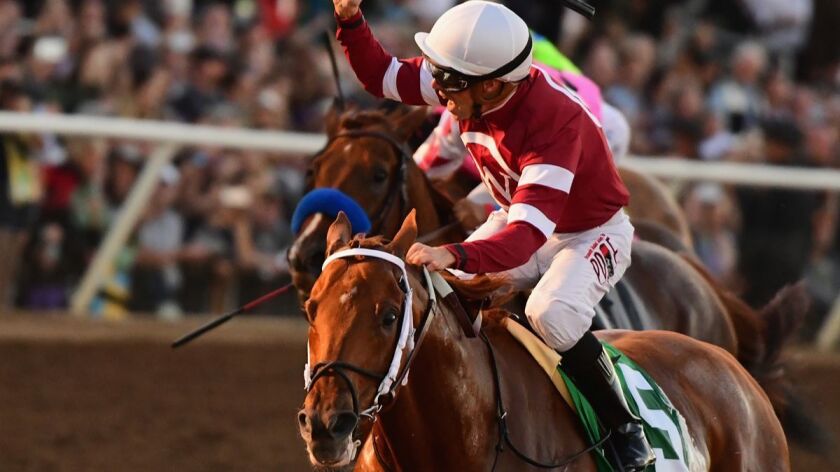 A year ago, Gulfstream Park officials and the connections of Gun Runner were in a standoff on the eve of the first-ever Pegasus World Cup. Gun Runner was just exiting a mandatory quarantine at the Fair Grounds in New Orleans after an outbreak of the equine herpes virus.
Gulfstream was not going to allow the horse at its track without passing a blood test and a nasal swab test. The owners refused to do the nasal test. Neither side blinked, and he didn't run.
The Pegasus didn't really need Gun Runner's presence last year, as it had the rematch of Arrogate and California Chrome after a thrilling finish in the Breeders' Cup Classic. It would also be Chrome's retirement race.
Saturday, Gun Runner is not only welcomed at what has become the word's richest race, at $16 million, but lauded, having won the Eclipse Award for Horse of the Year on Thursday night. He's been installed as the 4-5 favorite but has to overcome a bad post (the 10) at a track that can be unforgiving from the outside because of a short run to the first turn in a 1 1/8-mile race.
"It was a unique situation with the quarantine in Louisiana and dealing with race tracks as well as states," said Steve Asmussen, Gun Runner's trainer.
Gun Runner had been cleared by a blood test that showed he didn't have the herpes virus, but the owners refused to do a nasal test because of concerns over the frequency of false positives returned by that test. If he had tested positive, the colt would have to be sidelined for at least 30 additional days, upsetting his year-long schedule.
"What we felt like last year before the Pegasus was that we were going to have a very good year with him whether we got to run or not and couldn't lose sight of that and stay the course."
Gun Runner made his first start less than a month after the Pegasus and breezed to a win in the Razorback Handicap at Oaklawn. He then finished second to Arrogate in Dubai before running the table with wins in the Stephen Foster at Churchill Downs, the Whitney and Woodward at Saratoga before winning the Breeders' Cup Classic at Del Mar.
Saturday will be his last race before going off to be a stallion.
"He stepped up when called upon and met the challenge and, how do you say, got it done," Asmussen said. "He's truly a special horse mentally and physically. We've been on a tremendous run with him. And [we] just appreciate being in his presence."
Asmussen is playing down the significance of the outside post, especially since Gun Runner can go near or on the lead. He just doesn't have much time or distance to get there before the turn.
"You never know to complain about the post position until after the race is run," Asmussen told TVG. "It might work out perfectly for him."
Tim Ritvo, the top executive at Santa Anita, Gulfstream and other Stronach Group-owned tracks, recognizes the problem.
"It's one of our biggest issues, so obviously we struggled to try to figure a balance," Ritvo said. "The reason the original mile and an eighth was selected was to try and get horses that were good dirt milers, that they would try and stretch to 1 1/8 for that kind of money. But we're seeing that picking up a dirt miler is definitely not as valuable, let's say, as the people complaining about getting the 10, 11 and 12 [post positions]."
Not complaining about their posts are Southern California shippers West Coast (2) and Collected (5) for trainer Bob Baffert.
Collected and West Coast were second and third, respectively, in the Classic behind Gun Runner.
"We know that Gun Runner is going to be really tough," Baffert said. "All I do is concentrate on my horses and that they show up. In case someone skips a note, I want to be there. That's what this game is all about. I've been there."
Collected and West Coast are 8-1. Sharp Azecta (4), a fast breaker for Gulfstream regular Jorge Navarro, is 6-1.
Also in the field is Southern California regular Stellar Wind (3), the only mare in the race. She was retired after the Breeders' Cup by trainer John Sadler and sold by former owners Kosta and Pete Hronis to become a broodmare. But the new owners brought her back, under trainer Chad Brown, to run this race.
Also, shipping in from Santa Anita is Giant Expectations (12) for trainer Peter Eurton. He beat Collected in his last race, the San Antonio Stakes.
Big day at Santa Anita
Santa Anita has a special 10-race card starting at 11:45 a.m. Nine of the races are restricted to California-breds on what has become known as Cal Cup Day. The highlight is the $200,000 Unusual Heat Turf Classic. It's for older horses over 1 1/8 miles. There are three other stakes races worth more than $100,000.
Masochistic, who is best known for being disqualified from purse money in the Breeders' Cup Sprint in 2016, heads the six-furlong $150,000 California Cup Sprint. There are also a pair of 6½-furlong Cal-bred-only, down-the-hillside turf course sprints, one for older fillies and mares and one for 3-year-olds.
---
Get the latest on L.A.'s teams in the daily Sports Report newsletter.
You may occasionally receive promotional content from the Los Angeles Times.