Sochi Olympics: Kaitlyn Farrington pulls surprise in women's halfpipe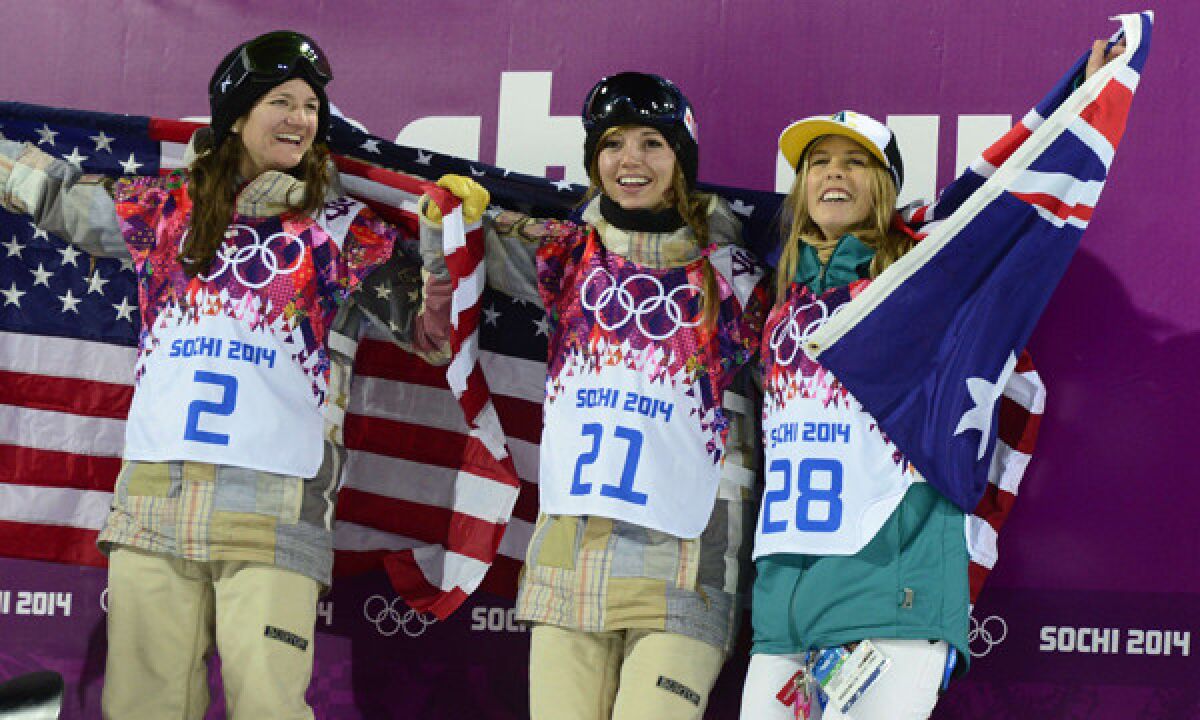 SOCHI, Russia — The cowgirl got the gold.
Kaitlyn Farrington, the 24-year-old daughter of ski bums in Sun Valley, Idaho, produced the run of her life Wednesday night at Rosa Khutor Extreme Park.
What resulted was a newly minted Olympic champion in the women's halfpipe who was not even a highly decorated snowboarder with a host of X Games wins or a trendy clothing line.
FRAMEWORK: Best images from Sochi
Her second-run score of 91.75 gave her a narrow win over Torah Bright of Australia, who had 91.50. Kelly Clark, also of the U.S., won bronze with a score of 90.75, edging U.S. teammate Hannah Teter, who was fourth with 90.50.
Not only did Farrington have to go through qualifying, semifinals and the final, six runs in all, she defeated the last three Olympic champions, Bright, Teter and Clark. Her winning run, long on style and strong on technique, included a back 9.
"I was hoping to make finals and that was kind of my main goal," Farrington said. "Then during finals, I was kind of like, if I land a good run, I might be on the podium. And so to come out on top, I just can't believe it.
"I can't believe I was sitting there in front of the last three gold medalists. It's crazy."
Said Teter: "Who would have known she was going to win this thing? I don't think anybody knew that was coming. Surprise, surprise."
Farrington's parents, Gary and Suz, ran the gamut of emotions as they watched their daughter. He rides horses and they financed their daughter's snowboarding career in the early days, in part, by selling their cows.
As she progressed, they sold more cows until they were out of cows. Suz held up a sign with Kaitlyn's picture that said, "Cowgirl Up," a phrase for motivation when Kaitlyn used to be a swimmer.
Apparently, it had staying power.
"Something very special just happened," Gary said. "My phone is vibrating so hard. It hasn't stopped. I thought it was me. I'm going to ignore it for a while."
There was an excruciating period for the judges to determine the score of the final rider, Clark.
"So hard. I've been shaking all over," Gary said. "I just stopped shaking."
Clark, a four-time Olympian, fell on her first run, which is what happened to her at the Vancouver Games in 2010. Here, she landed in trouble when she left early on one move and hit the lip of the pipe. But she responded with a veteran's resolve.
"It's a very difficult situation to fall first run in a final," Clark said. "To be able to land my last run, last person to go, in an Olympic final, is a huge achievement for me. That wasn't my cleanest, best run I've ever done. But for me, that was my best tonight. It landed me on the podium and I'm thankful."
The fourth U.S. snowboarder, Arielle Gold, was injured in training before qualifying, hurting her shoulder, and was unable to compete. It was an impressive rebound for the American snowboarders after the men failed to win a medal on Tuesday.
Only Bright prevented an American sweep.
"Fourth is the worst position to finish, if you wanted to know," Teter said. "You've just missed the podium. I missed it by point or two. It's definitely a bummer."
Teter's immediate plans involve skiing the powder back home in Tahoe. And Farrington? "I'm gonna dance my face off tonight," she said. "Wild style."
Twitter: @reallisa
Get our high school sports newsletter
Prep Rally is devoted to the SoCal high school sports experience, bringing you scores, stories and a behind-the-scenes look at what makes prep sports so popular.
You may occasionally receive promotional content from the Los Angeles Times.