Southland basketball roundup: Rui Hachimura leads No. 2 Gonzaga over Pepperdine 92-64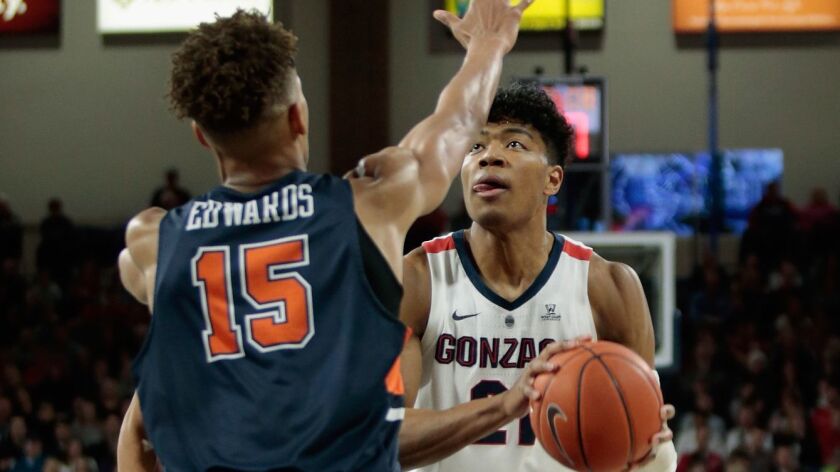 Rui Hachimura scored 23 points as No. 2 Gonzaga beat Pepperdine 92-64 on Thursday night, keeping the door open to a possible No. 1 ranking next week.
Zach Norvell Jr. added 21 and Brandon Clarke had 16 points, 11 rebounds and five blocks for Gonzaga (26-2, 13-0), which won its 17th consecutive game, longest streak in the nation.
Darnell Dunn scored 16 and Jade Smith had 13 for Pepperdine (12-16, 5-9), which lost to the Zags for the 36th consecutive time dating to 2002.
Gonzaga shot 63 percent while holding Pepperdine to 39 percent to coast to victory. The Zags jumped out to a 21-11 lead midway through the first, using a pressure defense to disrupt the Waves.
Hachmiura sank consecutive baskets as Gonzaga built a 28-15 lead. Norvell scored 10 consecutive Gonzaga points as the Bulldogs took a 41-26 lead.
Hachmiura's 3-pointer at the buzzer lifted Gonzaga to a 53-33 lead at halftime. He had 21 points in the first, Norvell had 17, and Gonzaga shot 65.6 percent.
Gonzaga opened the second half with a 15-2 run to go up 68-35.
Pepperdine went on a 21-3 run to cut Gonzaga's lead to 71-56.
But the Zags replied with a 12-2 run to push the lead back to 25 at 83-58 with five minutes left.
at Grand Canyon 91, Cal Baptist 58: Damari Milstead and Oscar Frayer scored 18 points apiece as Grand Canyon easily defeated California Baptist 91-58 on Thursday night. Carlos Johnson added 16 points for the Antelopes. Frayer also had seven rebounds for the Antelopes.
Trey Drechsel had seven rebounds for Grand Canyon (16-10, 9-4 Western Athletic Conference).
California Baptist scored 26 second-half points, a season low for the team.
Jordan Heading had 15 points for the Lancers (14-11, 5-6), whose four-game winning streak ended with the loss. De'jon Davis added 14 points and 12 rebounds.
Milan Acquaah, the Lancers' leading scorer heading into the matchup at 21 points per game, scored only 7 points on 3-of-10 shooting. He also had eight turnovers but only three assists.
The Antelopes improve to 2-0 against the Lancers this season. Grand Canyon defeated California Baptist 90-73 on Jan. 26. Grand Canyon faces Eastern New Mexico at home on Wednesday. California Baptist matches up against Cal State Bakersfield on the road on Saturday.
at UC Irvine 74, Cal Poly 47: Jonathan Galloway had 14 points and Max Hazzard posted 14 points as UC Irvine won its ninth straight game, easily beating Cal Poly 74-47 on Thursday night.
Collin Welp had eight rebounds for UC Irvine (23-5, 11-1 Big West Conference).
Cal Poly scored 18 points in the first half, a season low for the team.
Donovan Fields had 12 points for the Mustangs (5-19, 1-10), whose losing streak reached five games. Daxton Carr added 11 points.
Mark Crowe, whose 10 points per game coming into the contest ranked second on the Mustangs, failed to make a shot (0 of 5).
UC Irvine takes on UC Davis on the road next Thursday. Cal Poly plays Hawaii at home on Saturday.
at Cal State Fullerton 62, UC Davis 58: Khalil Ahmad registered 15 points as Cal State Fullerton edged past UC Davis 62-58 on Thursday night.
Jackson Rowe had 13 points and nine rebounds for Cal State Fullerton (13-13, 9-3 Big West Conference), which earned its fourth consecutive victory. Austen Awosika added 11 points and six assists. Davon Clare had eight rebounds for the home team.
Kyle Allman Jr., who led the Titans in scoring entering the matchup with 19 points per game, shot only 20 percent for the game (1 of 5).
Siler Schneider scored a season-high 27 points and had six rebounds for the Aggies (10-15, 6-5), whose five-game winning streak was snapped. Stefan Gonzalez added 10 points. Joe Mooney had nine rebounds.
Cal State Fullerton plays UC Santa Barbara on the road on Saturday. UC Davis plays Cal State Northridge on the road on Saturday.
at UC Santa Barbara 79, Hawaii 61: Amadou Sow had 18 points and eight rebounds as UC Santa Barbara beat Hawaii 79-61 on Thursday night.
Ar'mond Davis had 14 points and seven rebounds for UC Santa Barbara (18-8, 7-5 Big West Conference). Devearl Ramsey added 11 points. JaQuori McLaughlin had 11 points and eight assists for the home team.
Zigmars Raimo had 15 points for the Rainbow Warriors (16-10, 7-5). Drew Buggs added 13 points and eight rebounds. Jack Purchase had seven rebounds.
The Gauchos improve to 2-0 against the Rainbow Warriors for the season. UC Santa Barbara defeated Hawaii 75-54 on Feb. 2. UC Santa Barbara matches up against Cal State Fullerton at home on Saturday. Hawaii matches up against Cal Poly on the road on Saturday.
WOMEN FRIDAY
USC at Oregon State 6 p.m.
UCLA at Oregon 8 p.m.
---
Get the latest on L.A.'s teams in the daily Sports Report newsletter.
You may occasionally receive promotional content from the Los Angeles Times.