Column: Time at UCLA put U.S. Open upset victor Jennifer Brady on a winning path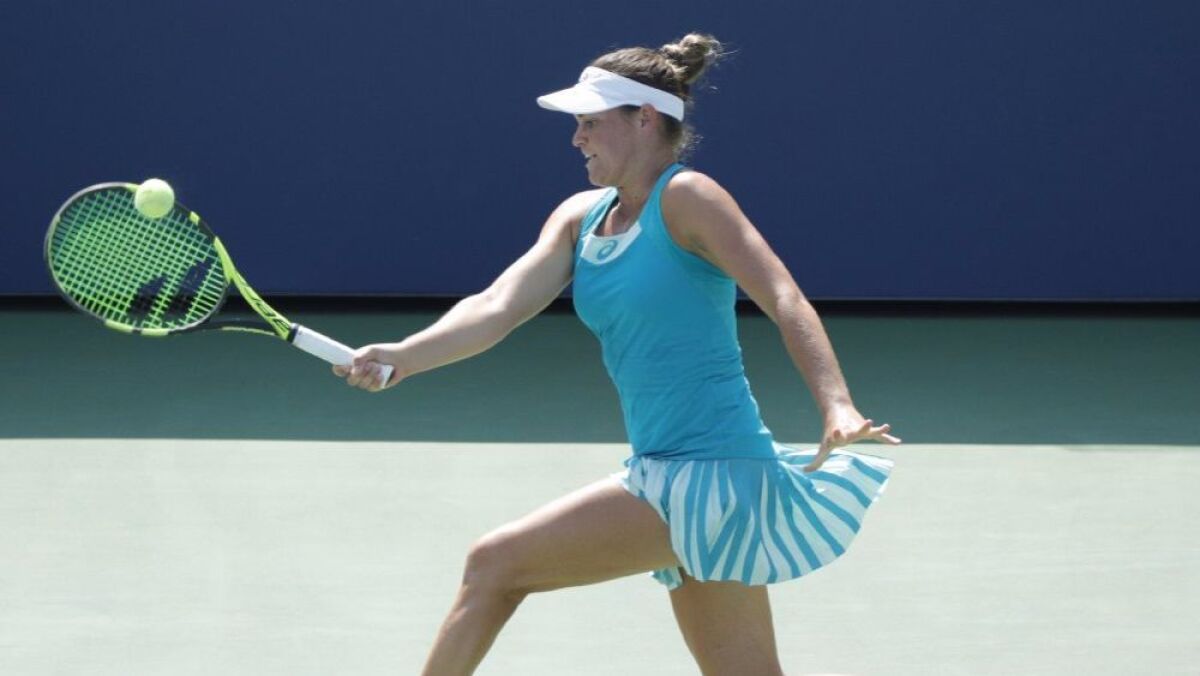 Reporting from new york —
Everyone who saw Jennifer Brady was sure of her great tennis talent long before she was. At 8 years old she was sent to the Evert Tennis Academy, which was established in Florida by Chris Evert and Evert's family, and trained there through her teenage years. Still, Brady's self-assurance never matched her extraordinary skill level.
Spending two years at UCLA, where she helped the Bruins win the 2014 NCAA championship, filled in gaps that all those tennis lessons hadn't bridged. On her own for the first time and freed from a regimented routine, Brady had to learn how to steer her life, not just her career. She blossomed, carrying a deep sense of confidence with her when she left UCLA and turned pro in 2015.

For the record:
10:27 a.m. March 22, 2023An earlier version of this post said Jennifer Brady will play Karolina Pliskova in her next match. Brady will play Monica Niculescu.
"Ever since I was young I've always been told how good I am," she said. "I feel like over the past year or so I have really put in the hard work and kind of showed myself that I can play at this level and I have the potential to play at this level."
Brady, 22, has been compiling a batch of impressive results. She reached the fourth round of the Australian Open this year and on Thursday needed only 56 minutes to reel off a 6-1, 6-1 upset of No. 23 seeded Barbora Strycova in a second-round match at the U.S. Open, her second career victory over a top-50 player. She was relentless and fearless and sure, a formidable combination.
"She used all weapons to not let me in the match," Strycova said. "She has a great serve and she has a great forehand which she's dictating the points all the time, and then she's pushing you back."
She might not have flourished at this level without her experiences at UCLA.
"She came in very young and I think she left here having gained a lot of maturity and confidence in herself," Bruins tennis coach Stella Sampras Webster said in a phone interview. "I think that's what she needed, to grow up a little bit. … She had to speak up for herself. She had to take care of herself, take care of her schoolwork, take care of just surviving out here in L.A."
Detouring to college before joining the pro ranks is not a common tennis path. Brady has no doubts that it was the right route.
"Those two years were pretty crucial for me," said Brady, who was born in Pennsylvania and now trains in Florida. "If I were to do the whole process again, I would stick to what I did and go back to UCLA. I learned a lot off-court, just learning how to be on my own. I was at an academy for basically my whole life when I played tennis, so I had the same schedule every single day. Nothing outside of that changed. So it was good to have a change. I learned a lot from that off-court and on-court."
Sampras Webster remembers Brady as committed to improving her game and unconcerned about where she played in the Bruins lineup.
"You could tell that she hit a different ball than most other players that we've had here and even in college. She hit a very heavy ball, almost plays more like a guy," Sampras Webster said. "You could tell that she had that but she lacked some consistency and maybe, managing her motion.
"You could tell as she was here, and I'm sure she's gained experience on the tour, she's just figured it all out, figured out how to play this game and what she needed to do."
Brady faced a challenge in the first round this week when her match against Andrea Petkovic of Germany was suspended by rain Tuesday. Brady had won the first set but got off to a slow start when play resumed Wednesday, giving up a service break and losing the second set. She recovered to win the third set 6-1 and earn her first victory in the U.S. Open's main draw.
She had a surprisingly easy time Thursday on the Grandstand court. Brady, ranked 91st in the world, simply sprinted away from a hapless Strycova, who's ranked 25th . "Yeah, I was kind of steamrolling," Brady said.
Sampras Webster said Brady could easily become a top-20 player or better.
"It's really exciting to see her, especially today beating a top 25 player in the world and beating her pretty solidly," Sampras Webster said. "I think that's going to help her confidence and help her for the next matches that she gets to play when she plays these top players, that she can finish those matches and get those wins."
Brady will be an underdog in her next match, against No. 57 Monica Niculescu of Romania, but nothing's certain after upsets took out five of the top eight seeded women's players and seven of the top 16. Brady booked her New York hotel room through Sept. 6, the second day of the women's quarterfinals. But if that means she's confident of going at least that far, she's not saying.
"Ask me that when it's the sixth," she said, smiling.
Follow Helene Elliott on Twitter @helenenothelen
Get our high school sports newsletter
Prep Rally is devoted to the SoCal high school sports experience, bringing you scores, stories and a behind-the-scenes look at what makes prep sports so popular.
You may occasionally receive promotional content from the Los Angeles Times.