Column: At 36, Venus Williams still loves tennis: 'I'm the most joyful now'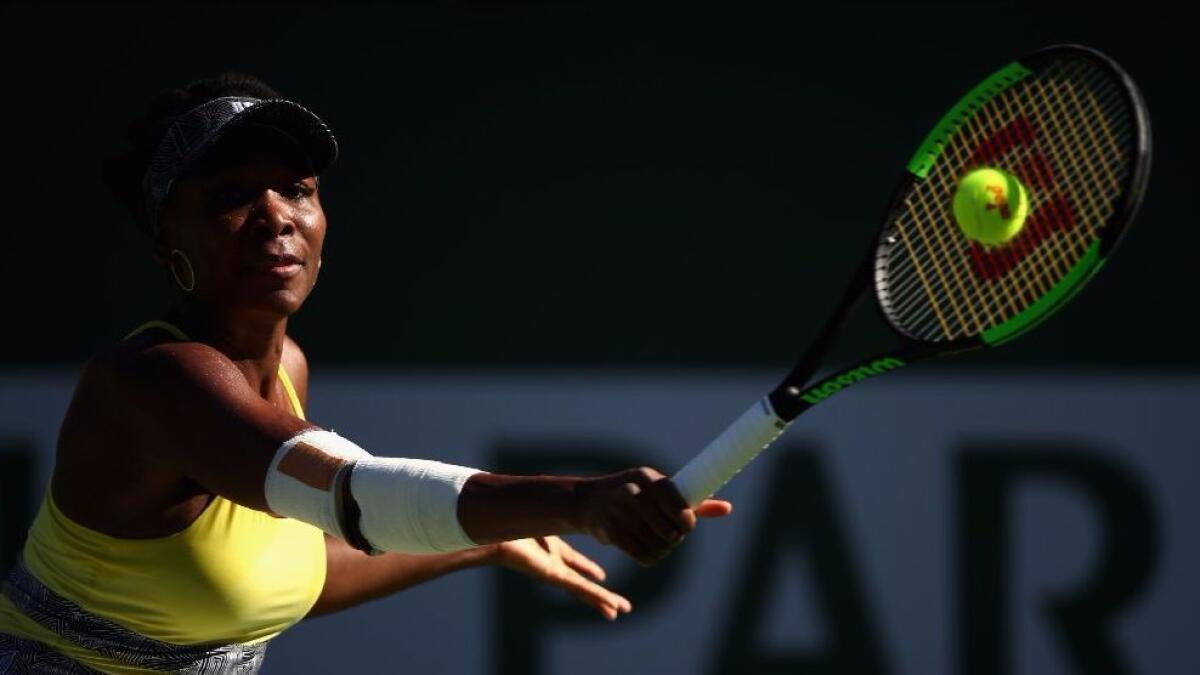 Reporting from Indian Wells —
Venus Williams is healthy and enjoying life again, scarred but buoyant at age 36 and certainly far from done with tennis.
Six years into a diagnosis of Sjogren's syndrome, an autoimmune disease that causes fatigue and joint pain, and more than 22 years into her professional tennis career, Williams is more enamored than ever with the game she began playing on the rough public courts of Compton with her younger sister, Serena. That passion continues to fuel her game and her life.
"I feel like I'm the most joyful now, honestly," Williams said Monday after a 6-4, 6-2 domination of Lucie Safarova in their third-round match at the BNP Paribas Open.
"I've clearly loved the game. You have to, to play this long, to deal with the pressure and to put in the amount of work that it takes. But I definitely feel like I'm peaking in terms of the love level. I'm enjoying the competition. I like this."
There's every reason for her to be pleased with her season so far and, in particular, with her progress here.
Although she ended 2016 ranked No. 17 — down 10 spots from her 2015 end-of-year-ranking — she reached the final at the Australian Open in January and was the loser as her sister earned an Open-era record 23rd Grand Slam title. Seeded No. 12 here, Williams saved three match points against Jelena Jankovic in her first match and won, 1-6, 7-6(5), 6-1.
"I just feel at home in California," she said after that victory. "When I land, I'm like, 'All right. I'm home.'"
She seemed to feel more at home Monday and had an easier time against Safarova, quickly getting accustomed to the broiling afternoon sun and conquering the often unpredictable bounces on the hard court at Stadium 1 at the Indian Wells Tennis Garden.
"I felt really pretty good off the ground. This court is tricky as the ball stops, so a lot of the times you're not hitting the ball where you think you're going to hit it. So it definitely takes adjustments," she said.
"I don't know if there's enough time to adjust, anyway. You just kind of like deal with it. So it's an interesting court. You know, I felt like I was being able to string points together, which of course puts pressure on my opponents if I'm not making as many errors."
Being healthy is the key to all of this. She has been in good spirits here and has been a crowd favorite, though that wasn't the case during a now-infamous incident that took place in 2001.
That's the year she withdrew from a semifinal here against Serena at the last minute, and the sisters and their father, Richard, became targets of boos and, allegedly, racial insults. For years the sisters found other places to be when this tournament took place, but Serena returned in 2015 and Venus came back in 2016 only to lose in the first round. Serena pulled out before this year's competition because of a knee injury that will also keep her out of the next tournament, at Miami.
"Life is good. I can't complain," Venus said. "I can't go the doctor and say, 'What is wrong with me?' I already know. So I don't want to go to the doctor. I just want to play."
She will get her wish Tuesday afternoon in a fourth-round match against Peng Shuai of China, who completed a 6-4, 6-4 upset of No. 6 Agnieszka Radwanska on Monday. Williams has won two of their three career matches but lost their last encounter on hard courts in Beijing in 2016. "I would like to win again," Williams said before she knew who her opponent would be. "I'm going to try."
She doesn't have to keep playing. She has outside interests, including a clothing line, and she has nothing to prove to anyone. Asked whether she feels more pressure to win because she has achieved iconic status in tennis as her sister and Roger Federer have and as Tom Brady has done in football, she said she actually feels less pressure.
"We're just here because we love it, and we know we have a lot to give, and we have wins in our body that are just aching to get out and that's how I feel," she said. "I can hit the ball, and I can hit it well. If anything, I feel like I'm getting better. So as long as I'm improving, I want to be here. On the day that I'm not improving and this is a realization, then that's when you know you have to walk away. So, not there yet."
Not for a while, by the looks of things.
Follow Helene Elliott on Twitter @helenenothelen
Get our high school sports newsletter
Prep Rally is devoted to the SoCal high school sports experience, bringing you scores, stories and a behind-the-scenes look at what makes prep sports so popular.
You may occasionally receive promotional content from the Los Angeles Times.