Andre Ingram continues to strive for an NBA career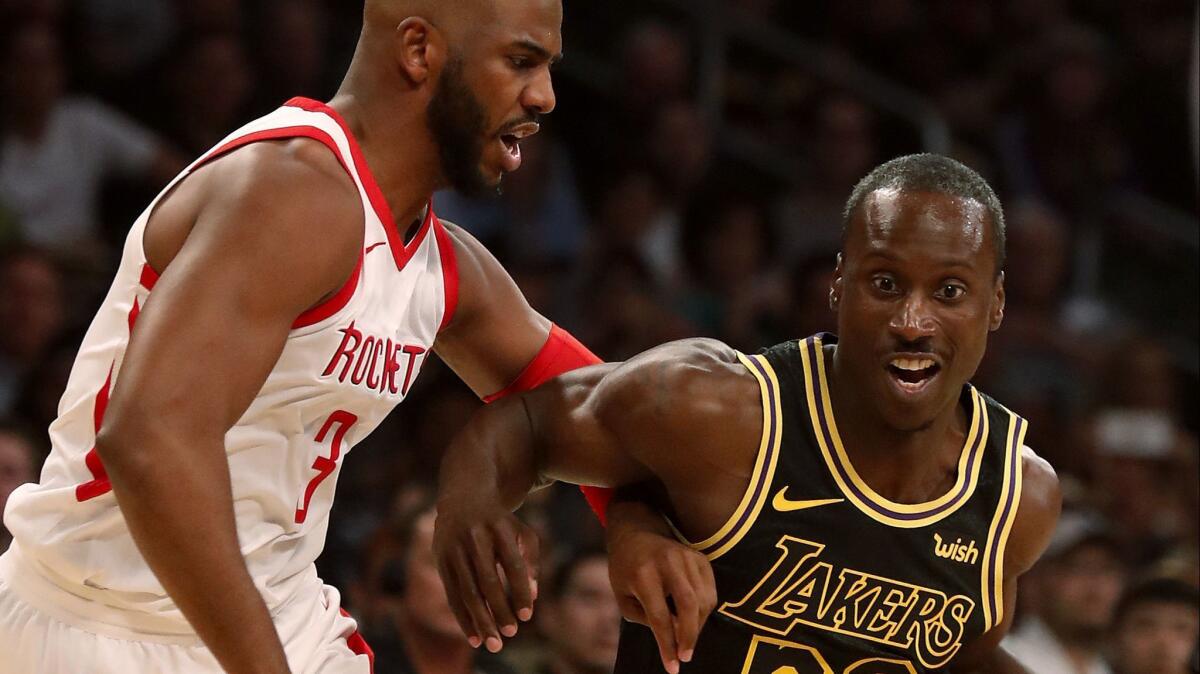 Reporting from LAS VEGAS —
Before he became a part of Lakers lore, before he became more famous than he could have ever dreamed, before he became one of the best feel-good stories of 2018, Andre Ingram was just a gray-haired shooting guard looking for a bowl of oatmeal.
It's how game day starts now and it's how game day started last April when Ingram, a part-time math tutor in the offseason, made his NBA debut after 384 games in the NBA's minor league, scoring 19 points and becoming a national star.
It was a Hollywood sports movie in real time — basketball's "Bull Durham" starring a salt-and-pepper-haired undersized shooting guard with a funky jumper. One day he thought his season with the South Bay Lakers was over, the next he was appearing on "Good Morning America."
"It was a lot," Ingram said. "It was zero to 100 really fast."
The story was so ready-made that Ingram signed a deal with William Morris Endeavor Entertainment that could easily turn his story into a movie.
But what about the sequel?
Late Thursday, Ingram sat inside a makeshift locker room inside a convention center at the Mandalay Bay Resort and Casino, icing his 33-year-old joints after scoring two points in 20 minutes in a frustrating loss.
It was his 396th G League game. Assuming he stays injury-free and in the South Bay Lakers rotation, he'll set the record for most games played in the NBA's minors on Jan. 7 against the Rio Grande Vipers in Edinburg, Texas.
"He just loves the game," Ingram's teammate, Alex Caruso, said. "He's dedicated so much, so much time. He has such a good work ethic. And he's chasing a dream. He got a taste of it, and I think he wants more — like a lot of us in the G League. I think that's why he keeps coming back."
Since Wednesday, all the players in the NBA's development league have played games on two courts inside a convention hall in front of scouts and top-level executives from NBA teams as part of a winter showcase that ends Saturday.
No one has been more prominently showcased than Ingram, who became an overnight celebrity after his first taste of NBA action.
In the aftermath of his two games with the Lakers to end last season, Ingram immediately set his focus on earning a non-roster invite to training camp with an NBA team. He did, after all, score 19 points in his first NBA debut, drawing the attention of everyone from Kobe Bryant to Kevin Hart.
He followed it up with an outing he truly "loved" in his second game, dishing out six assists to go with three rebounds and two steals on an off shooting night where he missed seven of nine shots.
"It wasn't about hitting shots," he said. "It was being in the right spot on defense, making the right pass, the extra pass. Defending well. It was all the other things. The second game was the stuff you do to get minutes on the court. That's the most underrated stat to me: minutes. If you play, it's because you're doing the right things."
But an invite never came. Some teams in the Eastern Conference were interested. The Lakers considered it. But nothing ever got close enough for Ingram to know specifics. So he went back to the G League and the South Bay Lakers, where he'd played the previous six seasons.
"As soon as it was done," Ingram said, "it was like, 'How do we get into camp?' That was the only thought this summer, so much so where I couldn't really get to the point where I enjoyed all that was happening. People told me to try and take it all in, and I tried, but it was just so big and so fast, you couldn't. That was my direct focus immediately after — how do I get into camp. And when it didn't happen, to come here, to me, it's a no-brainer."
He's revered by his teammates and competitors. Caruso, who is with the Lakers on a two-way contract, said the team jokes about who might be the nicest guy in the world, Lakers assistant and former player Mark Madsen or Ingram.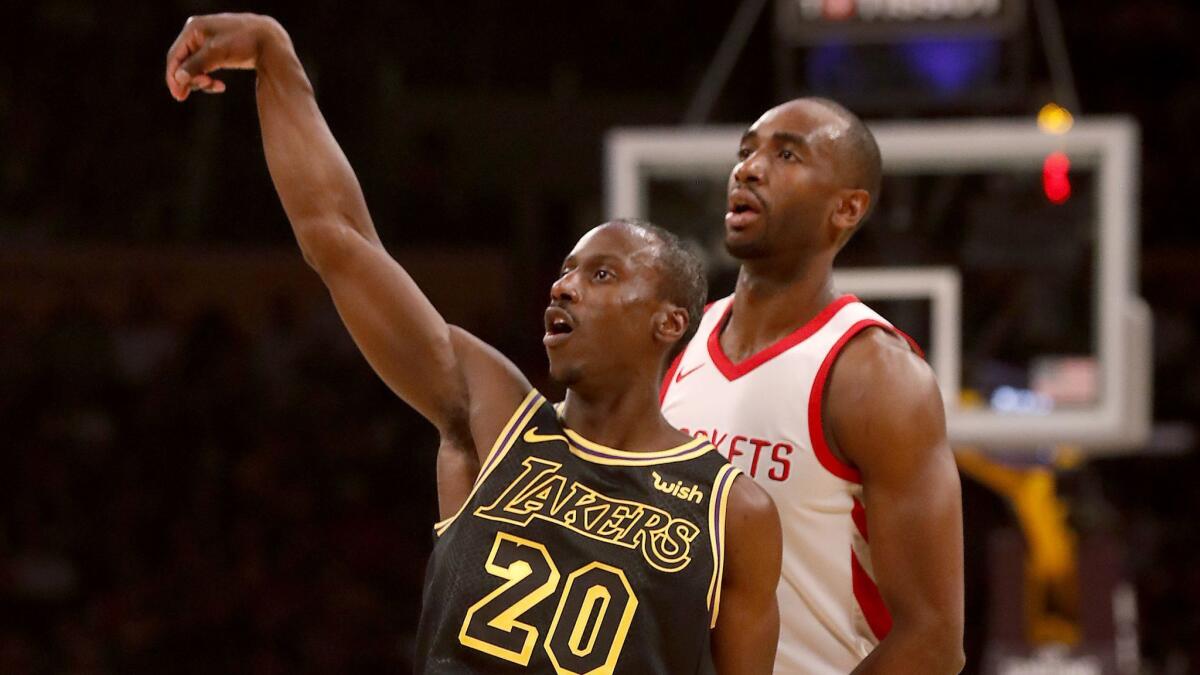 During a recent game in El Segundo, where the team plays its home games, Ingram shaged rebounds for his teammates as often as he shot. On Thursday, he stood in front of the bench, hands on knees, intently watching his teammates in the final minutes of a game.
He's not really the kind of prospect coveted by scouts, who rarely want the guy with the gray hair. He's routinely 10 years older than the players he's tasked with stopping.
His jumper, which is the most prolific in G League history — no one has attempted and made more three-point shots than Ingram — is far from picture perfect. His off hand is almost in front of the ball when he starts his motion around his waist and he almost immediately holsters his hands instead of following through.
Ingram is still ready for big moments, though. He broke back into the mainstream sports news cycle this season with a game-winning buzzer-beating floater.
NBA or not, Ingram wants to keep playing, keep testing himself against younger players, keep starting game days with a bowl of oatmeal.
"As long as I can play and as long as the wife says it's all right, we're good," he said.
But the math tutor — and maybe future math teacher — knows that he faces long odds in his quest to return to the NBA. But even before his storybook promotion, Ingram decided everything was OK.
The all-time leader in three-pointers made in the G League? Most games ever, top three in minutes, top five in points scored? He wasn't going to look at those achievements as reminders that he couldn't make it past this level. He was going to wear them all as a badge of honor, proudly chasing his NBA dream longer than anyone else in league history.
"At 25 years old, it was failure if I weren't in the NBA," Ingram said. "All my years here, just not making it, would've felt like failure. This doesn't feel like failure at all. This is different."
Twitter: @DanWoikeSports
Get our high school sports newsletter
Prep Rally is devoted to the SoCal high school sports experience, bringing you scores, stories and a behind-the-scenes look at what makes prep sports so popular.
You may occasionally receive promotional content from the Los Angeles Times.