Warriors defeat the Cavaliers to win their second NBA title in three seasons
Reporting from Oakland —
Kevin Durant bounced as he walked down from the stage on which he'd received his NBA Finals MVP trophy. He grinned like a kid as he clutched the prize and emerged from the champagne-soaked locker room, cigar smoke wafting through the air, still grinning, still proudly displaying his trophy.
He was an NBA champion at last, but not just that. He drove this team. He made the Golden State Warriors great enough that they could beat a player better than any of them, and the team that had bested them last year.
"I remember plenty of times throughout my career I continued to just look in the past and look ahead and not stay in the moment," Durant said. "In this series I just stayed in the moment. And we did it together. … You call us a super team, but it's been a lot of super teams that [haven't] worked, and we came together and we continued to just believe in each other and we sacrificed and we're champions now."
Their mission is complete.
On Monday night this super team that is changing basketball beat the Cleveland Cavaliers 129-120 in Game 5 to close out the Finals. The win capped a near-perfect postseason and was the culmination of a plan to recover from the embarrassment of one year ago. They are champions for the second time in three years, a year after finishing second.
"We left everything on the floor," Cavaliers star LeBron James said. "And it still wasn't enough."
It was Andre Iguodala soaring through the air for dunks. It was Stephen Curry leaning back for a jumper, getting fouled, then lying on the floor like a starfish as his teammate beat his chest in celebration. It was Draymond Green stealing the ball. It was Durant's dribble speeding up as he prepared to sink yet another crushing three-pointer.
It was James walking up the court, down 11 points with 50 seconds left, aware of the unavoidable truth.
This Game 5 was not last year's Game 5. This time the Warriors absolutely were not going to give it up. Durant — who'd joined the Warriors only last summer after their collapse in the 2016 Finals — would not let it slip away. He'd waited 10 years for this.
"Life doesn't usually work out," Warriors general manager Bob Myers said. "Most times, it doesn't. Tonight, it did for him."
Life doesn't usually work out. Most times, it doesn't. Tonight, it did for him.
— Warriors general manager Bob Myers on Kevin Durant
Durant scored 39 points in winning his first championship, Curry finished with 34 points and Iguodala had 20. James led the Cavaliers with 41, Kyrie Irving had 26 and JR Smith scored 25.
A year ago, no confetti fell in Oracle Arena. The Cavaliers had won Game 7 to complete an improbable comeback to win the title after being down 3-1, something no team had ever done before in the Finals.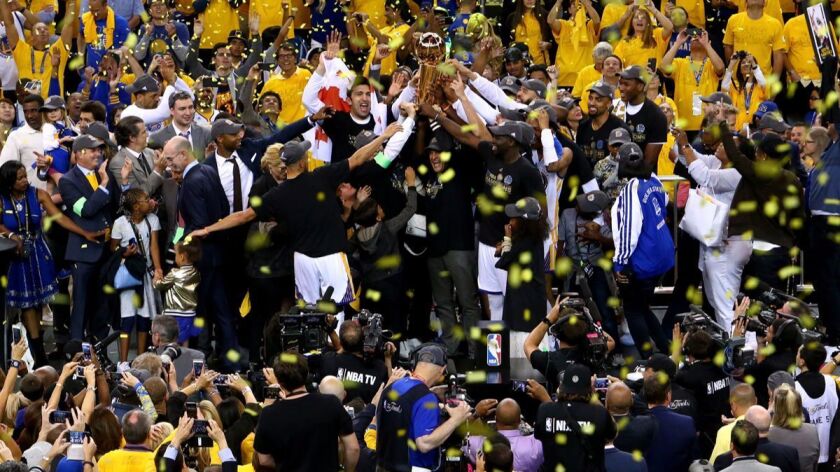 The Warriors responded by assembling one of the greatest collections of talent ever seen in the NBA. They added Durant, a former league MVP, a season after winning 73 games.
They built a team so good that it withstood an injury to one of its best players (Durant), a debilitating illness to its coach (Steve Kerr) that prevented him from coaching most of the playoffs, and a prolonged slump by one of its best shooters (Klay Thompson).
The Warriors entered the Finals capable of becoming the first team in NBA history to sweep every round of the playoffs. They would have done it, were it not for the steely resolve of the Cavaliers to not allow themselves to be demeaned like that.
The Cavaliers had been 12-1 in the playoffs before the Finals, only to lose the first three games to Golden State. In Game 4, they punched the Warriors right in the face and the Warriors did not fight back. The Cavaliers' 24 three-pointers set a Finals record, their 49 first-quarter points set a Finals record and so did their 86 first-half points. They blew out the Warriors.
Before that game, the Warriors, riding a 15-game playoff win streak, were too loose.
"Nervous is good," Kerr said. "Appropriate fear is the Gregg Popovich line. You need that. And when we come out at the beginning of Game 4 and lose shooters and turn the ball over carelessly, we're obviously not ready."
He wanted nerves before Game 5, and the kind of focus that would help the team avoid last year's disaster.
With a lesson learned from Game 4, the Cavaliers punched the Warriors in the face again Monday night. They knocked them around physically to start the game. The Cavaliers shot well again too, though mostly from two-point range, making 15 of 24 shots overall. By comparison, Warriors the only shot 47% and made only two of seven three-point attempts.
Cleveland led by as many as eight in the first quarter and took a 37-33 lead into the second.
The Cavaliers led by nine when the Warriors finally woke up and punched back. David West and Iguodala shrank the deficit. Then Durant erased it. He hit back-to-back threes to give the Warriors their first lead of the second quarter and propelled a 21-2 run from which Cleveland never truly recovered. The Cavaliers got as close as three in the fourth quarter. But Golden State never trailed again.
With 55 seconds left in the game, Durant finally let himself take in the gravity of what was happening. At half court he bent down and wondered if it all was real.
"And Draymond was like, 'Keep playing to the end,'" Durant said. "Andre is like, 'Keep playing. We have like 50 seconds left.' And I'm like, 'Bro, we're about to win the title.'"
Said Curry: "You got to call Kevin Durant a champ now."
He added words that should terrify the rest of the league.
"We're obviously just getting started."
Follow Tania Ganguli on Twitter @taniaganguli
ALSO
Scenes from the NBA Finals: The moments that have social media buzzing
Lonzo Ball promises to bring 'winning atmosphere' to Lakers
---
Get our high school sports newsletter
Prep Rally is devoted to the SoCal high school sports experience, bringing you scores, stories and a behind-the-scenes look at what makes prep sports so popular.
You may occasionally receive promotional content from the Los Angeles Times.