Column: The Logo on the Clippers? The Lakers should be very afraid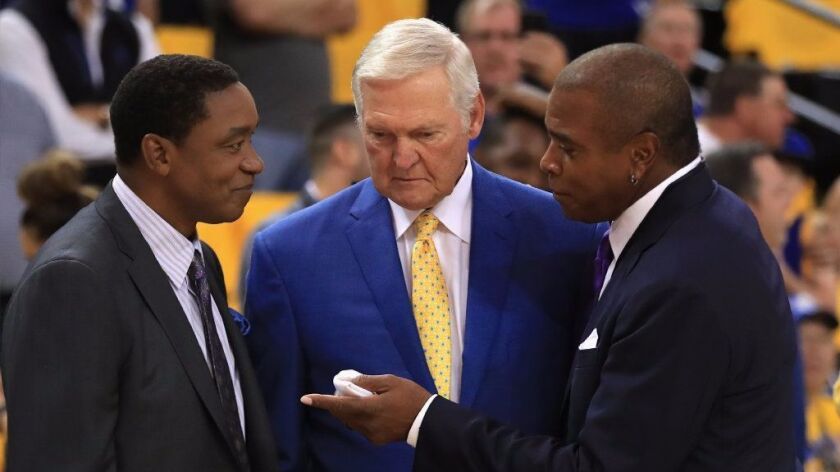 It is the potential summer acquisition that could shake the Los Angeles basketball landscape down to its old-school roots.
It's not a trending topic like the Lakers' first-round draft pick. It's not a hot take like Chris Paul's courtship with the San Antonio Spurs.
But it's real, and it could happen, and the fallout would be felt from El Segundo to Playa Vista to the depths of a Staples Center tunnel hallway.
Could Lakers icon Jerry West really go work for the Clippers?
It's a question that once would have been considered as ridiculous as the Clippers' beating the Lakers 18 out of 20 times, but that's the current streak, and it mirrors the current situation.
For the last six years, West, 79, has been an executive board member of the Golden State Warriors, playing an advisory role as they have grown into arguably the greatest team in NBA history.
His contract expires in July, and it seems clear he'd like to finish his historic front-office career working closer to his Los Angeles home.
His first choice would have been a triumphant return to the Lakers. But when owner Jeanie Buss engineered her February front-office shakeup and chose to seek new leadership from the Lakers' past, she chose Magic Johnson.
Couldn't West and Johnson have worked together? Apparently not. The Lakers seemingly felt this new era needed to be led by one legend only, and, if you listen to West, there just wasn't room for him.
"Sometimes I thought in my life that maybe that might be something that I can revisit, or they would want me to revisit, but that didn't happen,'' West said recently when asked about his Lakers tenure on "The Dan Patrick Show.'' "It kind of sent me a message that they wanted to go elsewhere, which was fine."
The opportunistic Clippers then sent him a completely different message, something alone the lines of, "Come on down!"
West recently met with Clippers owner Steve Ballmer and basketball boss Doc Rivers, and walked away energized by the possibility of helping reshape his longtime rivals.
"I'm very intrigued," West said.
The Lakers should be very afraid.
What are Lakers fans supposed to do if their team's most legendary living figure goes to work for the other guys? And the other guys are better? And now they have the stamp of his credibility and the benefits of his wisdom?
West hasn't been with the Lakers in 17 years, but one could argue that he has been the most important basketball figure in the franchise's history.
He has seven Lakers championship rings, including one as a player. He built two separate Lakers dynasties. When the team's increasing circus atmosphere led him to leave the organization in 2000, he was given the ultimate farewell by the ultimate Laker.
"Obviously, Jerry West is irreplaceable," then-owner Jerry Buss said at the time. "What he's meant to the Lakers franchise over the past 40 years is immeasurable."
Irreplaceable is right. While the team won four championships after his departure, including back-to-back titles forged under Mitch Kupchak, it seemed like they left several more on the table.
Would Shaquille O'Neal and Kobe Bryant have split up if West had still been around to counsel them? Would the Lakers have embarrassingly fallen into such a deep hole after their last championship 2010 if West had still been around to restock them?
Some would say his absence has been felt every day for those 17 years, and now that he's publicly acknowledged that he would have liked to return, the narrative shifts back to Jeanie Buss.
Why can't she hire him back to work with Johnson? West doesn't have the kind of ego that would overshadow the new boss. If he can work with the dominating force that is Rivers, he can certainly work with Magic Johnson. West has shown he does his best work in the shadows — just look at the quiet impact he's had with the celebrated Warriors. You never see his face, rarely hear his name, but the team might not have become potential a two-time champion without him.
West pushed for the 2011 drafting of Klay Thompson. He fought against attempts to trade Thompson several years later. And when Kevin Durant was considering becoming a Warrior last year in one of the biggest free-agent coups in sports history, whom did Durant call? Yes, one of the closers was Jerry West.
Can you imagine West taking one of those calls from Chris Paul this summer as Paul considers his options? Maybe West talks Paul into staying. Maybe West figures out a way the Clippers can rework their roster if Blake Griffin leaves. Maybe West raids his old club by bringing over his son Ryan, who has a key Lakers role as an assistant director of scouting.
In the last several springs, the Clippers have been one missing intangible piece from becoming serious championship contenders. History says that Jerry West could be that piece.
The chances that West would actually join the Clippers wildly vary, depending on the source. Some say it's barely 10%. Others say it's as high as 60%. West isn't talking about it anymore, and says he has yet to make a decision, and things could go in a many different directions between now and the expiration of West's contract in July.
But if the legendary Laker migrates to another door down the hall, while Clipper Nation celebrates, again, what are Lakers fans supposed to do?
They could feel jealous that their rival could finally reach its potential. They could feel betrayed by pretty much everybody. Then again, they could feel just fine, believing that West is old news and that Magic Johnson and Rob Pelinka can handle their future.
If the most stunning signing of the summer happens, nobody can really predict how their patience-tested fan base will react.
Can the Lakers really afford to find out?
Get more of Bill Plaschke's work and follow him on Twitter @BillPlaschke
---
Get our high school sports newsletter
Prep Rally is devoted to the SoCal high school sports experience, bringing you scores, stories and a behind-the-scenes look at what makes prep sports so popular.
You may occasionally receive promotional content from the Los Angeles Times.