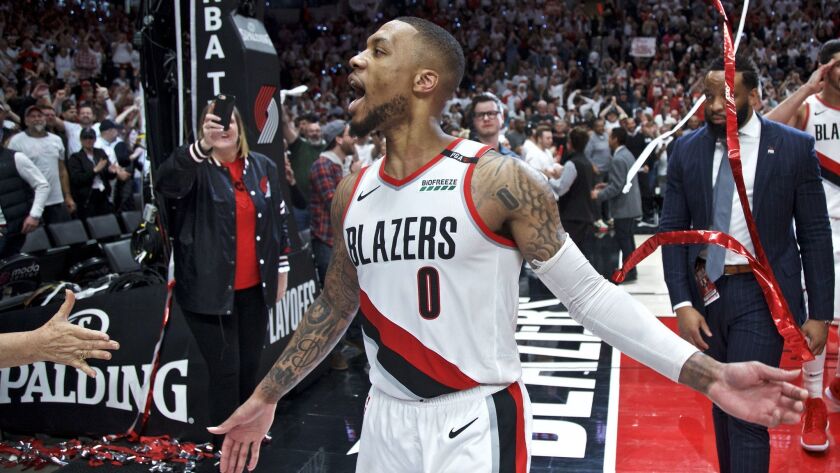 Damian Lillard calmly dribbled, one of the NBA's best three perimeter defenders staring right at him. He stepped back and to the right, launching a shot that will be replayed as long as there's professional basketball in Portland, Ore., the ball swishing through the basket while Lillard calmly and coldly waved goodbye to the Oklahoma City Thunder bench.
It was the biggest three points of the game, three points that have the Portland Trail Blazers moving on to the conference semifinals, three points that have the Thunder evaluating their future, three points that cemented Lillard as one of the NBA's best cold-blooded shot-makers of all time.
It was a moment of individual greatness, one player rising above the pressures of a moment to deliver in the clutch. It also was validation for the organization and its willingness to stick with a plan that got put in place four years ago when the team was at a crossroads.
LaMarcus Aldridge, their star, left in free agency and, partly by plan and partly by accident, Portland began to assemble a group of players all on the same developmental arcs as Lillard and CJ McCollum. For the last four seasons, role players such as Al-Farouq Aminu and Maurice Harkless have flanked the Trail Blazers' stars, and although Lillard's big shot ended the series, the play of Aminu and Harkless was a big reason Portland won it.
It's an advantage the Trail Blazers have over virtually every team in the West, save for the Golden State Warriors — a consistent core that has been given time to mature together. And because of it, the Trail Blazers have been able to handle the biggest setbacks imaginable, such as getting swept out of the 2018 playoffs as a favorite only to see your center suffer a late-season injury the next season during another playoff push.
But instead of breaking the Trail Blazers, it helped them figure out ways to play some of their best basketball.
"I think [our experience together] does show up when adversity comes because you know you're in a locker room with guys that aren't going to turn on each other. We don't finger-point. Everybody has the same intentions. Everybody wants to do the same thing. Everybody wants to win," Lillard said last week in Oklahoma City. "A lot of teams go through ups and downs, and not just with wins and losses — this guy said this in the media, these two aren't getting along. With how consistent we are over the past four seasons, it's just been always finding a way. Over the 82 games, it's always finding a way to get the job done. I think it shows up in that."
The first complementary piece to come on board was Aminu, signed in the first seconds of free agency July 1, 2015. A former lottery pick (selected by Portland's general manager Neil Olshey when he ran the Clippers), Aminu has matured into a pretty good perimeter shooter to go along with defensive versatility and a knack for rebounding that followed him from the Clippers to New Orleans (he was part of the trade for Chris Paul) and to Dallas.
After shooting worse than 30% from three-point range in four of his first five seasons, Aminu has become a terrific spot-up three-point shooter. Among players who have taken 150 or more three-point shots in the postseason, Aminu has the seventh-best percentage (42.7) all-time and second only to Kawhi Leonard among active players.
Against the Thunder, he averaged 10.6 points and 6.8 rebounds. Harkless, acquired by Portland in a salary dump by the Orlando Magic, is another first-round pick that has found new life in the Pacific Northwest.
Another defense-first player, Harkless made two big free throws in the last two minutes of Portland's closeout victory in Game 5. In the series, he averaged 11.0 points and 7.0 rebounds.
"We've learned how to play together. We've grown together. We were a young core and we overachieved some. And I think people think the process should be a little faster than it was. … Now we're just hitting our stride," Aminu said. "It feels good to have seen it all the way through. … You're going to need contributions from everyone. You need your stars to be stars. You need your role players to be role players and be strong in the playoffs."
Sign up for our daily sports newsletter »
After being swept by New Orleans in 2018, the Trail Blazers could've crumbled. Coach Terry Stotts could've been shown the door. Olshey could've panicked and overhauled the roster. Instead, they chose to value consistency and continuity, a gamble that paid off Tuesday night when Lillard stepped his way back into basketball lore.
As the Virginia men's basketball team worked its way through the NCAA tournament field on their way to a championship one year after being the first No. 1 seed to lose in the first round, Trail Blazers staffers couldn't help but make the connection.
It helped reinforce what they decided to do, the path they decided to stay on.
"I think it's helped us out a lot, man," Aminu said. "Everybody has grown from the situation. We've been together. We've been able to stay together. We kind of all share the same story."
Twitter: @DanWoikeSports
---