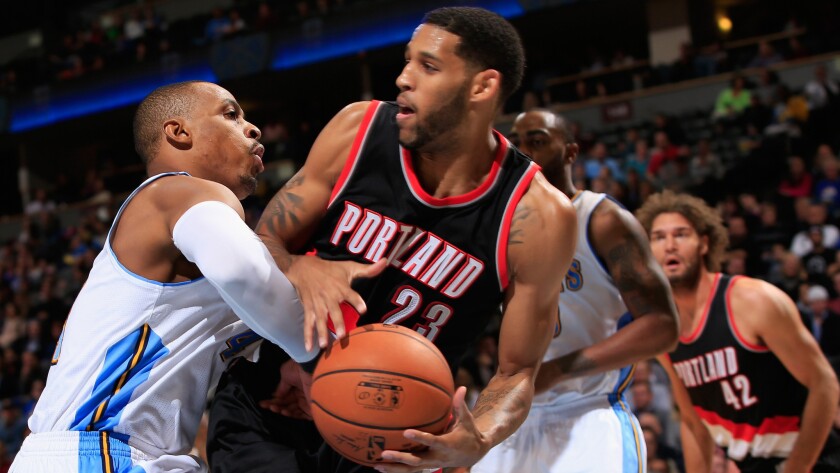 Damian Lillard had 27 points and a season-high nine assists as the Portland Trail Blazers used a big first half to rout the host Denver Nuggets, 130-113, on Wednesday night.
The Trail Blazers scored 84 points in the first half, one basket away from matching the team record for a half (86) set against Golden State on Jan. 5, 1986. Portland showed no signs of fatigue, despite expending plenty of energy the night before in coming back from a 23-point deficit to hold off Charlotte at the buzzer.
Robin Lopez scored 15 of his 19 points in the decisive first half. LaMarcus Aldridge usually gives the Nuggets nightmares, but he was largely kept in check, finishing with 12 points. He averaged 28.3 points against Denver last season, and had a career-high 44 points in a game.
Ty Lawson had 32 points for the Nuggets, who lost their sixth straight game.
This was the first time all year Nuggets Coach Brian Shaw had a full squad at his disposal. It didn't help. Shaw couldn't find the right combination to slow down the Trail Blazers, who led, 84-50, at the half.
at Phoenix 112, Brooklyn 104: Gerald Green came off the bench to score 28 points and the Suns erased a 19-point deficit. Isaiah Thomas added 17 points for Phoenix, which trailed, 63-49, at halftime. Joe Johnson led the Nets with 21 points.
Oklahoma City 109, at Boston 94: Reggie Jackson and Anthony Morrow each scored 28 points for the Thunder, overcoming a 20-point, 12-assist, nine-rebound effort by the Celtics' Rajon Rondo. Jackson, who scored a career-high 29 points Tuesday against Milwaukee, had eight assists against Boston.
Orlando 97, at New York 95: Evan Fournier scored a career-high 28 points and the Magic handed the Knicks their sixth loss in a row. Carmelo Anthony scored 27 points for New York, which hasn't reached 100 in a game this season.
at Washington 107, Detroit 103: John Wall had 27 points and 11 assists and Marcin Gortat added 13 points and 14 rebounds for the Wizards. Brandon Jennings scored 16 of his game-high 32 points in the first quarter for the Pistons.
Indiana 81, at Miami 75: Chris Copeland scored 17 points and put the Pacers ahead to stay on a layup with 43 seconds left. Roy Hibbert had 16 points and 15 rebounds for Indiana, which has won two straight after a 1-6 start. Dwyane Wade scored 20 points for the Heat, which was outrebounded, 53-28.
at Atlanta 100, Utah 97: Paul Millsap had 30 points and 17 rebounds and Jeff Teague added 17 points for the Hawks. Alec Burks led the Jazz with 22 points.
---