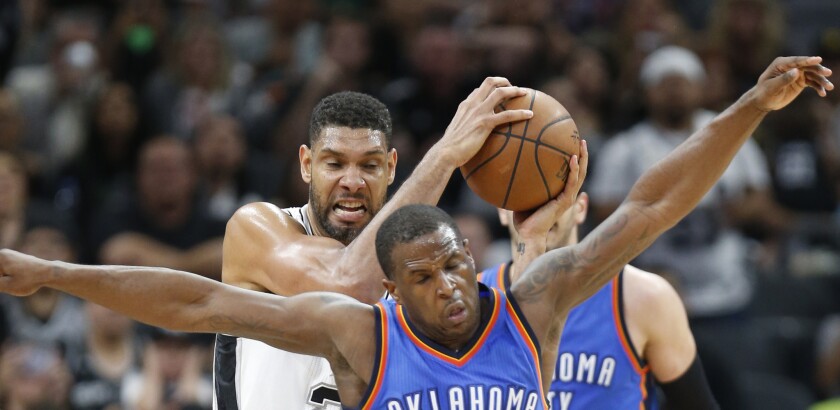 Kawhi Leonard had 26 points and the San Antonio Spurs rallied to beat the short-handed Oklahoma City Thunder, 102-98, in overtime Tuesday night to finish 40-1 at home this season, matching an NBA record.
The Boston Celtics had the same record in 1985-86.
San Antonio was lethargic coming off its first home loss of the season to the Golden State Warriors on Sunday. The Spurs never led in the final quarter in that game and trailed throughout much of their home finale.
Thunder Coach Billy Donovan rested stars Kevin Durant, Russell Westbrook and Serge Ibaka in their regular-season finale while San Antonio Coach Gregg Popovich started his regular lineup.
The Thunder were still able to force the first overtime in San Antonio this season.
Miami 99, at Detroit 93: The win positioned the Heat to win the Southeast Division and earn home-court advantage in the first round of the playoffs if they close the regular season Wednesday with a win at Boston. The Pistons' loss sealed their spot as the No. 8 seed in the East, setting up a matchup with top-seeded Cleveland.
at Toronto 122, Philadelphia 98: The Raptors, seeded second in the East and headed for a first-round matchup with Indiana, beat the 76ers for the 12th straight time.
at Indiana 102, New York 90: The Pacers seventh place in the East with a win in their home finale.
at Clippers 110, Memphis 84
---