NBA preview: The 5 biggest questions for the 2018-19 season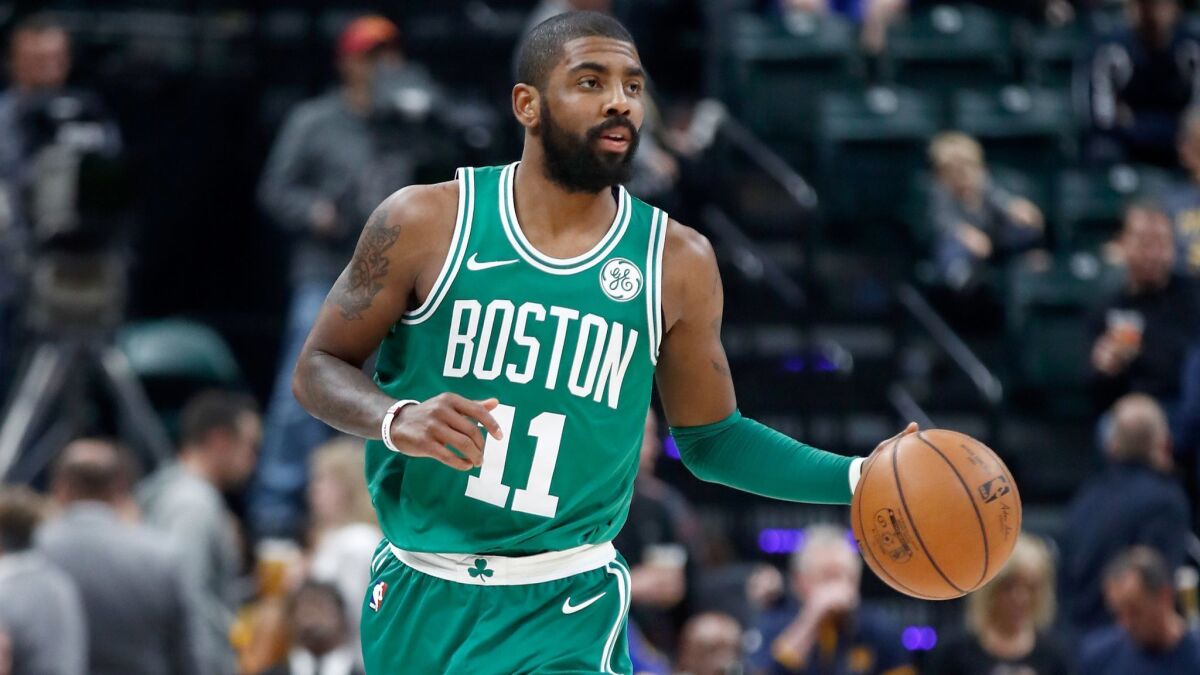 The King headed West, where Golden State reigns supreme, leaving a big hole to fill in the East.
Kawhi Leonard and DeMar DeRozan traded places in Toronto and San Antonio, two teams looking to quickly reload instead of rebuild.
And the 2018-19 season will be a prelude to a potential blockbuster summer of free agency.
Here are the five biggest questions in the NBA this season:
1) What will LeBron James mean to the Lakers?
The biggest question will be answered here in Los Angeles, and while it's been covered many ways, any list of storylines without it would be laughably incomplete.
For the first time, James will be a veteran on a team whose best-case scenario isn't an NBA championship. He'll be asked to mentor younger players, help raise the tide of the team and see who comes with him.
James hasn't always been the easiest person to play with — the greatest players often aren't — and the young core of the Lakers — Lonzo Ball, Josh Hart, Brandon Ingram, Kyle Kuzma — hasn't had to deal with a stress like this before.
Whether or not the team wins this year, James' presence in Los Angeles has put an abrupt end to the franchise's rebuild. The Lakers might not be championship contenders this season — and who knows, James might even make them that — but by having the sport's biggest star on board, the Lakers almost certainly will be soon.
And everyone will be watching.
2) Can the Warriors be challenged in the West?
Every year, this is the question people ask. The Warriors are in the midst of one of the best runs of basketball in the modern NBA. It''ll someday fascinate historians, though it continues to bore casual viewers.
The candidates in the conference aren't as strong as they were a year ago, with free agency leading to the departure of Houston's top two wing defenders and with turmoil breaking up the San Antonio Spurs.
The Rockets still will have a chance, especially if they're the team that figures out how to transition Carmelo Anthony from a featured star into a useful role player.
Utah's defense is for real, and Jazz guard Donovan Mitchell looks like a star, but they don't come close to matching the Warriors' talent. Russell Westbrook and Paul George in Oklahoma City probably don't have enough talent to do more than take a couple games in a series.
That leaves the Lakers, a team with probably the biggest disparity between its floor and its ceiling.
3) Who will make the most of the vacuum out East?
It's hard to imagine a team coming out of a rebuild better than Boston, with president Danny Ainge emerging from the Doc Rivers/Kevin Garnett/Ray Allen/Paul Pierce era with a hotshot coach (Brad Stevens), free-agent wins (Gordon Hayward, Al Horford), movable assets (that led to the acquisition of Kyrie Irving) and shrewd draft picks (Jayson Tatum, Jaylen Brown).
The stage is set for the Celtics to step into the void in the NBA Finals with James moving to the Lakers. In their way, Philadelphia seems primed to take another step forward, especially if Markelle Fultz plays like a No. 1 pick. They've got two future superstars in Ben Simmons and Joel Embiid, and the right role players to contend.
Toronto is a question mark because of the changes, but it's hard to see how the Raptors would be worse by swapping Leonard for DeRozan, unless injuries or chemistry issues get in the way.
It still feels like Boston's conference to lose, with the Celtics' combination of top-line talent, depth and coaching unmatched in the East. More than anyone else in the NBA, the Celtics are the biggest threat to the Warriors.
4) Did the Hawks botch this or are they on their way back?
There might be more obvious issues than this one, but Atlanta made the biggest gamble on draft night by swapping the favorite for rookie of the year, Luka Doncic, for former Oklahoma guard Trae Young and a first-round pick.
Doncic has a ready-made NBA game — size, shooting, playmaking — and should be a cornerstone piece for Dallas in the post-Dirk Nowitzki future. He's a European prospect that evaluators have had on their radar since he was 16 and he's accomplished well beyond his age, having helped Real Madrid win a Euroleague title this season at 19.
Hawks general manager Travis Schlenk is betting on Young. Schlenk, who was the assistant general manager in Golden State, drafted the point guard who was most often compared to Stephen Curry. While Young's freshman season in Oklahoma was inconsistent as defenses threw everything his way and his Summer League performance was uneven, Schlenk's bet is that Young can stretch defenses with his unlimited range and can carve them up with his passing.
It was a big risk, and we probably won't know if it worked out for a few years. But if Doncic has a Ben Simmons-esque impression on the Mavericks, and Young's summer struggles continue into the season, it won't look good.
5) How big will the shadow of 2019 be?
A ton of what happens this season will be about what's going to happen next summer. Kevin Durant, Jimmy Butler, Irving, Klay Thompson and Leonard are expected to headline a huge free-agent class (though Irving told Boston he'd re-sign).
Butler's free-agency drama already has begun in Minnesota with his trade demand, and with big-market teams able to bring in top-tier players (the Lakers, Clippers and Knicks are set to have cap room), player movement is certain to be a constant topic of conversation. Fans love player movement and rumors as much as pick-and-rolls and wide-open three-pointers.
It'll be a fitting sequel to this past summer when a handful of stars, led by the biggest in James, changed teams.
Twitter: @DanWoikeSports
Get our high school sports newsletter
Prep Rally is devoted to the SoCal high school sports experience, bringing you scores, stories and a behind-the-scenes look at what makes prep sports so popular.
You may occasionally receive promotional content from the Los Angeles Times.