Column: Anthony Davis trade brings a new look to Lakers and NBA free agency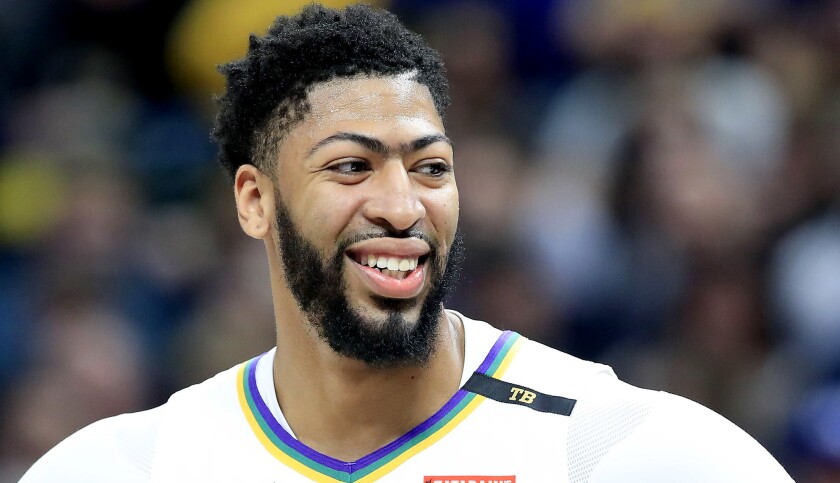 "Today, the basketball gods smiled upon the Nets."
In the summer of 2013, Mikhail Prokhorov, the Nets' billionaire owner, took a victory lap in the news release announcing his team's trade for a pair of future Hall of Famers. The cost to get Paul Pierce and Kevin Garnett to Brooklyn was extreme — a grab bag of players and three first-round picks plus a fourth coming via a swap of picks.
Hindsight has shown us those weren't the basketball gods smiling that day as much as it was them laughing. The Nets' trade was a franchise-crippling disaster resulting in zero trips to the conference finals and zero 50-win seasons. Pierce left after one season. Garnett barely made an impact and was soon out of the NBA.
Brooklyn was left with a miserable rebuild ahead of them, their draft picks all in the Boston Celtics' pockets.
The lesson in all of this is clear — there are no shortcuts to building an NBA champion.
The basketball gods smiled Saturday upon the Los Angeles Lakers, the team agreeing to a deal for Anthony Davis that will shape the future of the franchise. The cost was even steeper than the one paid by Brooklyn — two former No. 2 overall draft picks in Brandon Ingram and Lonzo Ball, another former first-rounder in Josh Hart and, essentially, control of the Lakers' first-round picks for almost the entirety of the next six years.
Sign up for our daily sports newsletter »
Like the Nets, who were trying to find footing in a new market by making a big splash, the Lakers essentially had to make this kind of deal. It was foolish to think the Lakers could continue to try to simultaneously build around two separate cores at once with a ready-made winner in LeBron James in one hand and a group of players in their very early 20s in the other.
It was also foolish to think the Lakers, who have struggled to attract free agents outside of James, would be able to change that this summer after their dysfunctions were made public in a series of exposés and in a very bizarre resignation speech by Magic Johnson.
A trade was the only route, and even though the cost was high, the Lakers are back where they want to be, a few shrewd moves away from serious contention in a suddenly brand new NBA.
The NBA is about to enter one of its most transforming offseasons in recent memory, with a new NBA champion (Toronto), superstars potentially on the move (Kevin Durant, Kawhi Leonard, Kyrie Irving and so on), and injuries reshaping the landscape of the Western Conference.
The timing is perfect for a team like the Lakers to make a push, and "push" is probably not a strong enough term to capture what trading for Davis means to the Lakers' immediate future. They can't be the only ones who noticed what the Golden State Warriors went through during the NBA Finals.
The Houston Rockets seem open to some kind of mild reboot around James Harden, and the right moves could have them back in the conference finals. Denver, the surprise team last season, has the pieces to be aggressive if they want to try to make a move to propel themselves forward.
The Clippers, too, could be players, especially if they're able to lure Leonard to Los Angeles — the kind of move that would force them to operate like they're contenders instead of a team patiently waiting for a window.
Dallas is viewed by some NBA people as a sleeping giant with Luka Doncic and, presumably, Kristaps Porzingis. Counting out Portland, the Spurs or the Warriors seems like it would be a mistake.
Maybe New Orleans is more serious about getting back into the playoffs than people realize, suddenly stocked with young talent to pair with Jrue Holiday and — maybe — another experienced starter if they want to try to use the Lakers' No. 4 pick in a trade to acquire a star.
With money to spend in free agency, with a draft that does not offer much difference between the late lottery picks and the rest of the first round and with teams seemingly motivated to act now with the league as open as ever, the time is right to be aggressive.
That aggression sometimes comes with a cost. Just ask the basketball gods.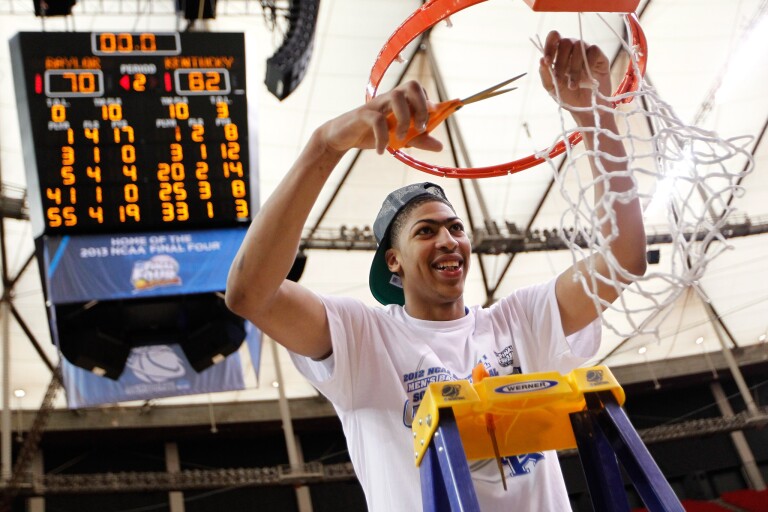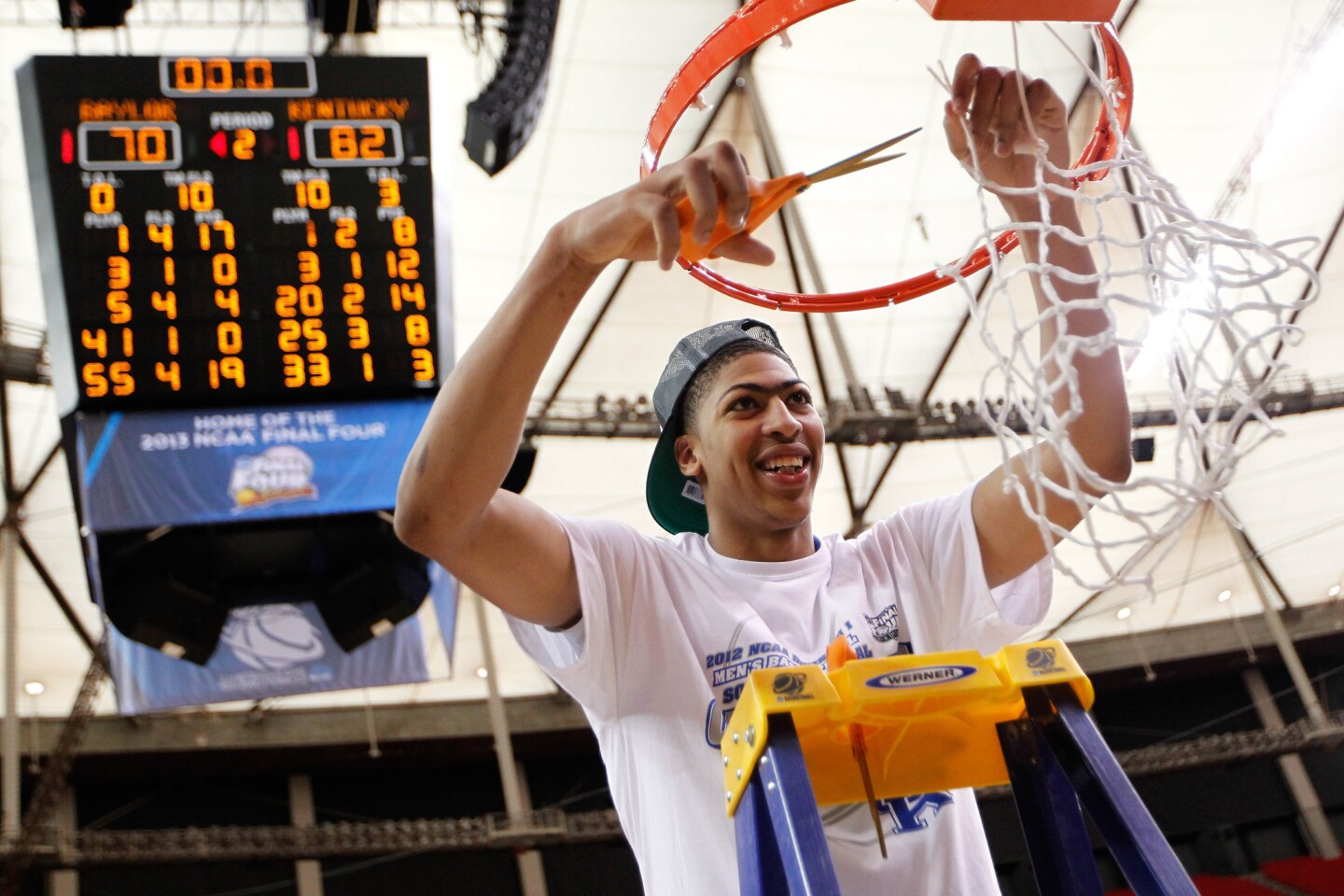 Anthony Davis cuts down the net after Kentucky defeated the Baylor 82-70 in the NCAA tournament South Regional final on March 25, 2012, in Atlanta.
(Streeter Lecka / Getty Images)
Kentucky head coach John Calipari and Anthony Davis embrace after defeating Kansas 67-59in the NCAA tournament final on April 2, 2012, in New Orleans.
(Charles Bertram / MCT)
Kentucky's Anthony Davis reacts late in the second half against the Louisville Cardinals during the 2012 NCAA semifinals.
(Ronald Martinez / Getty Images)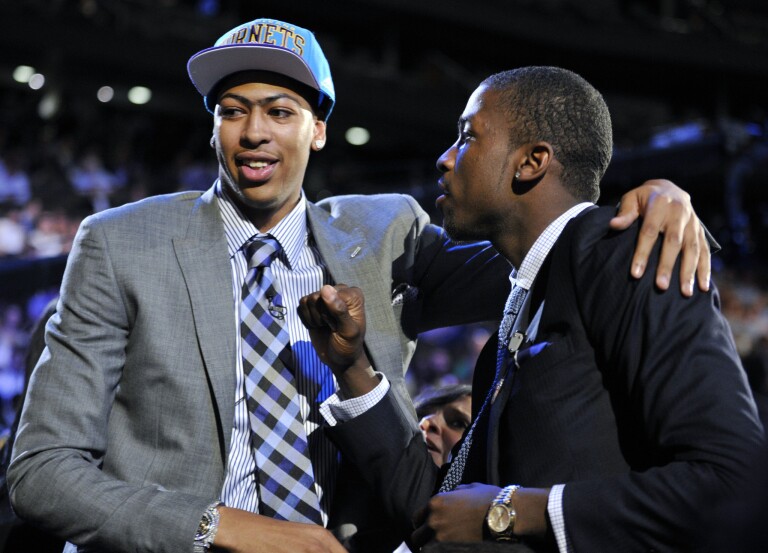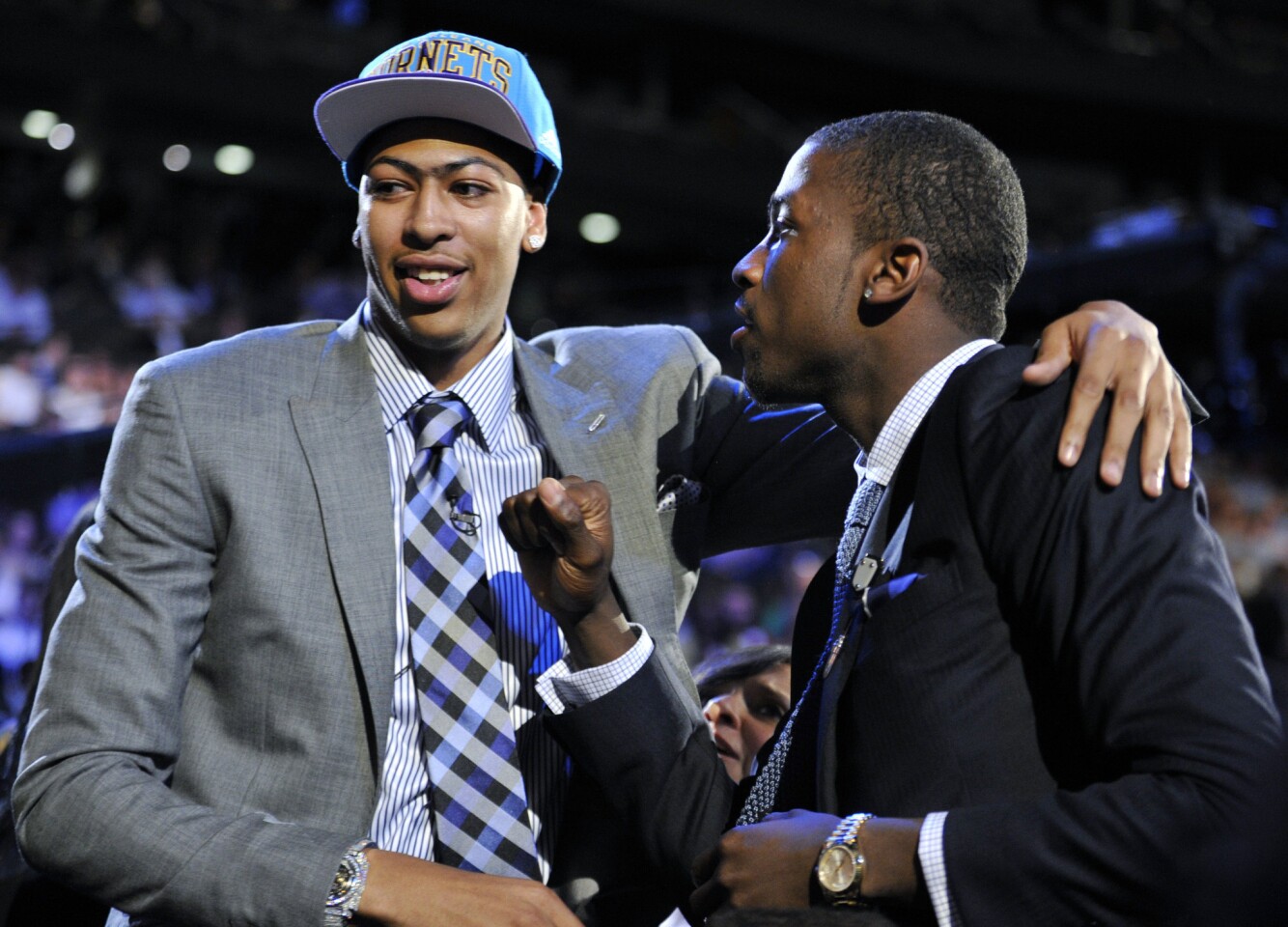 Kentucky's Anthony Davi is congratulated by former teammate Michael Kidd–Gilchrist after Davis was selected the No. 1 overall draft pick by the New Orleans Hornets on June, 28, 2012.
(Bill Kostroun / Associated Press)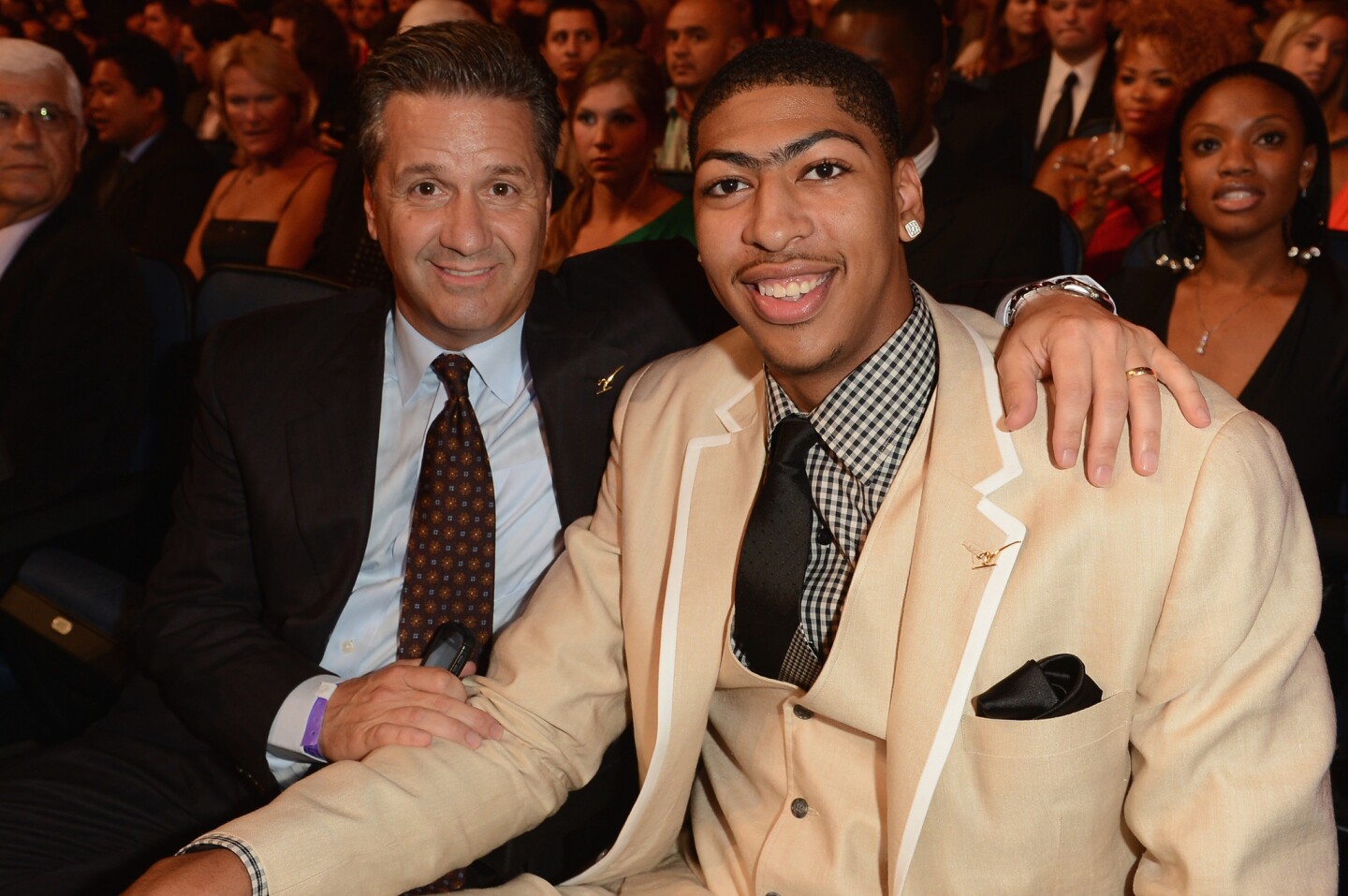 Kentucky coach John Calipari and Anthony Davis in the audience during the 2012 ESPY Awards at Nokia Theatre on July 11, 2012.
(Jason Merritt / Getty Images)
Hornets forward Anthony Davis knocks the ball from the grasp of Lakers forward Pau Gasol during a game in 2013.
(Robert Gauthier / Los Angeles Times)
Hornets forward Anthony Davis battles Wizards forward Martell Webster for a rebound.
(Associated Press)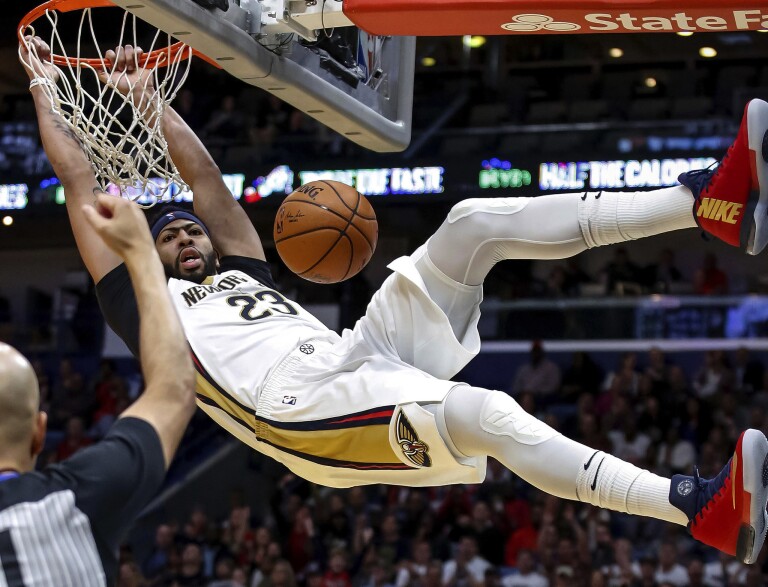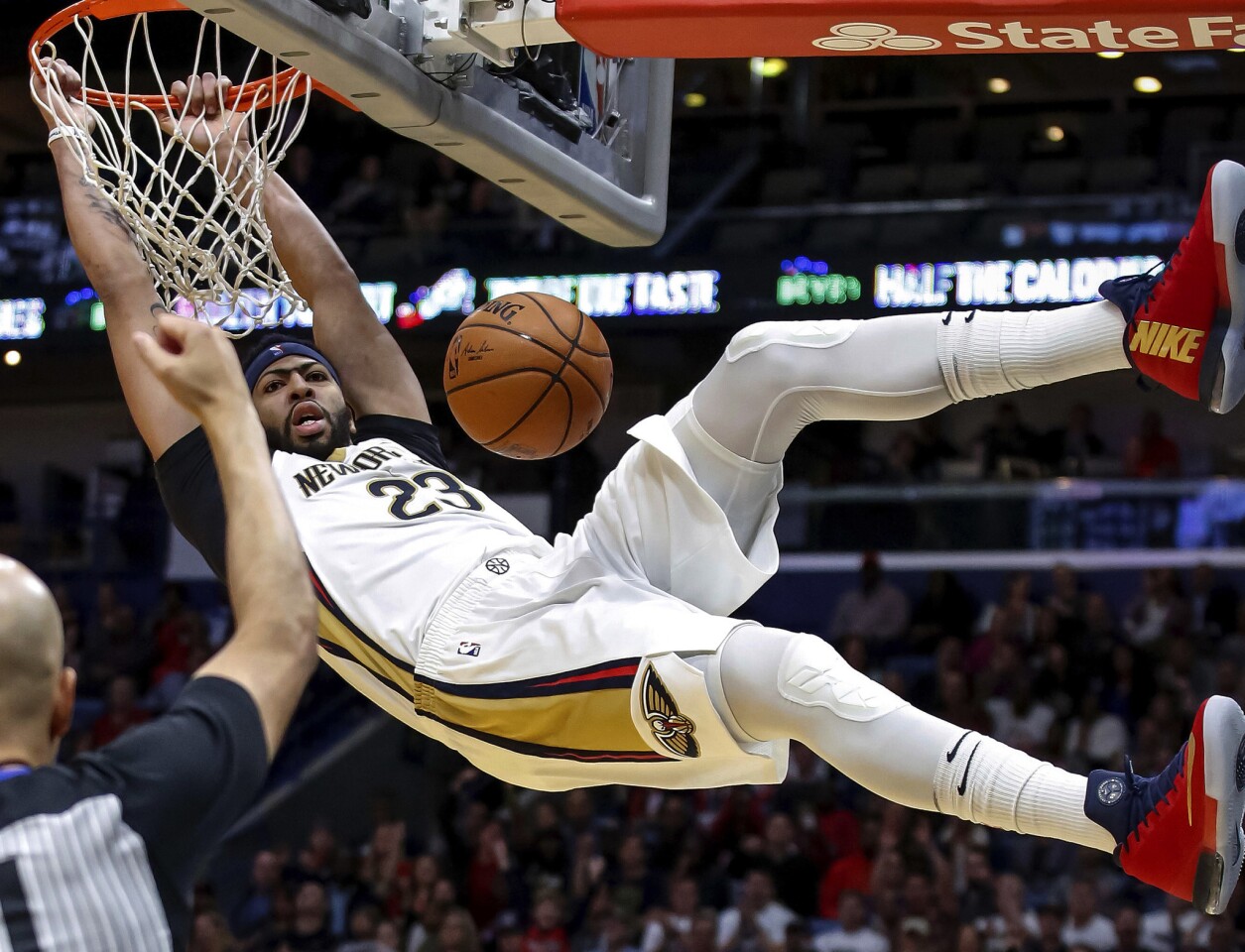 Pelicans forward Anthony Davis dunks against the Clippers during a game on Nov. 11, 2017.
(Scott Threlkeld / Associated Press)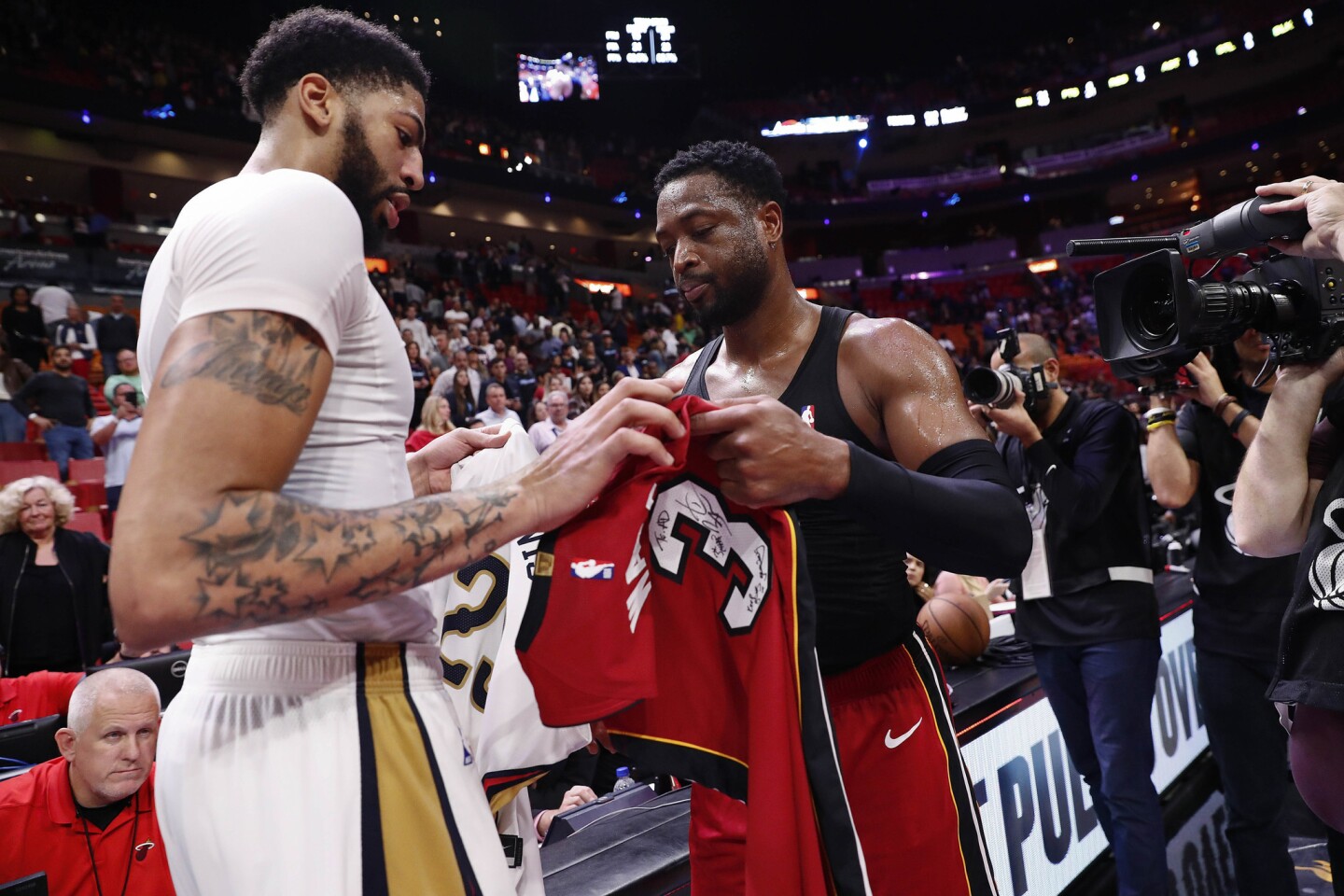 Pelicans forward Anthony Davis and Miami Heat guard Dwyane Wade trade jerseys after a game Nov. 30, 2018, in Miami.
(Brynn Anderson / Associated Press)
Pelicans forward Anthony Davis tries to grab a rebound from Clippers center DeAndre Jordan on March 6, 2018.
(Wally Skalij / Los Angeles Times)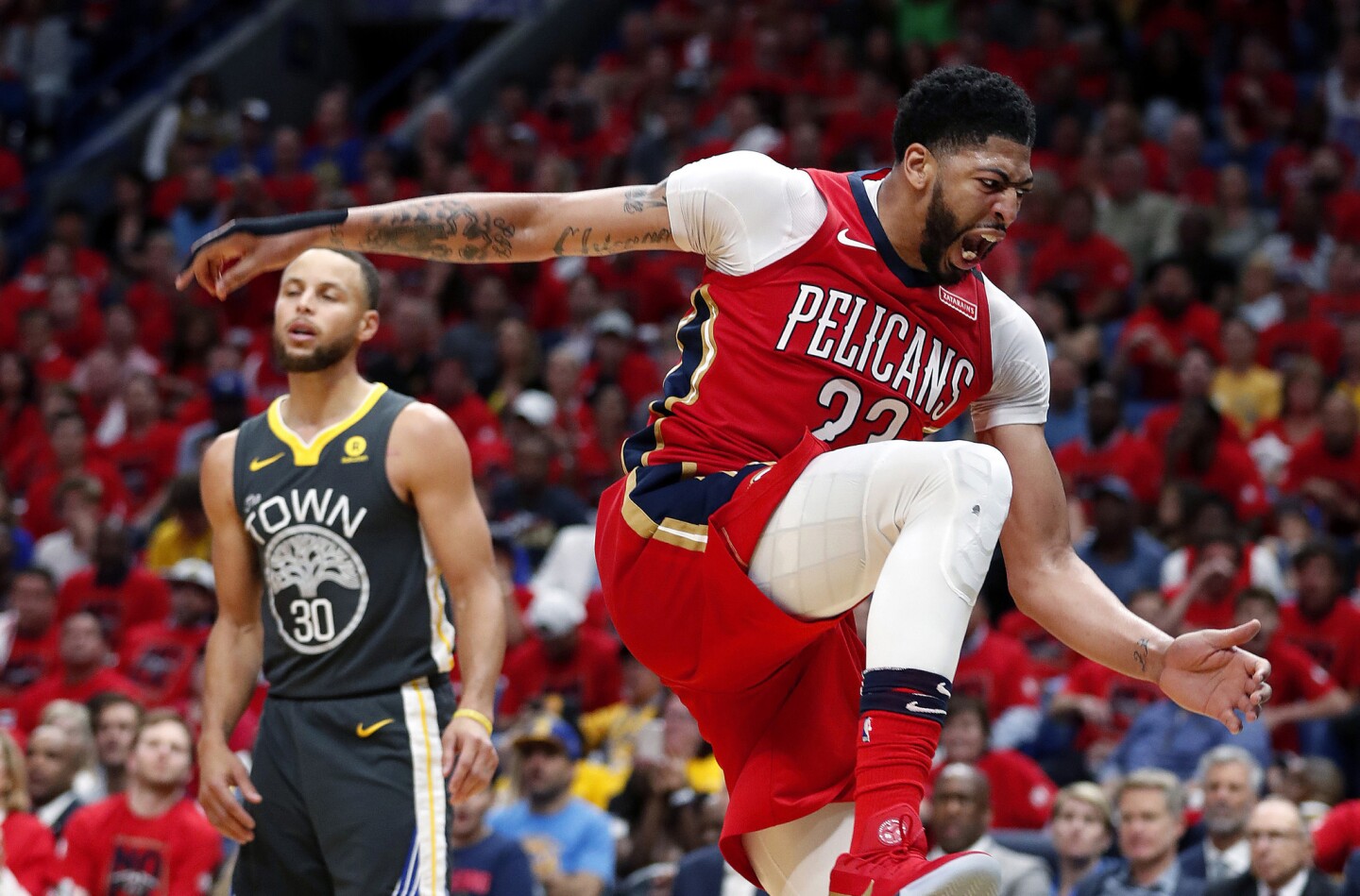 Pelicans forward Anthony Davis reacts after a slam dunk during the second half of Game 3 of a second-round NBA basketball playoff series against the Golden State Warriors on May 4, 2018.
(Gerald Herbert / Associated Press)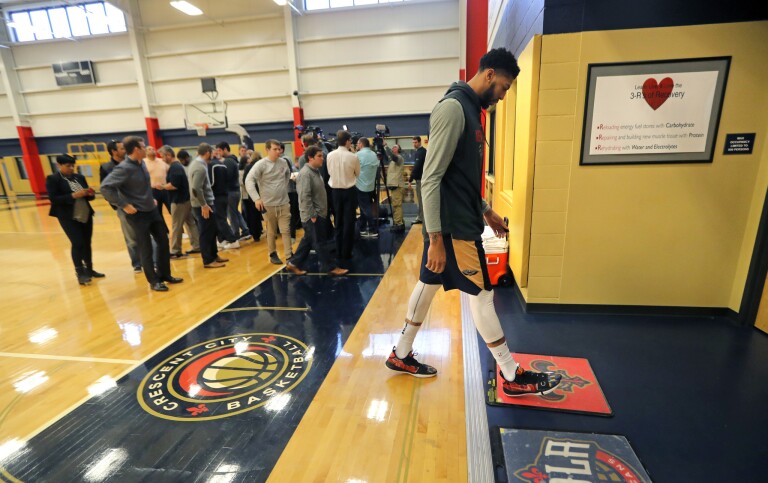 Pelicans forward Anthony Davis leaves the court after talking to reporters on Feb. 1, 2019, shortly after his trade demand became public.
(Gerald Herbert / Associated Press)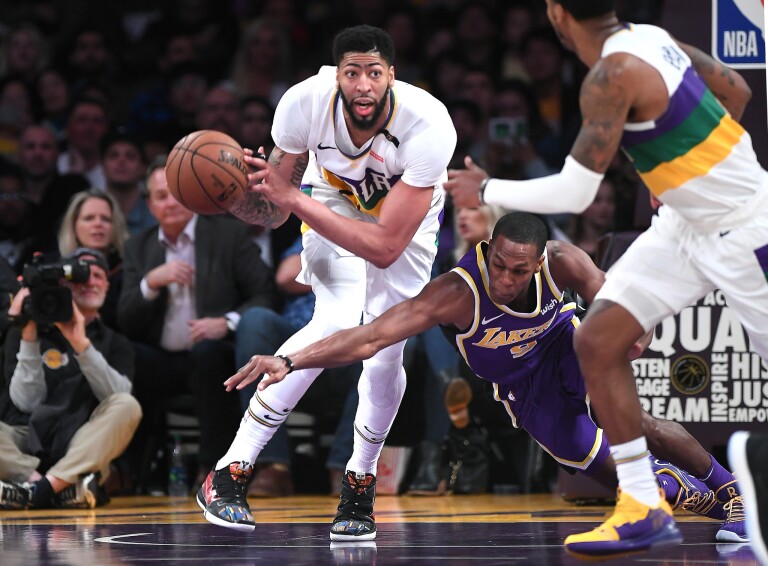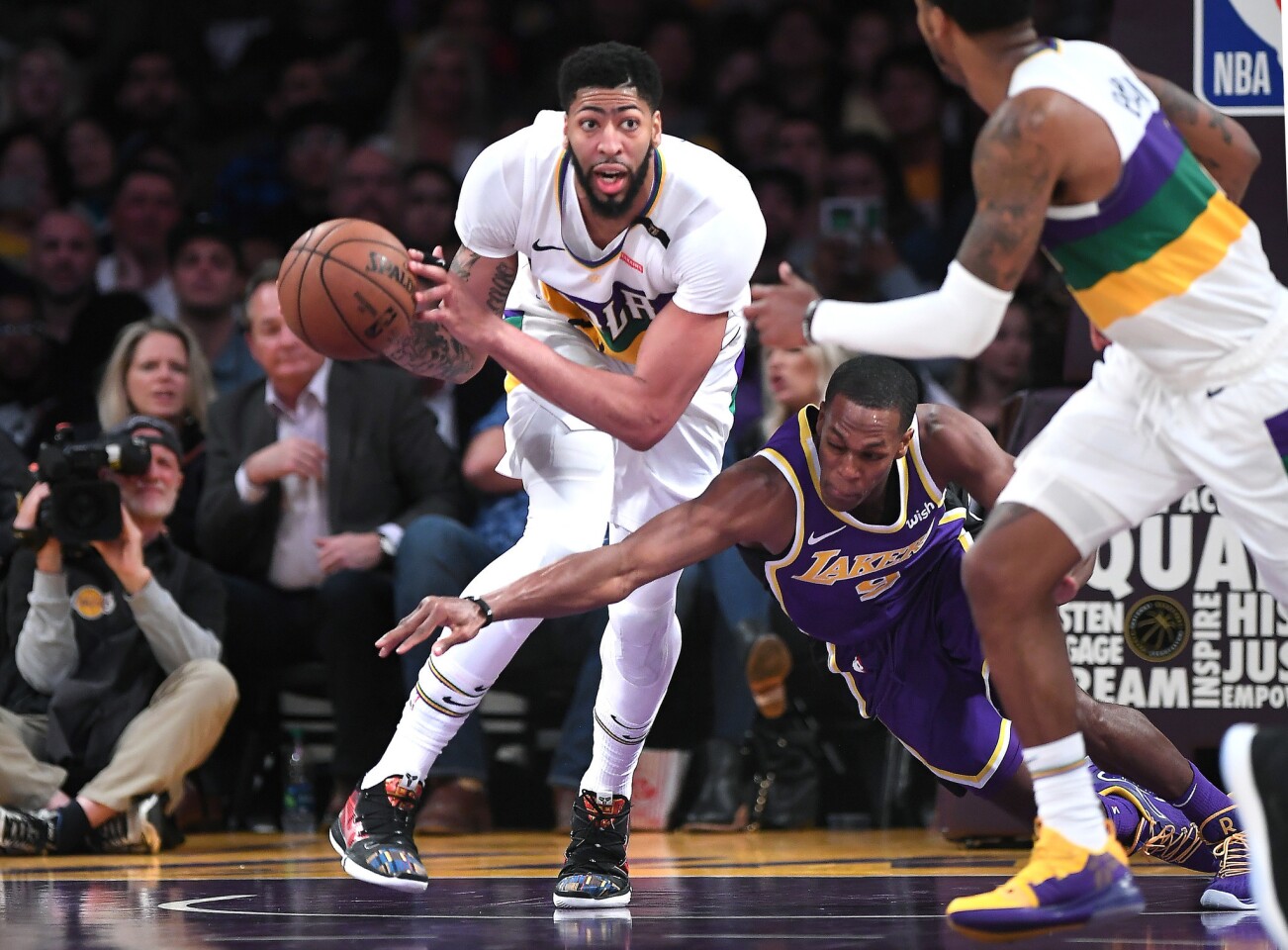 Pelicans forward Anthony Davis has the ball stripped by Lakers guard Rajon Rondo during a game in 2019.
(Wally Skalij / Los Angeles Times)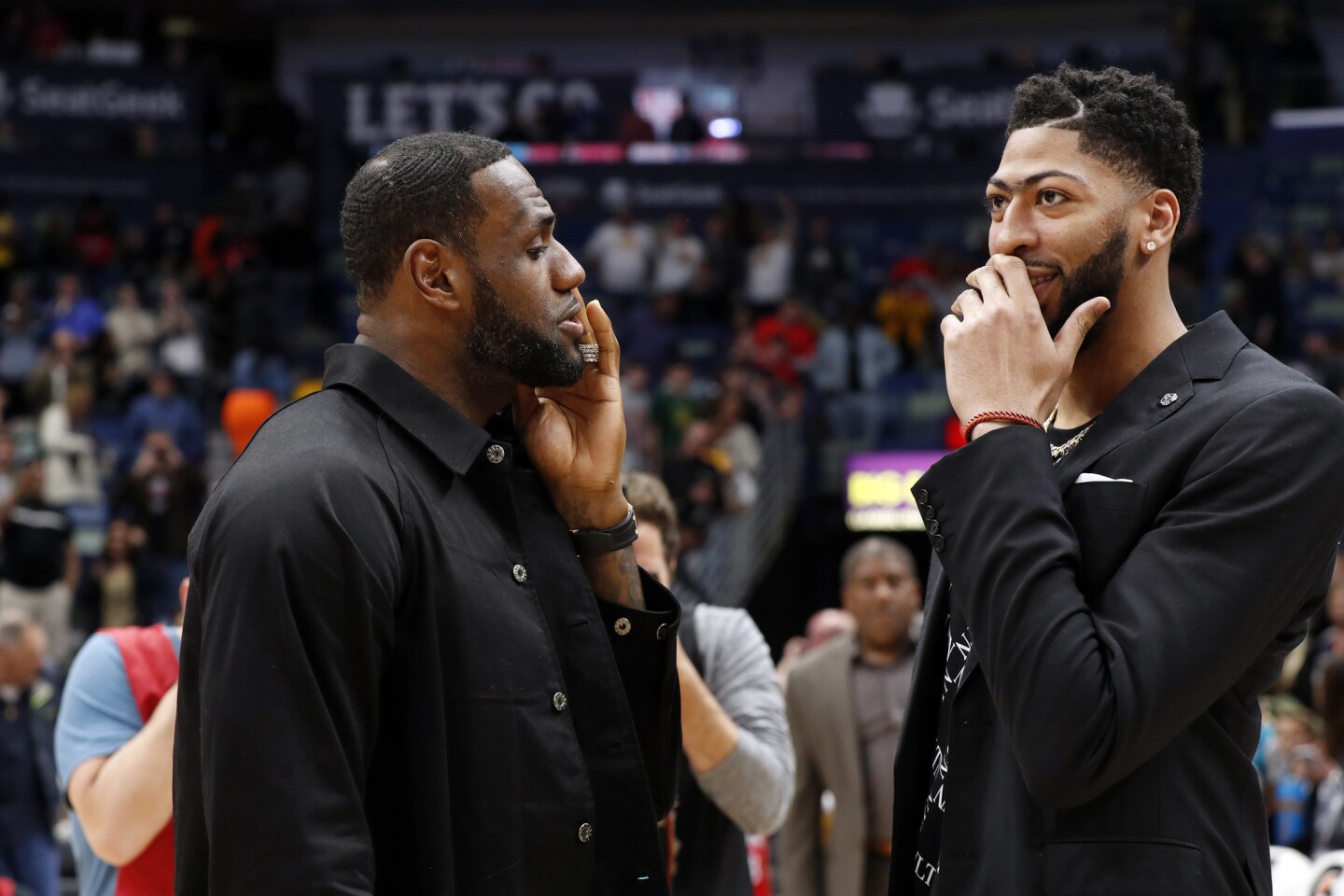 Lakers forward LeBron James and Pelicans forward Anthony Davis after a March game in New Orleans. The Lakers won 130-102.
(Tyler Kaufman / Associated Press)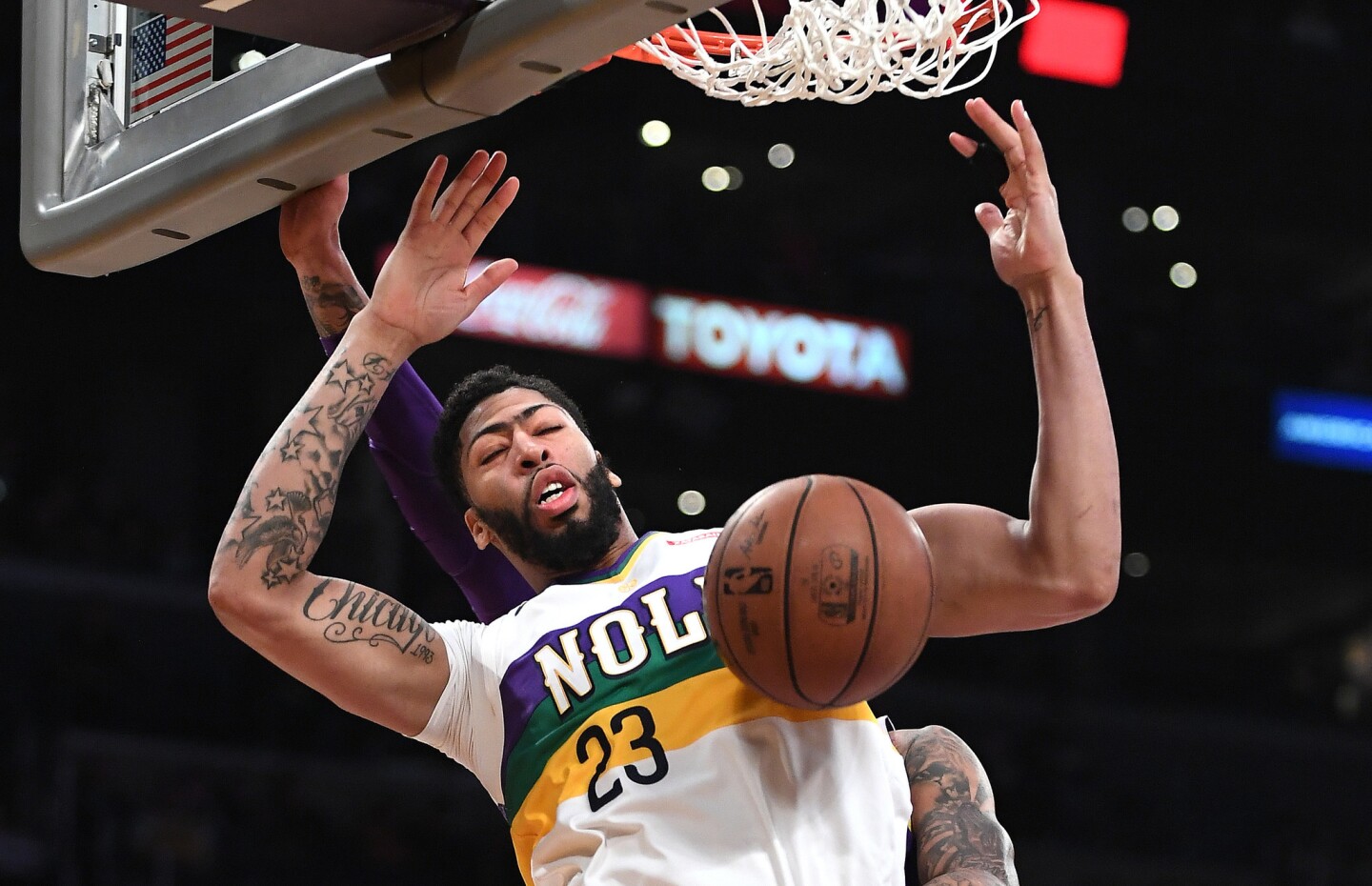 Pelicans forward Anthony Davis dunks against the Lakers during a game last season.
(Wally Skalij / Los Angeles Times)
Twitter: @DanWoikeSports
---
Get our high school sports newsletter
Prep Rally is devoted to the SoCal high school sports experience, bringing you scores, stories and a behind-the-scenes look at what makes prep sports so popular.
You may occasionally receive promotional content from the Los Angeles Times.