NBA mock draft 2019 results: Reporters make their first-round picks
With the NBA draft on Thursday at Barclays Center in New York, reporters who cover their teams on a daily basis take their turn at predicting how the first round will unfold in the Los Angeles Times' annual beat writers' mock draft.
Each reporter makes a pick and gives a rationale for that selection.
No. 1 New Orleans Pelicans | Zion Williamson, Duke, PF, 6-7, 285
"Uhhh. Duh. The most unique prospect to enter the draft in more than a decade, and a player who aced every interview and piece of background intelligence the Pelicans' front office conducted. The franchise needs to inject life after the moribund Anthony Davis saga and this is the easiest path there. A true no-brainer." — Scott Kushner, the Advocate
No. 2 Memphis Grizzlies | Ja Morant, Murray State, PG, 6-3, 175
"He's the best player on the board, elite athleticism and skill. He's as close to a sure thing as you can get in the draft, and I think he'll be a superstar. Crazy bounce, makes his teammates better, elite vision, plays hard, and, by all accounts, is a great kid." — Chris Vernon, Grind City Media
No. 3 New York Knicks | RJ Barrett, Duke, SG/SF, 6-7, 202
"He's the third player in a three-player draft, a no-brainer pick. New York, the worst team in the NBA last season, has needs at every position and will take the best available talent. As a bonus, Barrett has New York ties with a mother who grew up in Brooklyn and a father who played at St. John's." — Stefan Bondy, New York Daily News
Sign up for our daily sports newsletter »
No. 4 New Orleans Pelicans | De'Andre Hunter, Virginia, SF/PF, 6-7, 225
"This pick is being shopped and could end up in someone else's hands by the time Zion Williamson flips on his Pelicans hat Thursday night. But, if it's not, Hunter is the Pelicans' best bet because of his lethal outside shooting (43.8% last season) and immense defensive range. He's a dynamic two-player who pairs well with Jrue Holiday in the near term and Zion in the long term." — Scott Kushner, the Advocate
No. 5 Cleveland Cavaliers | Darius Garland, Vanderbilt, PG, 6-2, 175
"The Cavaliers haven't had a serviceable shooting guard since J.R. Smith shed the last bit of his prime after 2016. Leaving questions of whether or not Garland and Collin Sexton can play together to the side, Garland is the best off-the-dribble shooter in the draft, and the Cavs need that." — Joe Vardon, the Athletic
No. 6 Phoenix Suns | Jarrett Culver, Texas Tech, SG, 6-6, 195
"The Suns take Culver as the best player available and will look to free agency for a point guard. Culver's got good size, versatility, can create his own shot and may be needed early if Phoenix loses Kelly Oubre Jr., who is a restricted free agent. Culver could fit with the Suns' young perimeter talent." — Duane Rankin, Arizona Republic
No. 7 Chicago Bulls | Coby White, North Carolina, PG/SG, 6-5, 185
"Bulls executive VP of basketball operations John Paxson has publicly stated his desire to upgrade at point guard for months. White is viewed by some as more of a scoring guard, but his size and athleticism are welcome additions to the rebuild." — K.C. Johnson, Chicago Tribune
No. 8 Atlanta Hawks | Cam Reddish, Duke, SF, 6-8, 218
"The Hawks need a versatile wing player, especially with the pending loss of Taurean Prince. Reddish will give them a defensive presence with upside. A good outside shot will work in the Hawks' system." — Chris Vivlamore, Atlanta Journal-Constitution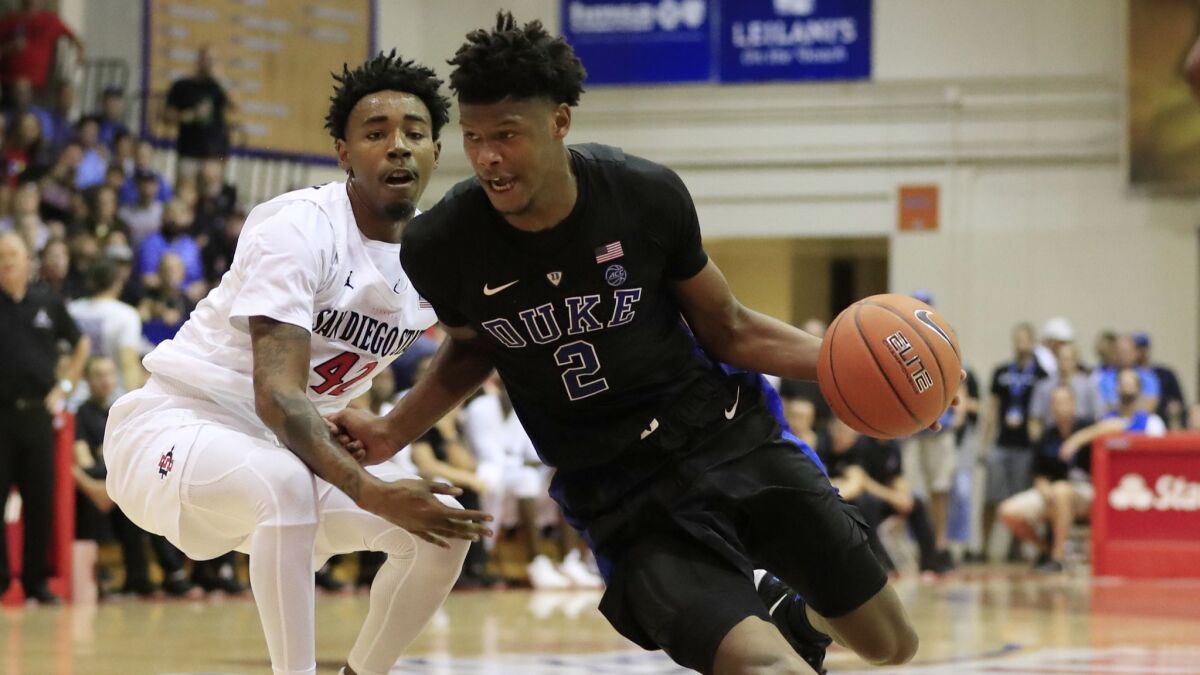 No. 9 Washington Wizards | Brandon Clarke, Gonzaga, PF, 6-8, 215
"The Wizards have to address so many issues (starting PG and backcourt depth to name a few) but where they're at with this pick, No. 9, it's difficult to find a player that fulfills a need. They just need talent and one of the most proven players available is Clarke. Even though the Wizards currently have too many big men on the roster, Clarke is still an ideal pick: he plays defense and the team needs better players on that end." — Candace Buckner, Washington Post
No. 10 Atlanta Hawks | Goga Bitadze, Georgia, C, 6-11, 245
"The Hawks need a big man with just two on the roster. Bitadze gives them a presence inside, offensively and defensively. He has the added bonus to space the floor and make an outside shot." — Chris Vivlamore, Atlanta Journal-Constitution
No. 11 Minnesota Timberwolves | Sekou Doumbouya, France, PF, 6-9, 230
"There's a feeling that the new regime will be active in terms of looking for trades, either up or down depending on how the picks go. But it would be hard to pass up Doumbouya here. He is raw, but in a draft with a lot of uncertainty, his upside is intriguing." — Jon Krawczynski, the Athletic
No. 12 Charlotte Hornets | Jaxson Hayes, Texas, C, 6-11, 220
"Hornets management called interior defense a clear weakness last season. That doesn't make it automatic they draft a big man, but Hayes represents good value in a draft that isn't particularly deep." — Rick Bonnell, Charlotte Observer
No. 13 Miami Heat | Darius Bazley, Princeton H.S., SF, 6-9, 205
"Rui Hachimura might be very tempting to Miami if he's still on the board in this slot, but there's something about Bazley's athleticism that will speak to Pat Riley. This is a high-risk, potentially very high-reward move for a team desperate to find a way to jump back into East contention." — Tim Reynolds, Associated Press
No. 14 Boston Celtics | Nassir Little, North Carolina, SF, 6-6, 220
"The Celtics probably would've preferred not to use any of their three first-round picks because that would mean that they had traded for Anthony Davis. Little gives the Celtics another athletic, physical wing who could help them fulfill their apparent dream of playing five of them at once." — Adam Himmelsbach, Boston Globe
No. 15 Detroit Pistons | Rui Hachimura, Gonzaga, SF/PF, 6-8, 230
"Hachimura isn't the type of wing that people probably anticipate the Pistons go after, as he's a 3-4 tweener. But the franchise can't afford to pass up on someone with his skill set and potential star power. At 6-foot-8 with a 7-2 wingspan, he'd immediately be Detroit's most physically imposing wing." — James Edwards III, the Athletic
No. 16 Orlando Magic | Tyler Herro, Kentucky, SG, 6-5, 195
"The Magic need someone who can consistently knock down shots, and Herro should accomplish that and be able to create in the pick-and-roll. His presence would be a bit of insurance if the Magic do not re-sign unrestricted free agent Terrence Ross." — Josh Robbins, the Athletic
No. 17 Atlanta Hawks | PJ Washington, PF, Kentucky, 6-8, 228
"Washington would give the Hawks another big wing — a need. He can play power forward or small-ball center. He can defend and rebound and has upside with his outside shot." — Chris Vivlamore, Atlanta Journal-Constitution
No. 18 Indiana Pacers | Keldon Johnson, SG, Kentucky, 6-6, 211
"The Pacers lack size, athleticism and shooting. Johnson isn't regarded as the greatest athlete, but has the motor that fits with a young core of second-year guys like Aaron Holiday and Edmond Sumner who aren't one-dimensional." — J. Michael, Indianapolis Star
No. 19 San Antonio Spurs | Kevin Porter Jr., SG, USC, 6-6, 218
"Porter has lottery talent and elite athleticism, but off-court issues during one rocky season at USC has him sliding down draft boards. His upside is definitely worth the dice roll if he drops to 19." — Jeff McDonald, San Antonio Express-News
No. 20 Boston Celtics | Romeo Langford, SG, Indiana, 6-6, 215
"He has great size for a 2-guard and is an excellent rebounder, something the Celtics value in their guards. Langford can also be a playmaker, and the hope is that his poor shooting last season was related to a hand injury." — Adam Himmelsbach, Boston Globe
No. 21 Oklahoma City Thunder | Cameron Johnson, SF, North Carolina, 6-9, 210
"This goes against the Thunder's infatuation with freakish athleticism and defensive versatility, but you can't be picky at No. 21 and OKC's shooting/floor spacing needs are dire. Johnson has size, can handle the ball and shot 45.7 percent from three on nearly six attempts per game as a senior." — Erik Horne, the Oklahoman
No. 22 Boston Celtics | Bol Bol, C, Oregon, 7-2, 235
"The Celtics will almost certainly not actually use all three of their first-round picks. Look for them to trade up or down. But at 22, Bol is the kind of intriguing prospect — he's 7-2 and shot 52 percent from three in his injury-shortened season — that is worth taking a chance on." — Adam Himmelsbach, Boston Globe
No. 23 Utah Jazz | KZ Okpala, SG, Stanford, 6-9, 215
"Assuming the Jazz haven't traded this pick, Okpala makes a lot of sense. He's not ready to play yet, but he's the one guy on the board who the Jazz think they can turn into a max-type of talent from the No. 23 spot. He's long and athletic. He's got upside and the Jazz think he can be a plus defender and a dynamic playmaker." — Tony Jones, the Athletic
No. 24 Philadelphia 76ers | Matisse Thybulle, SG, Washington, 6-5, 200
"As a lockdown defender, the swingman out of Washington fulfills a need for the Sixers. His athleticism and experience are also things the team coveted in the draft." — Keith Pompey, Philadelphia Inquirer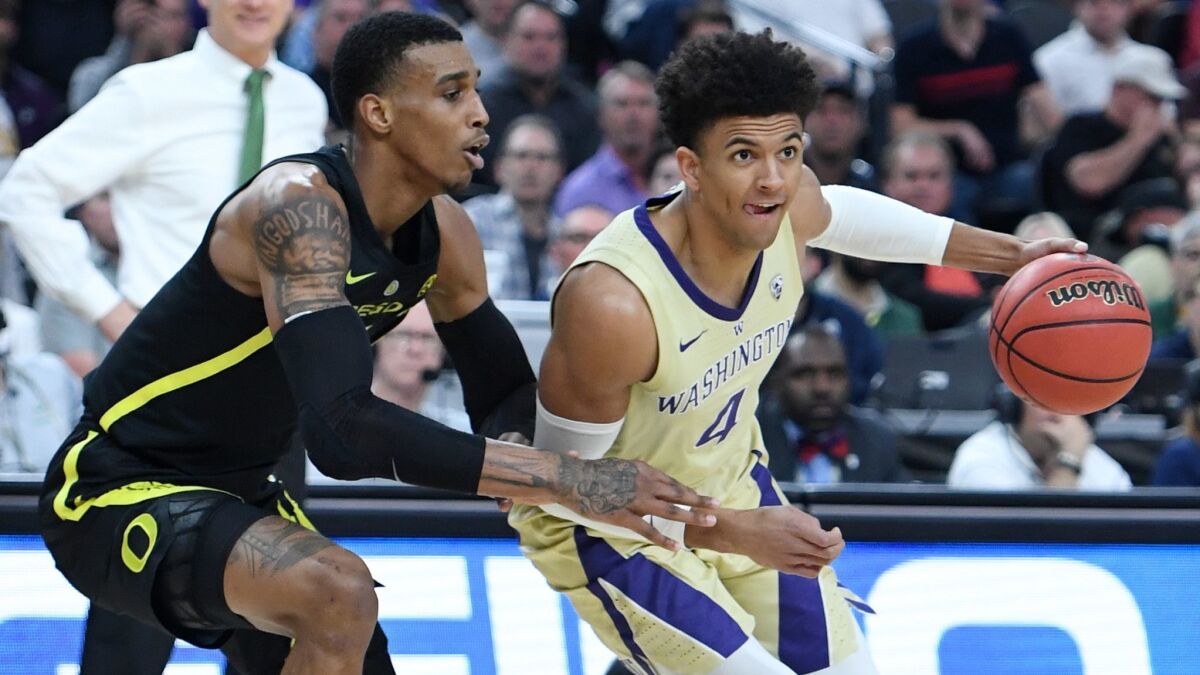 No. 25 Portland Trail Blazers | Mfiondu Kabengele, F-C, Florida State, 6-10, 250
"Insiders say this is the worst draft in years and the Blazers would love to trade the pick for immediate bench help or cap relief. But I have to make a pick so I'm going with the upside and genes of Florida State center Mfiondu Kabengele, whom the Blazers can take time to groom into a rotation player." — Joe Freeman, the Oregonian
No. 26 Cleveland Cavaliers | Louis King, SF, Oregon, 6-9, 205
"Assuming the Cavs get Garland at No. 5 and make no other moves, King fits the mold of the kind of wing they want. They also need rim protection, which could trigger a reach here like one for Tacko Fall." — Joe Vardon, the Athletic
No. 27 Brooklyn Nets | Luka Samanic, PF, Croatia, 6-10, 215
"The Nets' last three draft picks have been Europeans 6-9 or taller. Expect them to stay on brand, especially considering their need at stretch-four. The Croatian is skilled, versatile, coming off a great game in the NBA combine and — like Dzanan Musa last year — wants no part of being a stash and plans to come over next year." — Brian Lewis, New York Post
No. 28 Golden State Warriors | Luguentz Dort, SG, Arizona State, 6-4, 215
"Without Klay Thompson for at least half of next season, the Warriors need some more dependable perimeter scoring and defending. Dort will help fill part of that vacancy with athleticism as well as a reported 6-8 1/2 wingspan and 215-pound frame. Dort is not a dependable three-point shooter, but he can create his own shot." — Mark Medina, Bay Area News Group
No. 29 San Antonio Spurs | Terance Mann, SG/SF, Florida State, 6-7, 215
"I could see the Spurs going with a draft-and-stash Euro here, but failing that, Mann would be a good choice. The Spurs were relatively atrocious on D last season, and the FSU wingman would fill a void on that end of the floor." — Jeff McDonald, San Antonio Express-News
No. 30 Milwaukee Bucks | Ty Jerome, PG/SG, Virginia, 6-5, 195
"Assuming they don't trade the pick, the Bucks struck gold the last time they picked a Virginia player known for his smarts, stability and shooting (Malcolm Brogdon). They'll hope history can repeat itself." — Matt Velazquez, Milwaukee Journal-Sentinel
Twitter: @DanWoikeSports
Get our high school sports newsletter
Prep Rally is devoted to the SoCal high school sports experience, bringing you scores, stories and a behind-the-scenes look at what makes prep sports so popular.
You may occasionally receive promotional content from the Los Angeles Times.