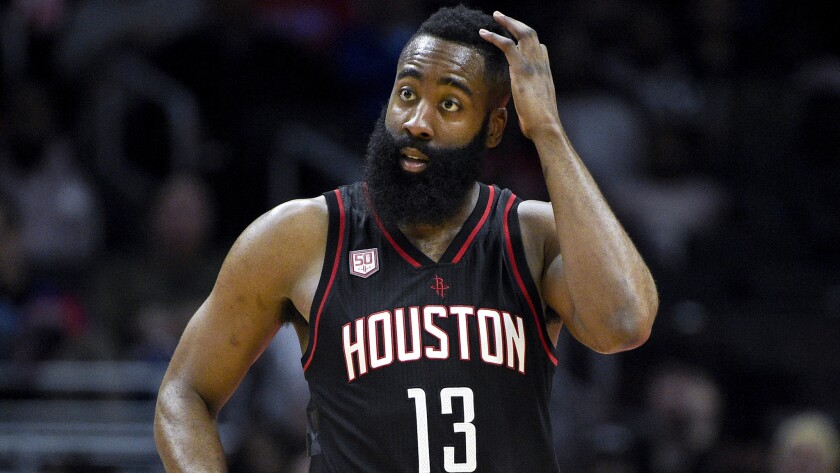 James Harden had 38 points, 11 assists and 10 rebounds to outduel fellow MVP contender LeBron James and lead the Houston Rockets to a 117-112 victory over the visiting Cleveland Cavaliers on Sunday night.
The Rockets were up by four points when Houston's Nene made a layup before intercepting a bad pass by James. Patrick Beverley made a three-pointer on the other end to push the lead to 116-107 with less than two minutes left, and the Rockets hung on.
It was the 16th triple-double this season for Harden and his 31st game with at least 30 points. James had 30 points for the Cavaliers, who lost for the fourth time in five games.
at Boston 100, Chicago 80: Isaiah Thomas scored 22 points and Celtics raced to a 13-0 lead before sending the Bulls to their season-high fifth straight loss. The Celtics shut out Chicago until Dwyane Wade's jumper nearly six minutes into the game. Thomas played only 24 minutes and sat the final quarter. He had some fun with the fans in the closing minutes of the blowout, taking part with teammate Jae Crowder as the crowd did the wave.
at Brooklyn 120, New York 112: Jeremy Lin ended an 0-for-9 start with a three-pointer that halted a Knicks comeback, and the Nets earned their first home victory of 2017, ending a 16-game losing streak at Barclays Center. They hadn't won there since Dec. 26, when Lin strained his hamstring in a victory over Charlotte. Brook Lopez had 25 points for the Nets, who were playing at home for the first time since Feb. 15.
at Indiana 102, Miami 98: Paul George scored 28 points and grabbed 10 rebounds to lead the Pacers over the Heat, who had won 21 of their previous 25 games. Hassan Whiteside led the Heat with 26 points and 21 rebounds, consistently beating the Pacers on the glass on both ends of the floor.
Portland 110, at Phoenix 101: Damian Lillard scored 28 of his 39 points in the first half and the Trail Blazers recovered after blowing an 18-point second-half lead. Lillard scored only four points in the fourth quarter, but fellow guard C.J. McCollum added 26 as the Trail Blazers pulled within 11/2 games of Denver for the eighth and final playoff spot in the Western Conference.
---